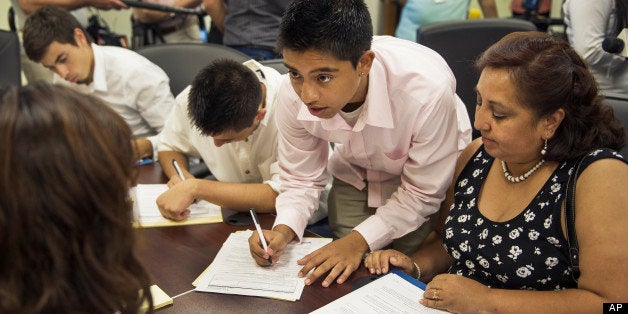 WASHINGTON -- Nearly 300,000 undocumented young people have been granted reprieve from deportation concerns since the Obama administration began its Deferred Action for Childhood Arrivals program last August, according to new data released Monday by the government.
The 291,859 people approved as of April 30 is close to double what it was in January, when more than 150,000 young undocumented immigrants had been granted deferred action. The program means that these young people -- often called Dreamers after the Dream Act that would provide them legal status -- can work legally, obtain driver's licenses, and temporarily be protected from the possibility of deportation at any time.
Even 300,000 applications approved is still a small fraction of the estimated number of eligible undocumented immigrants currently living in the United States. The Migration Policy Institute estimated in June that there are 1.4 million non-citizens living in the U.S. who are under the age of 30, the upper age limit for applying for deferred action.
Only Dreamers who entered the country as children and are attending or have graduated from school are eligible, and they must also maintain a clean record. They also must be between the ages of 16 and 30, and have lived in the country for at least five years.
Undocumented young people can be rejected based on prior felony convictions, among other grounds, and nearly 20,000 have been rejected of the 515,922 who have applied so far. Many cases are still under review.
The "gang of eight" immigration bill currently being considered in the Senate Judiciary Committee would allow Dreamers a quicker path to citizenship -- five years versus 10 -- than older and younger undocumented immigrants. The legalization of undocumented young people, as laid out under the Dream Act, is considered to be less contentious than legalization of the undocumented population as a whole.