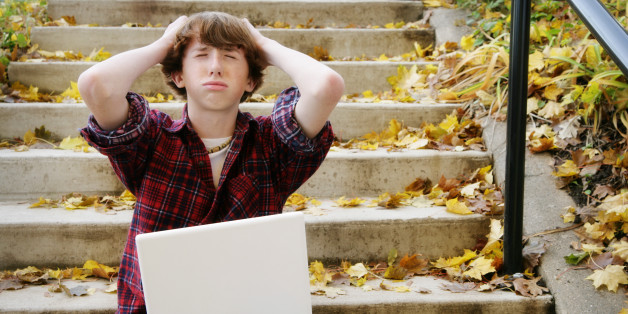 By Katherine Varga
The biggest benefit of applying to college early decision or early action is finding out whether or not you've been accepted to your top choice school as soon as possible. So few things are more frustrating than going through the effort of writing the perfect college essay and taking standardized tests months before your friends only to receive an email saying, "Your application has been deferred."
Getting deferred means the college is postponing its admissions decision and will review your application with the regular-decision applicants. You'll find out in the spring if you've been accepted or rejected. You haven't been accepted yet, but you haven't been rejected yet either, so what do you do?
Here's a step-by-step guide on what to do if you get that dreaded, ambiguous email.
1. Treat yourself.
If you got into your dream school, you might have had plans to go out to dinner with your parents to celebrate. If you got rejected from your dream school, maybe you had plans to wallow in your sorrows by having movie night with the girls. But if you weren't accepted and you weren't rejected, what is there to do?
We recommend doing something special anyway, like a trip to your favorite restaurant or a girls' night. You should treat yourself for all the hard work you put into your application, and give yourself a pick-me-up from the disappointment of not receiving a definite answer.
2. Review your options.
Once you've treated yourself a little, it's time to think about your future. You probably applied early decision or early action because you knew which school was your first choice. That was a few months ago. Now it's time to reconsider your options.
"Sometimes if you don't get into a school, it's for the best," says Liz, a collegiette from Syracuse University. "The college may have recognized you wouldn't be a good fit, and that you'd be better off somewhere else."
Of course, you didn't not get into the school, which why getting deferred is so frustrating. But for now, pretend you didn't get in. What's your next choice?
It's important to have a back-up plan. Make sure you've completed and sent in your other applications. If you haven't applied to a safety school, now's the time to look at colleges with rolling admissions. These are schools that review applications as soon as they receive them. Many will accept applications through the spring. Since these schools generally give decisions within a few weeks, you might be able to get some quick assurance that you'll have somewhere to go next fall. Here are some colleges with late deadlines you could apply to.
3. Visit the school you were deferred from (if possible).
There are two advantages to visiting (or re-visiting) the school you were deferred from. First, visiting a school is one of the best ways to decide if a school is right for you. You might notice things that make you realize you're not as crazy about that school as you thought you were, and you really dodged a bullet by not getting in. Or you might fall in love with the school all over again and be motivated to give the school new information about why you'd be their perfect student.
Another advantage of visiting the school is the possibility of talking with someone from admissions. Contact the admissions office to see if your school considers personal interviews when making decisions. "Sometimes a college or university may want to interview the applicant before rendering a final decision," says Mark Wells, assistant dean for undergraduate admissions at the University of Rochester. Having an interview is a good way to show your continued interest in a school and, if possible, provide them with new information.
If you have time, try to visit other colleges as well, especially your safety and match colleges that you hadn't spent much time exploring before. You might find yourself getting more excited about these schools, which will ease the disappointment of having to wait for a decision from your top choice.
Click here to read the full story on HerCampus.com.
Calling all HuffPost superfans!
Sign up for membership to become a founding member and help shape HuffPost's next chapter
BEFORE YOU GO
PHOTO GALLERY
Best Advice For Teens, According To Redditors