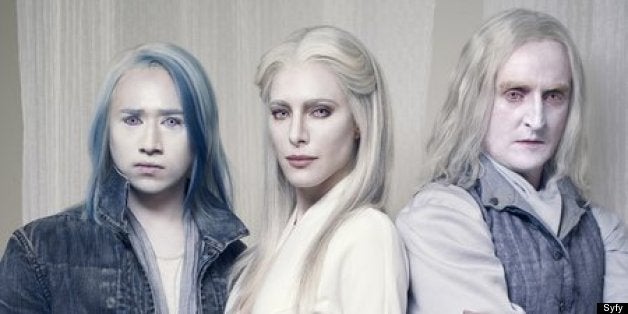 Be prepared for quite a shakeup in "Defiance's" second season.
When the show returns in June 2014, many of the characters will be in new places and leading lives markedly different from their old ones. Change was the big topic at the show's panel at San Diego Comic-Con Friday.
I had the pleasure of moderating the panel, which included executive producer Kevin Murphy and stars Grant Bowler (Joshua Nolan), Julie Benz (Amanda Rosewater), Stephanie Leonidas (Irisa), Tony Curran (Datak Tarr), Jaime Murray (Stahma Tarr), Jesse Rath (Alak Tarr) and Trion Worlds senior game producer Rob Hill.
"The goal at the end the end of Season 1 was to take the chess board and flip it up and knock all the pieces all over the place. Every single character has a reset," Murphy told the audience (which included at least two Stahma cosplayers and a guy with a Hellbug on his head).
Here's a list of things to expect from Season 2, and a few of the panel's many amusing moments:
It sounds as though Datak will be away from his family for the first part of the season. "What happened to him" -- which was unclear after he murdered the Earth Republic official -- will be explored in first part of the season, Murphy said. Curran sounded mournful about being away from home: "I won't be bathing with my gal at all," he said.
As for Stahma, she'll be experimenting with the increased power and status that her new role in the business gives her. "Stahma has taken over the family with Alak as the figurehead," Murphy said. During her time in Defiance, Stahma has been around "other women who are far more liberated," Murray said. "Castithan men put their women in cages. She was trying to control from within the cage, but maybe this season she'll get a taste of what it's like in the outside world."
Did Stahma actually love Kenya, and did she kill her? "I think [Stahma] enjoyed the experience, and just because you kill somebody does not mean that you didn't love them." Murray said to big laughs. "I can truly say no one will ever love Kenya as much as I did ever again."
As for Kenya's fate, that was left very much up in the air. No news there, I'm afraid!
Amanda is in a dark place; her sister is missing and she lost the mayoral race. She's also "in a new line of work -- you can make of that what you will, but it's a very interesting line of work," Murphy said.
Bear McCreary, the show's composer, showed up to ask a question at the audience microphone: "Why do you make me write music for bugs?" The general consensus: Because he's good at it.
Fans are also wondering what happened to Irisa and her story "will be front and center of the season premiere," Murphy noted. "We will learn something about it that will raise many, many more questions."
Before Season 2 arrives, fans can play the Defiance game to get clues about what a couple of the characters are doing (two characters from the show will be in the game between seasons -- Nolan, and one other character that Hill didn't name). The game will serve as something of a narrative bridge between seasons, and elements from the game will be a bigger part of the storytelling in Season 2, Murphy and Hill said.
In Season 2, the show's world will expand to include New Los Angeles.
Sukar was scheduled to die in the razor rain episode, but actor Noah Danby "was so magnetic and wonderful and fit the top hat so well," Murphy said, that they couldn't resist bringing him back to the show after that, and he'll be back in Season 2 as well.
Murphy didn't say, but perhaps Sukar will be back in a flashback? We'll be seeing a lot more of those in the new season.
New Earth Republic characters include Niles Pottinger, the new provisional mayor, and Viceroy Mercado, "a grand old man of E-Rep," Murphy said. "They have some nasty, nasty plans for Defiance," and they are very interested in what's down in the mines (which no longer belong to Rafe McCawley).
I asked that we get more Doc Yewll scenes in Season 2, and Murphy answered, "Request granted." That said, the cast described the four-hour makeup process Trenna Keating goes through to become Doc Yewll and it sounds grueling.
When Season 2 begins, Nolan is no longer lawkeeper and is out looking for Irisa. What was it like being resurrected? Old hat, really, Bowler joked -- he played Jesus in a movie earlier in his career, so what occurred in the Defiance Season 1 finale was technically his second resurrection.
One of the funniest stories from the panel is in the video below (there are a few more videos here)
Calling all HuffPost superfans!
Sign up for membership to become a founding member and help shape HuffPost's next chapter
BEFORE YOU GO
PHOTO GALLERY
TV Characters In Comic-Con-Worthy Costumes