A distinctly New York play finally lands in the city when Knock Me A Kiss, by playwright Charles Smith, begins previews Thursday in its Off-Broadway premiere at the New Federal Theatre on the Lower East Side.
Leading the cast, Tony Award nominee Andre De Shields said the role of W.E. B. Du Bois presented a great and satisfying surprise. "The role is reminiscent of Shakespeare's tragic king, Lear, due to Du Bois' inability to be spontaneous, his Ptolemaic need to be the center of his self-crafted universe, and his controlling relationship with his daughter, Yolande," said De Shields. "Those similarities afforded me the opportunity to mine the tragic elements of Du Bois' character."
The year is 1928, and the daughter of America's foremost black intellectual, Du Bois, is just one month away from marrying a young poet, Countee Cullen, whose work was considered one of the pinnacles of the New Negro movement, which we now know as the Harlem Renaissance.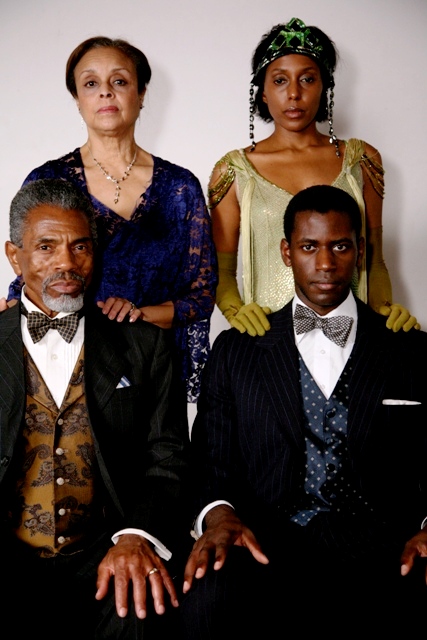 From left, sitting, Andre De Shields as W.E.B. Du Bois, and Sean Phillips as Countee Cullen.
Standing, from left, Marie Thomas as Nina Du Bois, and Erin Cherry as Yolande Du Bois.
The marriage marked the height of the renaissance and was viewed as the perfect union of African-American talent and beauty. It would unfold during the apex of a cultural phenomenon, which through intellect, literature, art, and music challenged the era's pervasive racism and stereotypes, and redefined how America and the world perceived African-Americans.
"I want the audience, after seeing this play, to investigate these characters and dig deeper into the life of W.E.B. Du Bois, Countee Cullen, and the Harlem Renaissance," said Chuck Smith, the Chicago-based, Emmy winning director of the play and one of its producers. "I want viewers to see what's changed, and get more involved in our culture. They should know that the lifestyle of affluent black Americans is not that much different than anyone else," Smith said.
The play opens as jazz bandleader, Jimmy Lunceford, woos a willing but skittish Yolande Du Bois, who insists that she and Lunceford be married in a manner befitting her stature. She tells her friend, Lenora, "I want to touch and kiss and all he wants to do is hump and bump."
Meanwhile, the elder Du Bois tries to convince Cullen to take a wife of great breeding, stature and education. A letter of recommendation for a prestigious fellowship in Paris is part of the persuasion. Cullen realizes that Yolande seems to possess all of the attributes described by Du Bois and sets out to win her affection.
Ultimately, Yolande is forced to choose between her passion for Lunceford, a soon to be successful band leader, and marrying Cullen. Although both parents reject Lunceford as a suitable husband, Nina Du Bois, who lives in the shadow of her husband, is also wary of Cullen. She warns Yolande that Cullen is like her father and that she is placing her head in the mouth of a beast. Noting that her father put her brother on an alter without giving it a second thought, and that the boy died in infancy, Nina tells her, "your father sacrificed my only son and now he wants to sacrifice you."
However, Yolande's devotion to her father overpowers her, and she reluctantly chooses a marriage filled with pomp and pageantry that fails almost immediately. But announcing a failed marriage so soon after it began would not be tolerated by her strong-willed, successful father.
Navigating this dilemma is essential to Yolande's emergence as her own woman. "She has to confront her father and stand on her own two feet," says Smith. "While everyone else around her is crumbling, or has abandoned her, she has to find a way to take charge of her life."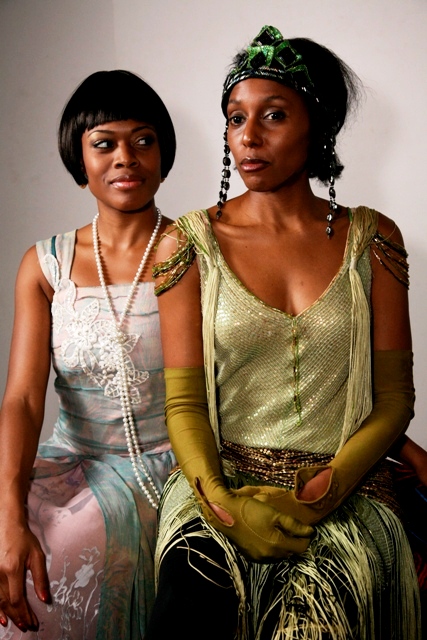 Left, Gillian Glasco as her friend, Lenora, and Erin Cherry as Yolande Du Bois
The play, which is a fictional account of actual events, takes its title from the much recorded hit, Knock Me A Kiss, by Mike Jackson. Smith said he raised the idea of bringing the play to New York about 10 years ago.
"I told (playwright) Charles Smith that this play belongs in New York. Now here it is," said Chuck Smith, who is not related to the Emmy winning playwright. "You have to find someone to help you produce a play in New York, so we turned to Woodie King."
Woodie King, Jr. the founding director of the New Federal Theater, and a co-producer of the play, is a renowned stage and screen director and producer. He said lack of funding is always an issue when staging theater productions in New York.
"We agreed about 1-1/2 years ago that "Knock" is the kind of New York play that we want to showcase," said King. "So we started working on funding for it about a year ago. We are always looking for plays that bring forth little known information that black Americans may not be aware of, and we try to find a writer to do it in a very creative way," he said.
Calling all HuffPost superfans!
Sign up for membership to become a founding member and help shape HuffPost's next chapter