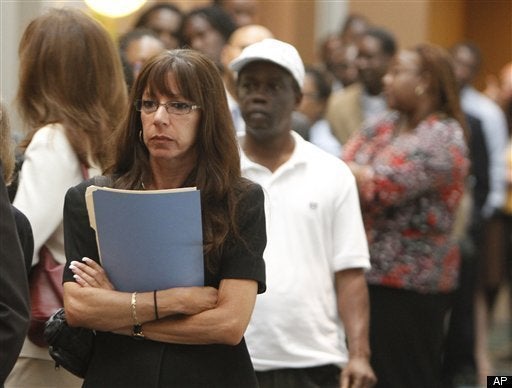 Late on Thursday evening, Democrats were arguing on the House floor over the size of a jobs bill that was two days overdue for a vote when word started to filter through the chamber that the Senate had adjourned and was leaving for the Memorial Day break. With no Senate, there could be no bill.
"People were astounded. I mean stunned," said freshman Rep. Gerry Connolly (D-Va.). "We're in the midst of this debate and trying to find a path to doing the right thing and they went out on recess? Without addressing these issues? Some of which have deadlines? I mean, there are going to be unemployed Americans who will not have their unemployment extended."
On June 1, several programs, including extended unemployment benefits, will expire. By the end of the week, 19,400 people will prematurely stop receiving checks, according to data from the Department of Labor. How long will it take the Senate to finish the bill? With Republicans promising to stand in the way, leadership will need to file at least one time-consuming "cloture" motion to break the filibuster and to set up a vote by the end of the week in the best-case scenario. By the end of the following week, the number of premature unemployment exhaustions will climb to 323,400. The week after that, 903,000. By the end of the month, 1.2 million.
"But the numbers really don't tell the story," said Marc Katz of the National Association of State Workforce Agencies. "The states are going to get calls from very concerned claimants about what's going on, what's the outlook. That's the real story. And it puts claimants through real anguish. It's just terribly unfair to them."
It will be the third time this year that lawmakers have allowed extended unemployment benefits to lapse, and the second time they've decided to leave town for recess fully knowing the lapse would cause panic and confusion among blameless layoff victims -- not to mention what Katz calls a "huge" administrative burden on state workforce agencies.
But this is the first time the Democratic Party can't even half-plausibly blame the Republicans for the lapse. "This isn't being done because of Republicans, believe me. This is done because there's a group of us, we don't have a majority, but they listen," said Rep. Dutch Ruppersburger (D-Md.), who fought to shrink the size of the bill. "I think it's really symbolic. We have a very diverse party and the party has come together... This is a real victory for the moderates and the Blue Dogs and the freshmen, that our party leadership is working with us to let this happen."
And it signals the beginning of the end of the commitment to ending the jobs crisis. It took FDR two congressional terms to lose his New Deal majority. Though Democrats still controlled Congress in 1937, deficit hawks put a stop to federal efforts to end the Great Depression, bringing about what became known as the "recession within the depression."
This is also the first lapse that isn't entirely the Senate's fault. Connolly himself, for instance, had been part of the holdup, promising to vote no if the bill wasn't offset by spending cuts or tax hikes elsewhere. And when the unemployment extension finally came up for a vote in the House Friday morning, Connolly opposed it.
It passed regardless, after an intense intraparty debate between those pushing for federal spending to create jobs and stitch together the social safety net and those who see the deficit as the number one concern. The entire debate had the potential to be about extending aid to the unemployed while closing a tax loophole for rich investment fund managers. And there are plenty of mainstream economists -- among them Mark Zandi, a former adviser to Sen. John McCain (R-Ariz.) -- who say that in the short term it's more important to support the economy with unemployment benefits, which are highly stimulative, than to worry about the deficit. Instead, deficit hawks won the week.
And at critical moments, it looked as if the hawks would feast on the entire spending bill, with House Majority Leader Steny Hoyer (D-Md.) intervening at the last moment to bring whimpering Blue Dogs back into the fold. "We couldn't quite get to 218 until Steny was able to sort of bifurcate--broker the deal where we'd separate out the Doc fix," said Rep. Debbie Wasserman Schultz (D-Fla.), the chief deputy whip. "That broke the logjam."
Blue Dogs are now baying. "The week we had talking about the need to pay for things that are not emergencies has paid off," said Blue Dog Rep. Jason Altmire (D-Pa.).
Connolly said that it's a signal to congressional leaders. "It may be a turning point. We only know that when we look back on something, really," said Connolly. "But I think it's a growing and collective recognition that you're going to be held to a higher account if you're going to propose deficit spending for anything."
Conservative Democrats in both chambers pushed back against the government spending, with some arguing that enough unemployment extensions had been granted and that the unemployed should be told there will be no more coming. That reasoning infuriates progressive Democrats. "So what would that do? If you're unemployed, what the fuck difference does that make to you? If you had a job, you'd take the job," Rep. George Miller (D-Calif.) told reporters before Friday's vote.
For some Democrats, though, the improving economy, while it has yet to reduce unemployment, changes the calculation. "I think there's a different threshold of justification with this bill," said Connolly, the president of the freshman class, noting his support for stimulus spending in early 2009. "A year ago we were in the midst of the worst recession in 80 years and desperately trying to find ways to climb out of it... We did the right thing and it's working. Now, a year and four months later, it's a very different situation. We are now managing a recovery and trying to sustain it. I would argue that's a different threshold of justification. It doesn't mean there is no threshold that can be met, but it's a higher threshold in terms of this emergency legislation category. And in my view, this one has trouble meeting that threshold for me."
HuffPost noted to Connolly that unemployment has yet to come down.
"But, you know, voters can hold seemingly contradictory views simultaneously," said Connolly. "That is to say, somebody can say, 'I want you to fix the unemployment problem, but I want you to stop those drunken-sailor ways of yours. Get rid of that wasteful, over-reaching spending you seem to love.' Voters can hold both views simultaneously, and it seems to me that politicians ignore that at their peril."
Despite the failure of Congress to extend programs that will now expire, throwing state agencies into chaos and risking jobless and health benefits for thousands of people, Senate Majority Leader Harry Reid (D-Nev.) said nobody is to blame. "I don't think there's any fault involved. It's not as if the House has been lazy," Reid said, adding that Democrats got "spooked" by deficit concerns. "So there's no fault. It's just a very, very hard bill."
House Speaker Nancy Pelosi (D-Calif.) also declined to play the blame game. "It's not a question of blame," she said. "No one will be deprived of anything. We will pass the bill, it will pass in the Senate... and people will be compensated."
Several weeks ago, Rep. Sandy Levin (D-Mich.) and Sen. Max Baucus (D-Mont.), the chairmen of the committees overseeing the legislation, were tasked by their leadership to find a spending package that would be acceptable on both sides. It was Levin's first go as chairman since Rep. Charlie Rangel (D-N.Y.) had been forced to give up the Ways and Means gavel. The House had scheduled a vote for Tuesday, required by the Constitution to move first, but leadership didn't feel confident that the votes were there. "We didn't have the votes until right up to the very end," said Ruppersburger, a member of the whip team.
At a House leadership meeting on Tuesday, Hoyer proposed cutting the size of the bill by trimming the "Doc fix" -- some $65 billion of the package was eaten up by staving off a 21 percent cut in reimbursement rates for doctors. Nobody wants the scheduled cut to take effect, with doctors groups and seniors lobbying hard. Hoyer proposed blocking the cut, but doing it for less time, trimming tens of billions off the price tag. The final bill passed by the House would include a 19-month fix at a cost of $23 billion, but when Hoyer proposed it Tuesday, the rest of leadership wasn't yet ready to go along, said a person familiar with the talks. On Wednesday, the vote was again punted and leadership came around to Hoyer's Doc fix proposal, but subsequent whip counts showed votes still weren't there.
Hoyer met with Blue Dogs Thursday morning and presented them with the Doc fix solution, which was then estimated to trim $50 billion. Blue Dogs wanted more but weren't sure what. "We went around the table and different members shared their perspectives, and each of them was a little different in terms of what they supported, how much they were willing to come up with new payfors, whether they thoght the answer was removing certain things and how much they wanted to remove," said Rep. Adam Schiff (D-Calif.), one of the dozens of Blue Dogs who attended the Hoyer meeting. "I don't think there was a consensus among the members about the individual pieces so much as that there needed to be a greater degree to which whatever was in the package was paid for."
Leadership whipped throughout the day and met again in the afternoon. House Whip Jim Clyburn (D-S.C.) made it clear, said two people who were present at the meeting, that the package simply didn't have the votes and a new approach was needed. Several ideas were batted around. Hoyer asked Clyburn: If we take out COBRA and FMAP, do we have the votes? Clyburn said the votes would be wrapped up. Hoyer further suggested splitting the Doc fix and the rest of the package into two separate votes, making each vote an easier one in that the dollar figures would be lower.
Cutting FMAP, which are federal dollars to help states pay for Medicaid, was a tough policy decision but an easier one politically: homestate elected officials such as state legislators and governors are often the most formidable opponents of a member of Congress. While reaping the political benefit of spending federal Medicaid dollars, state officials simultaneously criticize Congress for out-of-control, runaway spending. It's a game federal officials don't want to help their friends back home to play. Unless, that is, they can get the state politicians to ask for the money, something they generally didn't do this time around. Over the next few week, FMAP funding will again be before Congress. "We need to hear from both Democratic and Republican governors that they need this," said Ruppersburger.
COBRA is a harder cut. Thanks to the congressional failure to extend it, anybody laid off after Monday, May 31st will be ineligible for COBRA subsidies -- which generally puts the temporary health insurance out of reach of most unemployed people. That, too, could get a second look in the next few weeks, said aides.
"It's obscene," Rep. Dave Obey (D-Wisc.) said of cutting COBRA. The cut reduces deficit spending by less than $7 billion. Ethanol subsidies, which Blue Dogs support almost unanimously, come closer to $9 billion.
On Thursday evening, the Senate was still planning to return on Friday to try to pass whatever the House approved, with leadership aides telling reporters that the lower chamber would send over a short-term extension of basic benefits and tax credits, done on an emergency basis and unpaid for. Such an extension was never considered, said several aides.
Democrats spent Thursday and Friday accusing the opposite chamber of failing to do its job. Senate aides argued that the House has had since March to send the bill over to the Senate and still hadn't done so by Thursday evening, knowing that the Senate may need to amend it and send it back. House leadership aides were furious at the Senate for failing to provide adequate assurance that it had the votes to move what the House was considering. Without a guarantee from the Senate, conservative House Democrats were unwilling to take a vote that may be meaningless. Senate Majority Whip Dick Durbin (D-Ill.) particularly rankled the House side with a quote in HuffPost Hill bemoaning the loss of COBRA benefits from the House package.
"COBRA? Ooooh," said Durbin when told what the House was considering. "It's painful for many of us who have sympathy for the unemployed to see their COBRA cut."
Painful as it may be, if Durbin had whipped support for the House package on the Senate side, it wouldn't have been cut, noted House partisans. "He has no one to blame but his lack of whipping. The uncertainty of Senate support was killer," said one Democratic aide.
To which Senate folks reply: What House package?
To fight the recession that started at the end of 2007, Congress passed several measures that prolonged the amount of time a layoff victim could collect unemployment benefits, eventually providing up to 99 weeks in some states. The 99 weeks are broken into "tiers" consisting of several weeks each -- when the program lapses, people will continue to receive checks for the remaining weeks of their current tier, but they will be ineligible for the next one. When Congress finishes its work, any missed payments will be made retroactively.
The stimulus bill also gave the unemployed an extra $25 per week and the COBRA subsidy, which covers 65 percent of the cost of the program. It's an expanded safety net that is catching a huge number of people. At the end of 2009 (the most recent data available), some 67 percent of of the more than 15 million unemployed received unemployment benefits. The initial 26 weeks provided by states cover only 35 percent of the unemployed.
Hundreds of thousands of people have already exhausted all 99 weeks. For them, no help is forthcoming: Congress is getting ready to say goodbye to the safety net that already bounced them out.
The bill passed by the House on Friday will preserve existing benefits through November (the original plan had been to extend the programs for the rest of the year, but leadership shaved $7 billion from the bill's cost by giving up December). What's going to happen when the next expiration date looms? If the jobs reports during the intervening months bring another few hundred thousand jobs, the deficit hawks likely will not have much of an appetite for another across-the-board extension.
"When we get to November we need to look at that," said Altmire. In the upper chamber, Senate Budget Committee chairman Kent Conrad (D-N.D.) said the same thing when asked if Congress would provide another extension. "It's so hard to know what the economic conditions will be at that point," he said.
Lurking beneath some Democrats' deficit concerns is the suspicion that unemployment benefits make people too lazy to look for work.
"We've had four straight months of job growth," Altmire said. "At some point you have to take a step back and look at the relative value of unemployment benefits versus people looking for jobs."
The San Francisco Federal Reserve did a study in April that found "extended unemployment insurance benefits have not been important factors in the increase in the duration of unemployment or in the elevated unemployment rate." But despite this authoritative debunking, Altmire and other members, such as Rep. Kathy Dahlkemper (D-Pa.) say businesses in their districts complain of hiring trouble, claiming that would-be employees would rather stay on the dole.
"We're nickel and diming the most fragile people in this economy," said Judy Conti, a lobbyist for the National Employment Law Project. "These are people who lost their jobs through no fault of their own. They continually certify that they are out there looking for work."
"What do we do now?" said Rep. Jim McDermott (D-Wash.). "We could just turn our backs on them, but that doesn't seem very American to me."
Lucia Graves contributed reporting
Popular in the Community