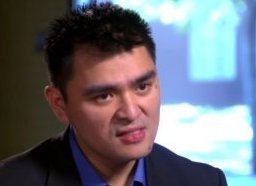 In a startling personal narrative, Pulitzer prize winning Jose Antonio Vargas, an undocumented immigrant and openly gay Filipino-American, told his story in the New York Times.
I first met Jose Antonio Vargas at an event in the Philippine Embassy back in 2009, where I learned about him as a Pulitzer Prize winning journalist and a rising star in the Filipino American community. The very next evening, at an LGBT event, we shared the "wink and nod" of recognition that often seals the covenant of shared experience between two LGBT people -- the sense of "Oh yes, you're one of us too."
I would have liked to have said we became fast friends that night, but the regular hustle and bustle of life moved us in circles that occasionally crossed paths, but never enough for my taste. There are so few openly gay Filipino Americans doing work of any political sort in Washington, D.C. and the need to build community has always been part of my professional and personal life. He remained an entry in my Rolodex and an online friend on Facebook.
Our reconnection this year can best be described as "be careful what you wish for." When he told me about his secret as an undocumented immigrant in preparation for his launch of the "Define American" campaign, we shared another "wink and a nod" -- sealing the convenant of shared experience of outrage over injustice and the conviction to make the world better for all of us. At the same time though, I knew full well the dangers he was putting himself in as he prepared to come forward as undocumented (even as I recognized my privilege as a U.S. born citizen).
I also knew that his announcement and this campaign could be a game-changer -- a new tool that we can, and must, use to raise awareness about the need for comprehensive immigration reform, and the particular plight young folks who are undocumented as children face. I'm also fully aware of the work that lies ahead of all of us as we renew our vigor for this fight.

Filipinos in the United States, and Asian immigrants in general, know personally how the broken immigration system and the debates to fix it have failed us. Approximately one million of the 11 million estimated undocumented in the United States are Asian, and Asian communities are 60 percent foreign born. Backlogs for family petitions from Asian countries are among the longest in the world, especially for the Philippines, where it can take U.S. citizens up to 23 years to become reunited with their families.
Unfortunately, the narrow focus of the current debate sets up false choices between "good" and "bad" immigrants and plays to our fears instead of our compassion. We can have an immigration system that is fair, humane, and just -- but the polarized debate prevents us from finding the common ground necessary to get there.

At the same time, LGBT communities are only now grasping the full reality that immigrants in our midst experience. For too long, we perpetuated the myth that immigration policy only affected us as LGBT people if our passport was blue and those of us who are citizens wanted to stay with our non-citizen partner as a binational couple. This default status of what it meant to be LGBT at all (the "U.S. citizen" is silent) rendered invisible the real dangers LGBT immigrants, especially the undocumented, face as they struggle to come out of the closet and out of the shadows.

I'm proud of and humbled by the movements I get to be part of, that work for full participation of Filipino Americans and other Asian Americans and Pacific Islanders in every facet of public life in the United States, and for LGBT people, regardless of immigration status, to have the same rights and responsibilities as our straight brothers and sisters.
At National Queer Asian Pacific Islander Americans (NQAPIA) it's about equality, but even more than that -- it's about freedom. It's about the lesbian nurse who shouldn't have to hide behind pronouns and verbal gymnastics what she does on the weekend with her wife. It's about the Filipino veteran who fought for the United States in World War II, only to have his status as a U.S. veteran proactively revoked by the U.S. government.

Jose's essay can be seen as simply him telling his truth. The "Define American" campaign can be seen as the "simple request" on its website: "let's talk." But for movements that often oversimplify and break down along lines of identity politics, Jose's essay is a defiant narrative of one man who seeks to live his life in all its complexity, with the same rights and responsibilities as his friend who might not turn as neat a phrase here, but who doesn't have to worry about the authenticity of his identification forms. And for policy debates that often boil down to the lowest common denominator and play to our baser emotions, the "Define American" campaign urges us to have the conversations necessary to see our common humanity, and to work for our common good.
Ben De Guzman can be reached at ben_deguzman@nqapia.org.
Popular in the Community