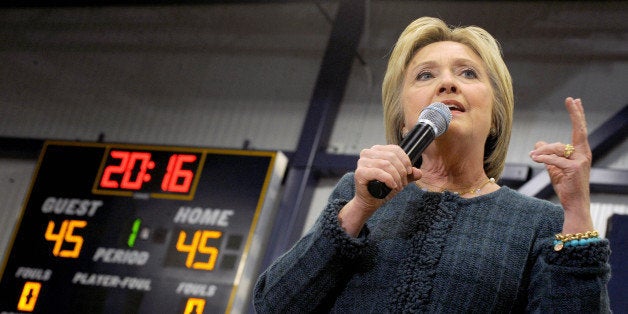 I've been in New Hampshire this week talking to voters and knocking on doors for Hillary Clinton. Last night's results will be sliced, diced and analyzed umpteen ways by countless experts, pundits and talking heads, but based on what I've seen and felt here, and what I already know about Hillary, here's what matters.
Hillary Clinton is exactly what she says she is -- a fighter for us, who gets things done. I almost wrote "a progressive who gets things done," but I think it may be a mistake to give more oxygen to this argument over who is the real "progressive," Hillary or Bernie.
It's funny -- the word "progressive" was adopted by Democrats when it became too risky to call yourself a "liberal." Words like these go in and out of favor, and in this election, we're seeing a lot of debate over political labels -- "progressive," "establishment," "socialist," etc. After a New Hampshire primary where more than one voter told me their choice was between Donald Trump and Bernie Sanders, I think it's safe to say that when it comes to characterizing voters, labels aren't all that informative.
But we need to pay attention to a different way these labels are being used. In Hillary Clinton's case, they're being used as the basis for personal attacks. She's not progressive enough. Her supporters are pooh-poohed as merely establishment. These lines of attack aren't engaging her on the issues that matter in this election. They're attempts to define her under false pretenses.
Who is the "real" Hillary Clinton?
For starters, Hillary Clinton has been named the most admired woman in the world by Gallup a record 20 times, more often than anyone in Gallup's history. What is it that people admire about Hillary? I can think of a few examples.
Resilience -- she created the Children's Health Insurance Program as a response to the brutal attacks on her effort to enact universal health care coverage back in the 90's.
Leadership -- She has been a leader on fighting for children's rights at the Children's Defense Fund, she went undercover in Alabama to expose housing discrimination against African Americans, she was a leader in the Senate for the people of New York after 9/11. And she stepped up to help Barack Obama and mobilize her supporters to help him win election. It's no wonder that President Obama recently said: "I think one of the best decisions I ever made as president was to ask Hillary Clinton to serve as our nation's secretary of state. ... I will always be grateful for her extraordinary leadership representing our nation around the world."
Compassion -- Her life-long advancement of human rights for the marginalized, from her Beijing declaration of women's rights as human rights, to her more recent declaration, as Secretary of State, that LGBTQ rights are human rights. And early on as Secretary of State she extended benefits to same-sex couples -- before the Obama administration took that action for other federal employees, and years before the Supreme Court recognized same-sex couples' right to marry.
Tenacity -- She is defending Planned Parenthood and women's health care from Republican attacks, and she isn't afraid to demand that public funding be available for abortion care like any other health care.
For women like me, who have witnessed the struggles for women's rights since the 1970s, Hillary Clinton's accomplishments are familiar and inspiring. But for millennial women -- who according to the polls are favoring Bernie Sanders over Hillary, it's a different story.
The Washington Post published a series on "New Wave Feminism" that began with this definition:
Young women (and, increasingly, men) are still coming to the movement in strong numbers, but this feminism looks different, in many ways, than that of earlier generations. This New Wave feminism is shaped less by a shared struggle against oppression than by a collective embrace of individual freedoms, concerned less with targeting narrowly defined enemies than with broadening feminism's reach through inclusiveness, and held together not by a handful of national organizations and charismatic leaders but by the invisible bonds of the Internet and social media.
As the leader of one of those national organizations, I know that it is my responsibility to speak to and mobilize new audiences of women who have developed different views on what -- and who -- is a feminist. It's not enough for millennials to support a candidate just because she's a woman, or because she would be the first woman President. They want the first woman to be the right woman -- and you know what? So do I. That's why I always welcome the opportunity to speak with young women about the work Hillary has done and her strong record of advocating and winning advances for women, for racial justice, for LGBTQ equality and more.
To be clear: Bernie Sanders is a good man, and I get why he has such appeal to millennials, and I think Hillary Clinton gets it too. She knows what it's like to support a candidate who stands proudly for the best and most deeply held values and beliefs shared by a generation. After all, when Hillary was their age, she worked for George McGovern -- in Texas!
I'm looking forward to the next round of primaries and caucuses because I think Hillary Clinton and Bernie Sanders are engaged in an important and productive conversation about their shared values and goals. We need to look beyond the labels and caricatures that get attached to the candidates (though both were hilarious on Saturday Night Live) and focus on what really matters in this election.
I welcome Hillary Clinton's candidacy for President in 2016 because gender, race, economic justice, transphobia and homophobia matter in the United States today, and Hillary Clinton's proud history of fighting for all of us give her knowledge, insights, and wisdom that others do not have. That's good for our politics and good for our country. Hillary Clinton doesn't really need to worry about the way others are defining her in this election, because she's devoted a lifetime to defining herself.
Popular in the Community