White gloves and silver service are out. Pink sunglasses are in. That is according to co-founders, Serge Dive and Sarah Bell of LE Miami, a unique new trade show like none other to set the scene for the next evolution of contemporary luxury travel. "The luxury world segregates by money; the contemporary world segregates by style," says Serge.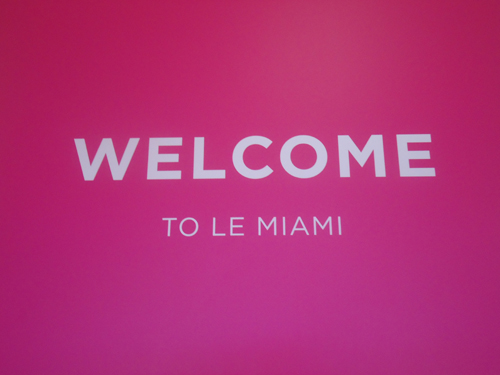 I had the good fortune of being invited to attend this carefully curated inaugural show in my own backyard in sunny South Beach. Like the art world, this new travel style show selectively "curated" both its exhibitors and guests from around the world. Not just anyone could gain entry. This was not your usual trade show by any means.
The founders incorporated a British familiar style and called us all "Gorgeous" in their daily emails. Who wouldn't like being greeted as "gorgeous?" For the dress code, we were instructed to think more weekend brunch, than power lunch. Le Miami operated with a 'no tie' policy.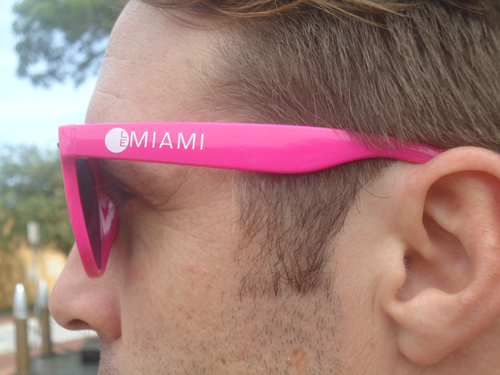 At registration we were all given hot pink sunglasses and matching umbrellas. So we were all prepared with mandatory Miami gear for this time of year when the sun shines one minute and showers pour the next.
Le Miami kicked off mid-afternoon with a champagne toast with tunes emanating from the DJ booth positioned front and center of the convention hall. Now that is what I call assimilating to the Miami lifestyle...when in Miami...start at the bar and then go to the booths!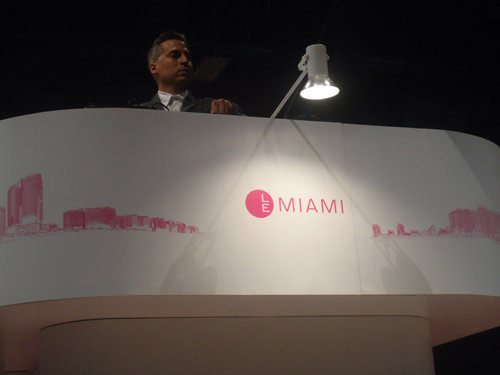 Meetings were all prearranged to connect the most rebellious leaders with the influencers serving the travel needs of the rising creative class. There is a paradigm shift from the old-fashioned customers to the new creative class which is growing by 7 percent yearly for an aggregate of 30 percent of today's workforce in the Western world that need to be catered to.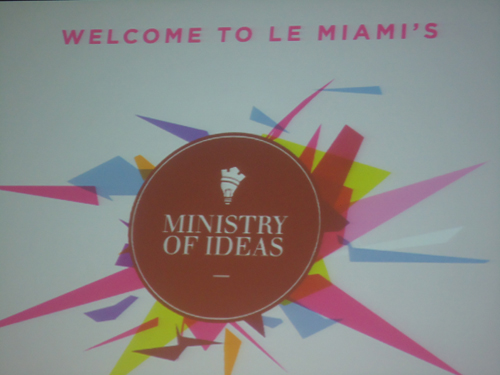 LE Miami programming started with the "Ministry of Ideas" with a keynote conversation with renowned hotelier and former nightlife guru, Ian Schrager.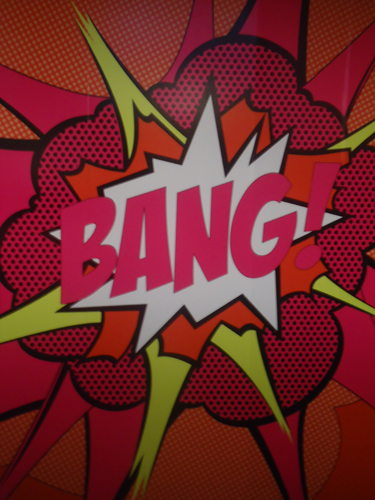 Flashback to a New York City dance floor for the origins of the birth of the modern high-end hotel. Think Studio 54 and its leading men, Ian Schrager and Steve Rubell...and voila, the beginnings of the boutique hotels when they got their 'get out of jail' cards and launched the Morgans Hotel Group. Since then, there has been no turning back. The term "boutique hotel" was coined in 1978 when the Morgans Hotel was launched in New York City by these two jailbirds who set the hotel world on fire with high design.
Today's lifestyle hoteliers have created a community for modern creative city-hoppers ever since from urban hangouts to remote retreats. The definition of luxury has shifted to include more than just service and design. Space, creativity and health are all key components of the new luxury world plus an infusion of music, fashion, art, and film. Lobbies are evolving from night to-day to become a 24 hour epicenter for both work and play.
According to Ian Schrager, design hotels are now like Frankenstein monsters all looking alike. "You need to make a bouillabaisse with the right mix to generate the alchemy and create the magic," adds Schrager. And so it was that Mr. Schrager had the last word on hospitality in our Magic City of Miami.
Hope Gainer of Hope International is a global marketer and imagemaker currently based in Miami Beach who attended Cornell University with its renowned Hotel School. She is a founding member of the Florida Luxury Marketing Council and is an avid global jetsetter seeking out the newest and most unusual travel experiences and hotels along the way. All aspects of luxury the lifestyle are her expertise. www.ehopeinternational.com
REAL LIFE. REAL NEWS. REAL VOICES.
Help us tell more of the stories that matter from voices that too often remain unheard.