One thing must be said about U.S. District Judge Richard Berman's decision to lift Tom Brady's four-game "Deflategate" suspension on Thursday: It was written in glorious fashion, complete with shot after shot after shot at the NFL and its all-powerful commissioner, Roger Goodell.
In his decision, Judge Berman repeatedly ripped apart the NFL and Goodell for a handful of specific decisions they made over the course of the Deflategate saga.
1. When Judge Berman likened Goodell's discipline of Brady to that of an uncontrollable tyrant's.
"Because there was no notice of a four-game suspension in the circumstances presented here, Commissioner Goodell may be said to have "dispense[d] his own brand of industrial justice.''
2. When Judge Berman simply bolded the NFL's own admission that the Wells Report didn't prove anything, rather than rewrite it.
"At the same time, the Wells Report acknowledged that "[o]ur scientific consultants informed us that the data alone did not provide a basis for them to determine with absolute certainty whether there was or was not tampering, as the analysis of such data is ultimately dependent upon assumptions and information that is uncertain.'"
3. When Judge Berman was all, "We almost never do a ruling like this, but oh man, did the NFL mess this up or what?"
"The Court is fully aware of the deference afforded to arbitral decisions, but, nevertheless, concludes that the Award should be vacated.
4. When Judge Berman said that deflated footballs are not a "critical issue" and then science-splained at Goodell.
"The Award offers no scientific, empirical, or historical evidence of any comparability between Brady's alleged offense and steroid use. Often, steroid use has to do with critical issues of health, injury, addiction, and peer pressure, among other factors."
5. When Judge Berman found little to no legal basis for the NFL's discipline of Brady.
"Brady had no notice that such conduct was prohibited, or any reasonable certainty of potential discipline stemming from such conduct. The Court concludes that, as a matter of law, no NFL policy or precedent notifies players that they may be disciplined (much less suspended) for general awareness of misconduct by others."
6. When Judge Berman called out the NFL for targeting Brady specifically.
"And, it does not appear that the NFL has ever, prior to this case, sought to punish players for such an alleged violation."
7. When Judge Berman said Goodell and the NFL violated their player's rights.
"A player's right to notice is at the heart of the CBA and, for that matter, of our criminal and civil justice systems."
8. When Judge Berman found that the NFL treated Brady unfairly by withholding information about their investigation.
"Denied the opportunity to examine Pash at the arbitral hearing, Brady was prejudiced. He was foreclosed from exploring, among other things, whether the Pash/Wells Investigation was truly "independent," and how and why the NFL' s General Counsel came to edit a supposedly independent investigation report."
9. When Judge Berman called the NFL's processes "fundamentally unfair."
"The Court finds that Commissioner Goodell's denial of the Players Association's motion to produce the Paul, Weiss investigative files, including notes of witness interviews, for Brady's use at the arbitral hearing was fundamentally unfair…"
10. When Judge Berman put square quotes around the word "independent" before referencing the NFL's "independent" Deflategate investigation. (He did that seven times.)
"Compounding Brady's prejudice is the fact that, as noted, Paul, Weiss acted as both alleged "independent" counsel during the Investigation and also (perhaps inconsistently) as retained counsel to the NFL during the arbitration."
11. When Judge Berman called out Goodell for failing to do his job.
"Commissioner Goodell had "the affirmative duty ... to insure that relevant documentary evidence in the hands of one party is fully and timely made available to the other party."
12. When Judge Berman pulled off the best kicker we've seen in a while.
"Brady's four-game suspension is vacated, effective immediately."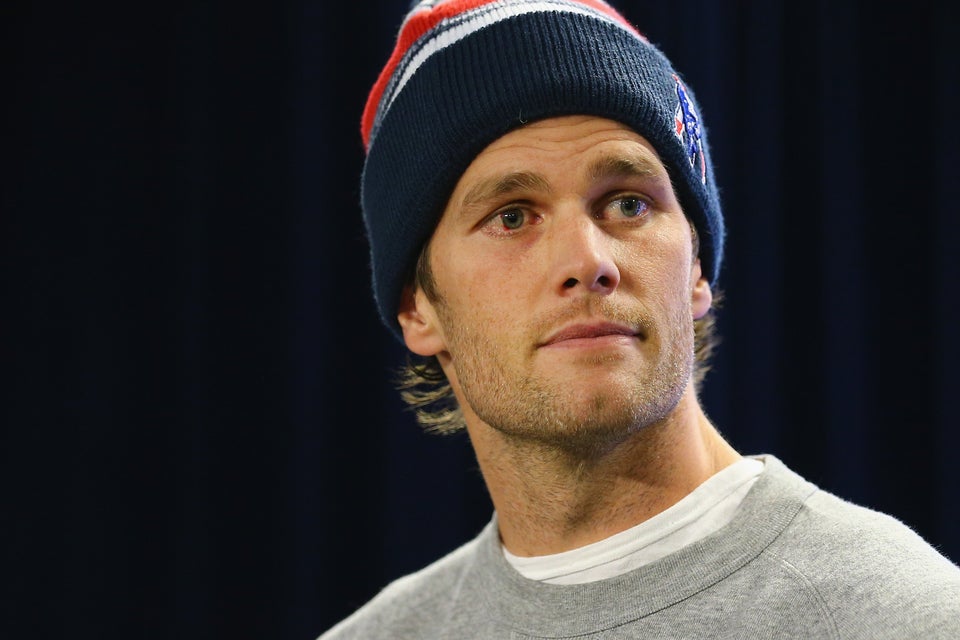 DeflateGate In Pictures
Popular in the Community