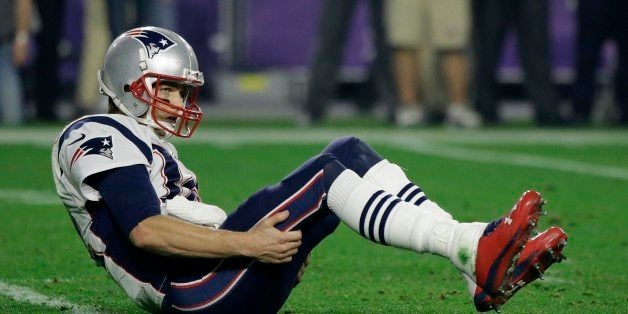 Take away Deflategate, and Tom Brady finds himself in the conversation for greatest quarterback of all time.
Of course, if you take away the steroid controversy, Barry Bonds is your unquestioned home run king, and Alex Rodriguez would likely be on his way to catching him. Ignore the rulebook altogether and Pete Rose would be in the Hall of Fame as baseballs all time hit leader, Danny Almonte would be a little league legend, and the 1919 White Sox would just be another World Series loser.
Each one of those baseball legends are now defined not by their exploits on the field, but by the corners they cut as a means of reaching their accomplishments. They are all infamous because they are cheaters.
And now Tom Brady joins them.
Let's start with what we know: Brady was cheating. There is nothing further to debate on that point. When asked about deflating footballs after the AFC Championship game, Brady denied it. Then when asked to cooperate with the investigation, Brady denied that too, instead holding secret meetings and overly-texting the two equipment managers who did the deed. In regards to cover ups, Brady's attempt falls somewhere between Richard Nixon and Anthony Weiner.
If Brady apologists are looking for something to hold on to, their best is the idea of insignificance. Maybe, just maybe, deflating footballs isn't that big of a deal. After all, this wasn't Al Davis disguising himself as a reporter to ask the opposing players questions on game strategy. It wasn't even Bill Belichick videotaping the opponent's defensive signals. This was simply letting a little air out of the pigskin. As far as law-breaking goes, ball deflation is probably a misdemeanor, not a legacy killer.
Except that, well... cheating is cheating. It's pretty black-and-white at the end of the day. Some people don't think to cheat. Others do. Now it is known that just like his head coach, Brady is part of the latter. When given the option between winning the right way or finding a means of giving himself an advantage that went against the rules, Brady opted for the advantage. Then he lied about it, like Rose and Bonds and A-Rod before him.
So how deep does the rabbit hole go here? Was this an isolated incident, limited to just this single season? Perhaps Brady, watching a decade go by without a fourth Lombardi Trophy, started bending the rules in a final attempt to tip his legacy away from Aikman and more towards Montana. Perhaps what Brady was caught doing this season was something the Brady of 2001 would never even consider.
Or... and this is a bit of a leap, mind you... but perhaps it is now fair to wonder how a 6th-round draft pick who couldn't beat out Brian freaking Griese to start at Michigan suddenly evolved into the greatest quarterback in a generation. Perhaps it is also fair to wonder how Brady was able to win three Super Bowls with a pretty mediocre cast of pass-catchers. Perhaps it is fair to question how good Tom Brady ever really was.
That's the real shame of Deflategate, at the end of the day. Instead of looking back at one of the most remarkable and accomplished careers in the history of the NFL, Brady will forever be linked to a cheating scandal that landed him a four-game suspension from the NFL.
Now and forever, he is Tom Brady, Super Bowl Winner*.
Related
Popular in the Community