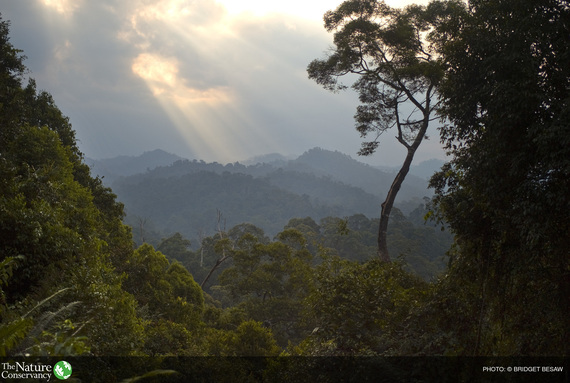 Kindled by the heat hazes of southeast Asia, and stoked by the imminence of the climate negotiations in Paris, there has been lively debate in recent weeks about how far large companies are honoring their commitments to "no deforestation" and supply chain improvement.
According to the Global Canopy Programme's recent report on achieving deforestation commitments, political and corporate momentum is accelerating. This is apparent in the high-profile commitments of recent years -- from the Consumer Goods Forum, the Tropical Forest Alliance and, in September 2014, the New York Declaration on Forests in which world leaders endorsed a global timeline to cut natural forest loss in half by 2020 and strive to end it by 2030.
These commitments create powerful incentives for change across global supply chains -- and of the 250 companies with influence over deforestation, 60 percent have some form of forest-related sustainability policies, and transparency on tracking progress on these commitments is also improving, through platforms such as Supply Change. This Forest Trends initiative finds that companies' commodity risk disclosure trails behind their willingness to commit to sustainability, but goes on to say that this is not surprising: the problem is intractable and the pledges are new.
However, these companies cannot be expected to deliver these commitments in isolation. For example, Cargill, the world's largest agricultural commodity trader, has been under the spotlight for apparent backtracking on its 2014 commitment to "no deforestation." The company's more recent policy and action plan, which Cargill sees as a step forward, has been viewed by some environmental groups as a step backwards because the company does not explicitly commit to ending deforestation across all agricultural commodities by the tighter deadline of 2020, despite reaffirming its commitment to the declaration overall.
Eliminating deforestation by 2030 can be done, but it is going to take a step change in attitudes and action by many players. Despite indicators of progress, deforestation is continuing and governments are showing resistance to the intervention and ambitions of western companies and NGOs. The heat hazes, affecting people, every year, in Singapore, Malaysia and Indonesia, continue.
Transparency around target setting
There is a risk in focusing too much on corporate commitments -- which remain welcome, and valuable -- instead of on the reality of the challenges in delivering them. And there are risks in pressuring companies to set target dates for action because companies under pressure occasionally narrow their ambitions to make sure they succeed. No company likes to set a target and fail to achieve it. Transparency is an essential element of progress -- and openness about difficulty is even more important than openness about achievement.
Companies cannot work in isolation. However large and influential, they need to work with many others in their supply chains. Large players simply can stop working with suppliers who fail to meet their standards -- but pushing smaller partners to the brink is not sustainable business. Instead, they should help suppliers adopt better practices, and educate consumers to make more informed choices.
All companies, together with smallholders and farmers who currently clear land for palm oil or soy, paper production, cattle ranching or other development, are responsible for managing lands responsibly, so that the forests and soils they depend on are not degraded for short-term ends.
Companies also need the help of local, regional and national governments to set appropriate standards and incentives -- such as those that prevent deforestation -- and ensure effective law enforcement in areas such as the prevention of illegal tree felling.
Land is our most valuable resource -- and nations (including the communities who have lived there for centuries and the governments who rule on their behalf) should be the best stewards of those resources for generations to come. We need to approach development in a way that values nature's multiple contributions -- not only for its rich biodiversity and climate management, but in supporting livelihoods and economic wellbeing.
Responsible soy production in Brazil
The Nature Conservancy has been working with Cargill since 2004 to apply its science-based approach and expertise in conservation planning. In Brazil, we have helped Cargill develop systems to ensure it only buys soybeans from farmers who are working to comply with Brazil's Forest Code.
Through improved agriculture management practices promoted by the Conservancy's responsible soy project, Cargill can work directly with farmers to help influence how soy is produced. Over the past decade, the Responsible Soy project successfully has promoted responsible soy production in the Santarém area in Brazil, where Cargill has a soy terminal. The success of collaboration is evident from the reduction in illegal deforestation in the farms participating in the project since 2006, reaching near zero deforestation in most farms.
We know that we will not create a sustainable planet unless we engage the private sector in new conservation solutions. In tackling deforestation, progress has been made in the past five years. Numerous commodity traders and consumer companies have announced zero deforestation policies. The traceability of commodities, notably palm oil, has improved and spread. Investors are taking increasingly active roles in encouraging companies to change. Banks are looking more carefully at their investment portfolios.
We can make progress on palm oil in Indonesia, just as we are making progress on soy production in Brazil, collaborating effectively with big private sector players, to constructive ends.
Calling all HuffPost superfans!
Sign up for membership to become a founding member and help shape HuffPost's next chapter