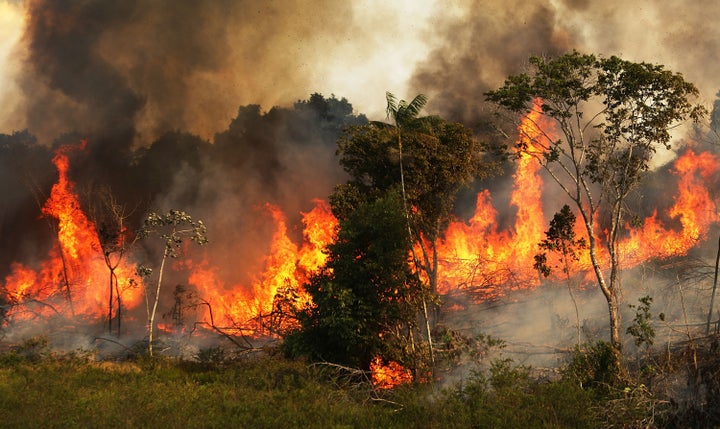 Deforestation contributes significantly to global carbon emissions, but there's some encouraging news: The potential benefit to ending the practice is considerably greater than the current harm done by it.
Destroying forests accounts for 11 percent of global carbon emissions, and stopping it would reduce global emissions by an estimated 24 to 30 percent. Deforestation emits carbon, while protecting forests avoids these emissions and also allows trees to pull in additional carbon.
World leaders acknowledged the importance of ending deforestation in the historic climate deal announced Saturday in Paris. The pact is not legally binding, but the 195 signatory countries are signaling that preserving forests should be a top priority.
The deal references a policy called REDD+, which is aimed at creating ways for investors, conservationists and companies to fund forest protection.
"This unexpected development sends a clear message that REDD+ is a prominent piece of the new global climate action strategy," writes Gustavo Silva-Chávez of conservation nonprofit Forest Trends.
Article 5 of the treaty reads:
1. Parties should take action to conserve and enhance, as appropriate, sinks and reservoirs of greenhouse gases as referred to in Article 4, paragraph 1(d), of the Convention, including forests. 2. Parties are encouraged to take action to implement and support, including through results-based payments, the existing framework as set out in related guidance and decisions already agreed under the Convention for: policy approaches and positive incentives for activities relating to reducing emissions from deforestation and forest degradation, and the role of conservation, sustainable management of forests and enhancement of forest carbon stocks in developing countries; and alternative policy approaches, such as joint mitigation and adaptation approaches for the integral and sustainable management of forests, while reaffirming the importance of incentivizing, as appropriate, non-carbon benefits associated with such approaches.
Crucially, indigenous people's rights need to be protected as several billion dollars meant to preserve forests flow to largely tropical nations. A number of groups that advocate for indigenous peoples put out a scathing statement as the draft language, now a final part of the agreement, was considered. They worry that forest protection programs are being implemented without proper oversight and attention to the rights of people living in the forests that are targeted for protection.
One solution Apple and Ikea pioneered earlier this year is for corporations to buy up forests and gain more control over the supply line.
In April, Apple bought 36,000 acres of land in Maine and North Carolina. The iPhone maker is working with environmental nonprofit Conservation Fund to replenish felled trees and preserve acres of virgin woodlands in these areas, and hopes to source the paper and wood used in its packaging to these forests.
"Apple believes that paper, like energy, can be a renewable resource," Lisa P. Jackson, Apple's vice president of environmental initiatives, wrote in a Medium post announcing the move. "So Apple is striving to supply 100 percent of the virgin fibers used in its paper and packaging from sustainably managed forests or controlled wood sources."
The amount of wood Ikea used on its furniture last year would fill about 14 Empire State Buildings -- and that doesn't count the company's paper and packaging. By 2020, the Swedish home-good giant wants all the wood it uses to be recycled or certified by the Forest Stewardship Council, a nonprofit that promotes sustainable forestry. The company is about halfway to that goal, The Wall Street Journal reported in July report.
Ikea bought 83,000 acres of Romanian forest last year after taking heat for illegally logging in Russia's Karelia Forest. Some of the wood from this location is supposed to go toward building furniture for its store in Bucharest.
"The mantle of leadership, putting real projects on the ground and showing people what can be done -- that mantle of leadership is shifting to the private sector," Larry Selzer, chief executive of the Conservation Fund, told The Huffington Post by phone. "We're hopeful this will become a trend, that the private sector will exhibit true leadership at a time when we need it most."
This article has been updated with comment from Larry Selzer.
Popular in the Community