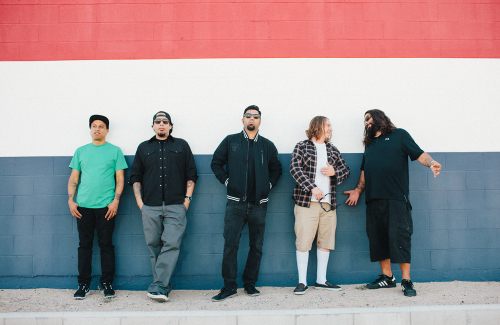 (Photo Credit: 13thWitness)
Deftones have been one of the mainstays of the hard rock and metal industry since they blazed their own trails in the mid 1990s. The melodic brutality of their music has developed into their signature sound, and has been influential for the new generations of metalcore bands. Taking nuances and ideals from outside of the realms of metal, they're a band ubiquitous among fans of all sorts of genres.
Deftones have currently wrapped up finishing a new album and are about to hit the road with a co-headlining tour with Incubus. I was able to chat with Deftones drummer Abe Cunningham via phone while at home in Sacramento, California about the fresh approach the band took with writing and recording this yet to be titled new album.
So word is that you've finished recording the new Deftones album.
We just sort of did it from different approach this time. After having done this for many years now, the whole writing process, rather than getting together at a set amount of time, we actually got together for a couple weeks at a time. Maybe two weeks writing then maybe go home for a week and maybe do a few shows, then another block of writing for a couple weeks. We did that over a year's time and it was just a nice space, a nice way to go about things, than being forced to be creative in a certain amount of time.
Not necessarily the songwriting process, but what's the overall mood/vibe when all you guys get together to bounce ideas off each other?
It's just a time and space to try to capture that moment. We never really go in with a plan, for better or for worse. It's just an old school band style. Get in the ol' jam room and see what pops out. It can start from anything. There isn't one main songwriter in the band. It could start from a joke, it could trigger from anything. After being around for 26 years now, we're brothers now. We enjoy each other's company. We make each other laugh.
Whether or not you end up choosing to use something you've all demoed, is there a general sense when you first are demoing stuff that you're on the right track? How do you know that it has potential vs. being absolute shit?
Its funny, even this time, this whole period of writing and recording was pretty fruitful. We sort of edit as we go in terms of somebody's not feeling something. We generally just write enough for a record normally and that's it; maybe a couple extra tracks that are needed for different parts of the world. This time around it was pretty fruitful. Even some of the songs that made the list that got cut were pretty cool, but we never try to do fillers. Ones that weren't my favorites right off the bat, now that's it's all done, couple of those tracks leaped up the ladder. All we can do is make stuff that we're stoked on, but once its said and done and its released, its not really up to us. We just try to make songs that we dig.
Did you have a lot of demoed ideas/material to choose from for this album?
I think we had like 16 songs. Actually, we had a lot of songs. It was the most we have ever written for anything. We cut 16 songs I believe, but we actually had about 20 maybe. That's a lot for us. We try to whittle down as we go and get the best of what we have.
From your perspective, what sound does this new album have?
I think there's nothing wrong sounding like yourself. From the very get go, we always just loved sounds. There was time when there was a mashing of different cultures. Our whole thing is we have no boundaries, but it was always a guitar driven, metal sound, which is the core of our band. We love so much more than just that. From our inception, we've always been open door; we can do whatever we want. We don't go into with anything planned at all; except for the love of trying to create different sounds. It's always been a dichotomy of our music where a beauty meets aggression kind of thing, which is sort of a staple of what we do. We just try to make songs. It sounds pretty simple. It's just the basis of it all.
The open creativity that the Deftones always had made you guys very ubiquitous to music fans outside of hard rock and metal.
Everyone was always welcomed. We didn't make music for any one type of person. I think it was a part of our upbringing too, just the time culturally of people just digging other types of music. I was raised in a house full of music at all times because my parents were musicians. If you had open ears, you were welcomed to our shows. We always invited everyone. We never tried to alienate anyone. We loved meeting people.
With the new approach in recording this album, how did that improve the process?
I think happiness is where we are in our lives. Doing it in this matter of a couple weeks at of time, allowing everyone to still go home and be normal. We have families. We're regular dudes. That really freed it up just to be that when we got together, everyone was rested and ready to go. It wasn't a grind.
Deftones kicks off their tour with Incubus Wednesday, July 22nd at DTE Energy Theatre in Clarkston, Michigan. Death From Above 1979 and The Bots will join the tour as special guests. For more information, visit deftones.com.
Calling all HuffPost superfans!
Sign up for membership to become a founding member and help shape HuffPost's next chapter