WASHINGTON -- House Republicans are scheduled to vote on two separate budget bills this week, each of which would reject funding for the poverty activism group ACORN, despite the fact that ACORN disbanded three years ago.
ACORN, also known as the Association of Community Organizations for Reform Now, came under heavy fire in the fall of 2009 after conservative videographer James O'Keefe released a set of selectively edited videos that appeared to show its employees offering advice on tax avoidance related to prostitution and child smuggling. Independent investigations by the California attorney general, the Massachusetts attorney general and the Brooklyn, N.Y., district attorney would later clear ACORN of criminal wrongdoing, and an investigation by the Government Accountability Office would clear ACORN of charges that it mishandled federal funds.
But in the fall of 2009, Congress banned federal funding for ACORN using broad language that applied to "any organization" that had been charged with breaking federal or state election laws, lobbying disclosure laws or campaign finance laws or with filing fraudulent paperwork with any federal or state agency. The funding ban also extended to any employees, contractors or others affiliated with any group so charged.
Struggling with the bad publicity and loss of federal funds, ACORN dissolved in early 2010. Just to be sure, however, Rep. John Culberson (R-Texas) included this language in a government funding bill introduced on May 28 of this year: "None of the funds made available in this Act may be distributed to the Association of Community Organizations for Reform Now (ACORN) or its subsidiaries or successors."
Section 545 of a bill put forward the next day by Rep. John Carter (R-Texas) delves still deeper into faux certainty, extending the funding ban to "any prior appropriations Act."
In fact, ACORN has no subsidiaries, because it has not existed for three years. Neither bill defines "successors," but the broad language of the original 2009 funding ban left little room for leeway, extending to "Any State chapter of ACORN registered with the Secretary of State's office in that State," "any organization that shares directors, employees, or independent contractors with ACORN," and any organization that "employs" someone "indicted" for violations that ACORN was initially charged with.
"Is it too late to defund Saddam Hussein?" mocked Rep. Alan Grayson (D-Fla.).
Jennifer Hing, a spokeswoman for House Appropriations Committee Chairman Hal Rogers (R-Ky.), defended the passages as routine language that House Republicans always include. "These provisions are typically carried every year in appropriations bills," Hing said.
Indeed, like a game of legislative Mad Libs, the House GOP routinely inserts a similar provision in appropriations bills it approves. In March, the House signed off on a short-term "continuing resolution" budget with language identical to Culberson's.
The decision of whether to cover prior legislation in the ACORN funding ban is left to individual Appropriations subcommittees, according to Hing. The House Appropriations Subcommittee on Homeland Security, chaired by Carter, traditionally includes the retroactive ban. The Culberson and Carter bills are both set for a vote this week.
Before You Go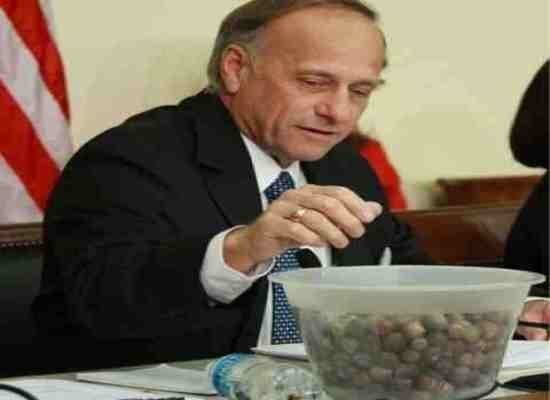 More Crazy Examples of Congressional Theatrics
Popular in the Community