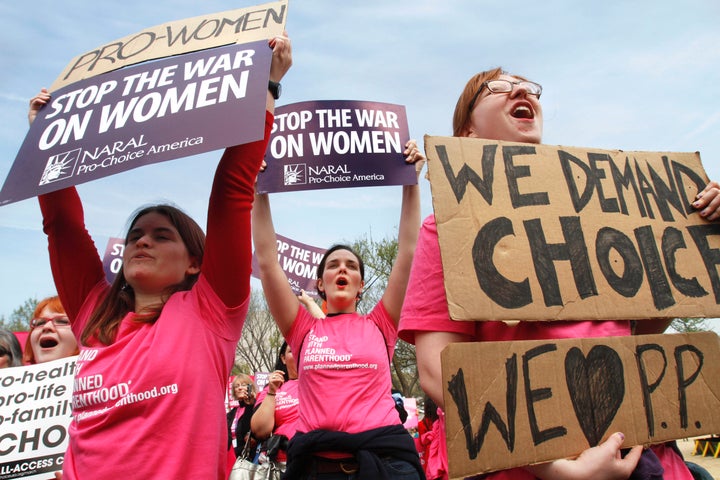 WASHINGTON -- Six states -- Texas, Indiana , North Carolina, Wisconsin, New Hampshire and Kansas -- have defunded Planned Parenthood during the 2011 legislative sessions because some of its clinics provide abortions, but several recent polls suggest that a majority of American voters oppose cutting off funds to the family planning provider.
According to a new Gallup poll, only 40 percent of Americans surveyed would support a law prohibiting health clinics that provide abortions from receiving any federal funds. Only one-third of respondents polled by Harris Interactive/Health Day in 2011 think that Planned Parenthood should be defunded, compared to 55 percent of voters who said the organization's funding should be kept in place.
Abortions account for less than 3 percent of Planned Parenthood's services. And though the Hyde Amendment already prohibits taxpayer money from being used to pay for abortions, many anti-abortion advocates oppose the federal funding of Planned Parenthood because they believe the money could indirectly be used to fund the procedure.
"Personally I am glad they have defunded Planned Parenthood," Therese Burch of Monrovia, Calif., told HuffPost. "Abortion is their main bread and butter, no matter what they tell us."
"My tax dollars should not be devoted to birth control or abortions," said David Wilkerson of Louisville, Ky., in an email. "Where do folks think those state funds come from?"
Other voters can testify to the life-saving services Planned Parenthood offers to those who cannot afford or would have difficulty accessing basic medical care.
"I am grateful to Planned Parenthood for the care I received during the years I was uninsured," wrote Julie Collura of Portland, Ore. "If not for PP, those pre-cancerous cells would not have been found and may have become ovarian cancer. I may indeed owe my life to PP."
Cecile Richards, President of the Planned Parenthood Federation of America, spends a lot of her time trying to set the record straight on the central purpose of her organization, which she says is to provide pap smears, STI screenings, breast exams and contraceptives to 3 million low-income and uninsured men and women each year.
"Ninety-seven percent of our services are basic preventative care," she told HuffPost in an interview. "This is not about funding for Planned Parenthood. It's about cutting off the largest provider of family planning in America to women. It's about the health and well-being of the 3 million patients that come through our doors every single year."
"Men and women of all parties and all walks of life are concerned about these kinds of efforts to play politics with women's health care access," Richards told HuffPost. "We've been overwhelmed by the support of folks all over the country."
Popular support for Planned Parenthood could play heavily into the upcoming elections, especially in states where GOP lawmakers have pushed defunding legislation. Planned Parenthood of Indiana saw a flood of donations from all over the world after it was defunded by lawmakers in May, and a recent NBC/Wall Street Journal poll found that more 53 percent of all respondents and 60 percent of women ages 18 to 49 found it "mostly or totally unacceptable" to cut off money to the family planning provider.
Popular in the Community