Some people believe Walt Disney has been cryogenically frozen, awaiting future technology to thaw his genius, even though there is substantial evidence indicating that he was cremated two days after his lung cancer related death, and a small metal wall plaque marks the remains of one "Walter Elias Disney" in a garden at the Forest Lawn Memorial Park.
There are numerous reasons to preserve the history, if not the physical remains, of the most powerful figure in entertainment history. And during his lifetime (1901-1966), Walt Disney was an animator, artist, director, producer, theme park pioneer, entrepreneur, network television host, and the voice of Mickey Mouse. The name Disney has become a verb: Disneyfy, a noun: Disneyfication, and three adjectives: Disneyfied, Disneyesque, and Disneyish. According to Forbes Magazine, Disney is the most powerful brand in the world. The empire Walt Disney created is valued today at $148 billion dollars, per Standard & Poor's data. And his legacy should be most exalted in Los Angeles, where he lived his entire adult life.
And yet, despite a recent surge of publicity and activism on the part of a few committed preservationists, the City of Los Angeles, most specifically the Los Feliz neighborhood, which was central to the founding of The Walt Disney Company, has mostly failed to honor and recognize the legendary figure who towered in its midst.
"We have always called that the Disney house," says longtime Kingswell Avenue resident, retiree Vida Amador, referring to a wood-shingled 1914 Craftsman bungalow.
This modest but handsome dwelling at 4406 Kingswell belonged to Walt's uncle and aunt, Robert and Charlotte Disney, and he lived in this house when he first moved to Los Angeles in 1923. It was in this family home, paying a rent of $5 a week, where he established his company and signed a contract to produce the Alice Comedies, hit silent shorts that portrayed a real little girl in an animated world, a reverse forerunner to today's Son of Zorn, and yes, even a precursor to the live action/animation mélange in Disney's Mary Poppins. This was the house in which Walt's brother and partner, Roy, was married in 1925. The garage that existed behind the house was Disney's first California studio. Walt had stationary printed with 4406 Kingswell listed as his business address.
Last May, a family purchased the house for $750,000, with plans to tear it down, to build something larger, what concerned neighbors are calling a McMansion, not knowing they would be destroying a major remnant of Hollywood History. Los Feliz and adjacent Silver Lake have become, like their east coast counterparts in Brooklyn, "hipster central", with much attention focused on trendy pseudo dive bars and places to purchase a myriad of pricey black T-shirts on Hillhurst Ave, but with seemingly little regard for the historic riches that linger a few houses down a side street.
Hairdresser David Hinds was literally born across the road from the house, when his mother didn't make it to the hospital in 1956, and he continues to live there today. He is proud of Kingswell Ave's history, which boasts two Disney dwellings and two early Disney studios. But speaking about some of the new denizens, he says, "Progress is good but there's a little too much of it....the attitude is concerning to me. They stand in front of restaurants and don't understand 'Excuse me.' They are entitled, need to get some manners. I can't tell you how many times I have had to take my bicycle to work because their cars are blocking my driveway."
Today a blue paper sign posted on the Kingswell bungalow's window announces plans for the demolition of this significant property. The order was filed on July 8, but on July 20, the house was granted a 75-day stay of execution by the Los Angeles Office of Historical Resources.
Walt Disney loved Los Feliz, which, during the silent film era, was also home to such cinema legends as Gloria Swanson, Charlie Chaplin, Oliver Hardy, Louis B Mayer, and boxer Jack Dempsey. Los Feliz is just east of Hollywood and counts Griffith Park with its fabled Observatory as its northern neighbor. When Walt married and started a family, he built larger homes in the neighborhood and a stunning Art Deco style major studio, where the revolutionary Snow White and the Seven Dwarfs was made in the 1930's.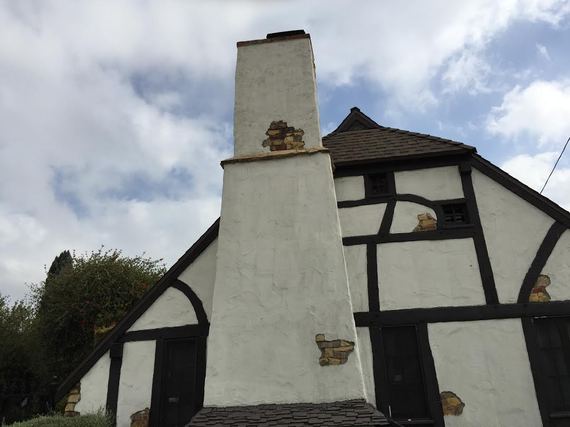 Los Feliz storybook style architecture was a likely inspiration for Snow White and the Seven Dwarfs. These homes are now known as The Snow White Cottages.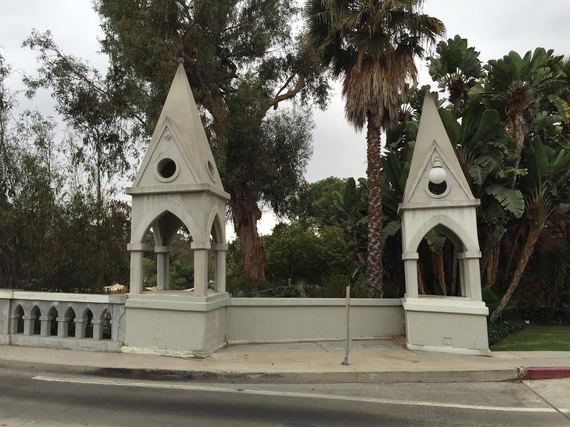 Los Feliz' gothic-style Shakespeare Bridge lead to the Disney Studio on Hyperion

A supermarket has now replaced that elegant studio on Hyperion. So many exemplars of Los Feliz' (and the world's) moviemaking history have been lost, including the original Fox Studio and D.W. Griffith's Fine Arts Studio. ( Los Feliz's 104-year-old Vitagraph Studios, now The Prospect Studio and owned by The Walt Disney Company, does remain the production lot where Grey's Anatomy and General Hospital are filmed.) Local resident Antoinette Duymovitsh says, "People have not been educated to the fact that the origins of what we now call Hollywood actually took place in Los Feliz."
Concerned citizens in other environments associated with Walt Disney have sought to save his patrimony. There is a proactive movement afoot in Chicago to rehabilitate his birthplace, a house in the unprepossessing Hermosa neighborhood. Through the efforts of the property's owners, producers Dina Benadon and Brent Young and their committed associates, the house is due to become an inspirational children's learning center.
During Walt's childhood years from ages 4-10, the Disney family lived on a farm in Marceline, Missouri. In the town of Marceline, a Disney museum has been established and the barn on the farm has been rebuilt. A cottonwood tree on the property, known as Disney's "Dreaming Tree" was revered as a monument until its demise from natural causes last year. But foresighted conservationists had already planted a nearby descendent: "Son of Dreaming Tree". And in Kansas City, where Walt Disney and his fellow Mickey Mouse creator Ub Iwerks formed their initial animation studio, locals are working to refurbish Laugh-O-gram and turn it into a museum. There also exists the extensive and much admired Walt Disney Family Museum in San Francisco, but San Francisco is not a city associated with Walt Disney.
When people think of Disney's Los Angeles home, they often picture the Carolwood Drive Estate in Holmby Hills, where he and his wife and two daughters moved in 1949, where Walt was often pictured with his beloved small scale working railroad that transversed the five acre property. This legendary estate, which should have been landmarked, was torn down to make way for a Donald Trump-style 35,000 square foot mansion completed in 2001.
The house on Kingswell must not meet the same fate as the Carolwood property and the Hyperion studio. Apprehensive Los Feliz residents do not want to see their neighborhood "Brentwoodized", with massive dwellings projecting glitz replacing human-sized abodes of charm.
After the death of Uncle Robert Disney, Aunt Charlotte Disney continued to live on Kingswell until the 1970's. Kathy Gilles grew up in a neighboring house, decades after Walt and Roy once rented a room there, and where her parents and children still dwell, and she remembers Charlotte Disney with great fondness. "She gave me piano lessons. And she would make peanut brittle, which they would sell at Disneyland. It started as a gift for family and friends but became a product." David Hinds remembers Walt Disney trucks pulling up in front of Mrs. Disney's residence.
After Charlotte Disney, new tenants planned to demolish the garage/studio. In 1982, a group of concerned citizens calling themselves the "Friends of Walt Disney", pooled money and resources, and arranged to preserve it, although it was physically moved to the Stanley Ranch Museum in Garden Grove, Ca. Kathy Gillis remembers, "The people who then lived in the house auctioned some cels and not completed cartoons for $10. I bought some and I still have them."
Civic leaders are eager to see the house landmarked, and the original garage/studio returned to its rightful place on the Kingswell property.
On Thursday, September 15, a hearing was held in Los Angeles' City Hall by the members of the Cultural Heritage Commission and the commissioners unanimously approved granting the house historical and cultural monument status. But this is not the final step to preservation. The decision rests with the Los Angeles City Council. The good news is that prominent Councilmember David Ryu does consider the property significant, and there is every reason to now believe the genesis of The Walt Disney Company will be saved.
REAL LIFE. REAL NEWS. REAL VOICES.
Help us tell more of the stories that matter from voices that too often remain unheard.