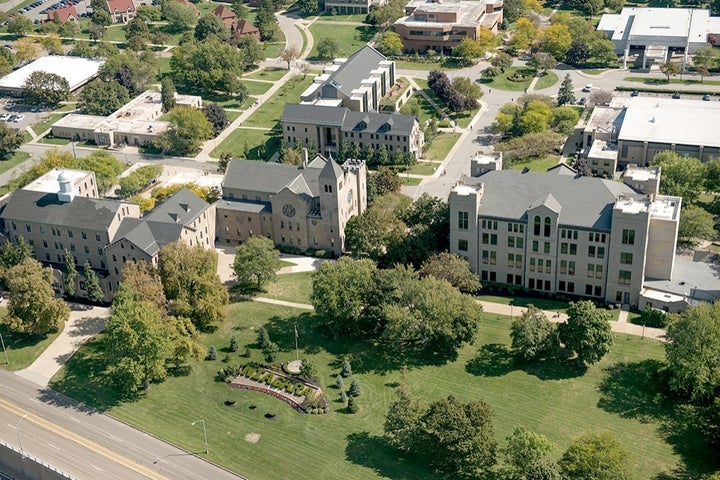 Ever since the first independent (private, not-for-profit) institution of higher learning was established centuries ago, these colleges and universities have served as a rising tide lifting students educationally, economically and socially. There is no greater engine for social mobility than a college degree.
Institutions that matter to communities
New York's cities and towns benefit greatly from the independent colleges and universities within their borders. Independent colleges and universities are one of the state's strongest economic engines – with a total economic impact of $79.6 billion in 2015 – and are active and committed partners of the state on many initiatives that serve students and taxpayers well. Niagara University generated more than $225 million in economic impact during the 2015-2016 academic year.
Niagara University is also one of Buffalo-Niagara's largest employers, with more than 600 hard-working men and women who live in the community, support our schools and community entities, pay taxes and offer their time and talents to those who need them most. Across the state, independent sector colleges and universities are responsible for a payroll impact of $28.1 billion.
Since I became president of Niagara in 2013, we have worked diligently to align our core institutional strategies to complement the regional economic priorities of our elected officials and the Buffalo Billion initiative. Specifically, we have made considerable investments in academic disciplines related to the health sciences, most notably STEM and nursing, as well as tourism management. Statewide, independent institutions award 56 percent of the bachelor's degrees and 71 percent of the graduate degrees in the burgeoning STEM fields (Integrated Postsecondary Education System - IPEDS, 2014-15 completions).
Clearly, it would be a significant missed opportunity if local, state and national leaders do not take advantage of what the independent higher education sector offers in terms of economic and social development.
Degrees that matter to individuals
An independent institution can impact an entire community, serving as an economic engine. But the most stunning impacts are on the individual level for graduates. According to the National Center for Education Statistics, the median earnings of young adults ages 25-34 with a bachelor's degree ($50,000) were 64 percent higher than those of young adult high school completers ($30,550). In addition, the median earnings of young adults with a master's or higher degree were $60,000 in 2015.
A recent report by the Georgetown University Center on Education and the Workforce calculated that, over an adult's working life, high school graduates can expect, on average, to earn $1.3 million, while those with a bachelor's degree will earn $2.3 million. Individuals armed with a master's degree will earn $2.7 million. Those with professional degrees like medicine, law and engineering will earn even more: approximately $3.6 million. More students earn those lucrative degrees at independent (private, not-for-profit) institutions than at public or for-profit institutions. In 2014-2015, the independent sector awarded 51 percent of bachelor's, 72 percent of master's and 79 percent of doctoral and professional degrees earned in New York state (IPEDS, 2014-15 completions).
Achieving affordability for families
At Niagara University, we are guided by those positive outcomes and driven by our Catholic and Vincentian mission to make an excellent education affordable and accessible to all students. Last year, 98 percent of our students were awarded a total of nearly $49 million in institutional scholarships and financial aid – clearly, we have abundant "skin in the game."
Also reflective of its Vincentian mission, with an emphasis on serving those most in need, Niagara University maintains a commitment to enroll a student body of which one-quarter consists of families who are Pell Grant-eligible, which typically means that they earn less than $30,000 annually. Currently, more than 35 percent of our first-time, full-time students receive a Pell Grant. Graduates from this socioeconomic stratum are likely have their lives and futures transformed as college completion becomes the doorway to a lifetime of opportunity.
Like our fellow independent sector colleges and universities, we have put numerous initiatives in place that help families map out the cost of education and determine how to locate the most aid. We take great pride in providing students with an excellent return on the investment of their educational dollar. We know that students enrolled at independent institutions like NU are more likely to complete their studies on time, saving on tuition and securing well-paying jobs sooner.
We ensure that students complete their studies on time by creating an education environment where they flourish. Small classes with individualized attention, meaningful engagement with faculty and mentors, and real-world opportunities are all critical components of a Niagara University education. It's no coincidence that Niagara freshmen return to school for their sophomore year at a higher rate than the national average (84 percent average compared to 73 percent nationally). In addition, 3 out of 4 of our students participate in at least one internship during their academic career and 46 percent of our undergraduates conduct high-level research with a professor, a rate that dwarfs the national average (National Survey of Student Engagement, 2013).
Regionally speaking, the four-year graduation rate at Niagara is one of the highest in Western New York, and 97 percent of our recent graduates are working or enrolled in graduate school. For these reasons, we are regularly recognized by U.S. News and World Report and Money magazine as among the best values in the northeast.
Earlier this year, New York launched two new scholarship programs, including the Enhanced Tuition Award (ETA) program, which makes up to $6,000 per year available to students at independent colleges and universities. Niagara is one of the 30 independent colleges and universities in the state that elected to participate in this pilot year of the ETA program; we view it as a way to further enhance the value of a degree from Niagara. The application process for ETA scholarships is still open – it is not too late to begin your studies at Niagara.
We know that the cost of higher education is on the minds of families, and we want to be at any table where people are working to alleviate those concerns. We also believe in the prerogative of students and families to choose the academic institution, be it public or private, that best suits their personal and professional goals. It is incumbent on all of us – higher education and elected officials – to continue to have meaningful conversations about how we can raise the level of knowledge economy in the state, positively impact our communities and do so in a way that links choice and value to affordability and accessibility.
We, as academic institutions, do not exist for our own promotion; our responsibility as colleges and universities is to serve as bridges and catalysts for economic and social development. We exist to educate the young people from every community, every religion and every walk of life, those who will be the leaders of the future. In my view, there is no more sacred or noble mission.
https://twitter.com/NiagaraUniv
https://www.facebook.com/niagarau/
https://www.instagram.com/niagarauniversity/
Related
Popular in the Community