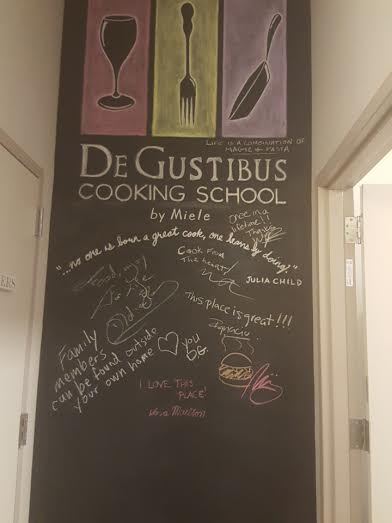 I've been to Macy's many times, cause I'm the kinda girl that loves to shop. Little did I know about De Gustibus Cooking School on the 8th floor in the store. The school is a gem for foodies and wine lovers in the city.
De Gustibus is far from being a typical cooking school. It's an upscale culinary theater that offers unique sensory experiences. When you attend a class or event you will be up close and personal with some of the most intriguing and celebrated chefs in the food industry.
The school is owned and run by the very energetic, Salvatore Rizzo. When Rizzo was a kid, he recreated a minestrone soup for this parents that he learned to make in home economics. That soup was his "aha moment" that he should to work in food. Before taking over De Gustibus, Rizzo worked as the Director of House Operations and Events at the James Beard Foundation.
I asked Rizzo how his school is different than other cooking schools in the city or in the world. His instance response, "What I think we have created is a venue where chefs really have the opportunity to teach their dishes and preach their philosophy on food to an audience who are fascinated and want to be better home cooks."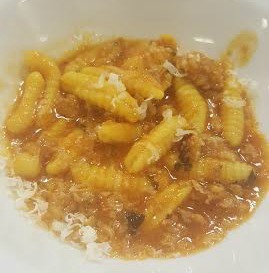 I had the pleasure of experiencing the Charlie Bird cooking class with special guest, Ryan Hardy, Chef/Partner, Robert Bohr, Sommelier/Partner, and Tim Meyers Chef de Cuisine. Rated in the 100 Wine Restaurants by Wine Enthusiast, Charlie Bird has become one of New York City's hottest restaurants. Their menu features food with an Italian influence made with local New York ingredients.
For the evening Charlie Bird brought their restaurant to us. Chef Hardy spoke about the food as he did cooking demos for us. Bohr told us why he paired specific wine with the dishes. The menu was quite a delight:
Burrata Toast
Razor Clams with Fennel and Pickled Chiles
Wine: Fiano di Avellino Guido Marsala 2013
Cavatelli Campidanese Saffron and Suckling Pig Ragu
Wine: Bellus 'Girasole' 2010
Roasted Chicken with Crispy Blt Salad
Wine: Beaune Cru 'Cent- Vignes' Domaines des Crois 2013
Caramel Con Panna Cotta with Salted Popcorn and Peanuts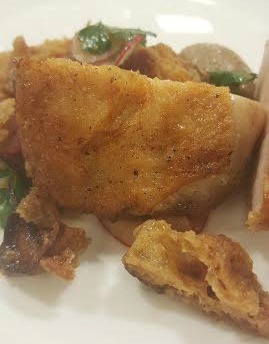 Every dish was delish, however the roasted chicken was epic. Chef Hardy showed us how very little is needed to make meat taste wonderful. He gave very useful information about cooking at home. The key take away was to use fresh ingredients. Sometimes the ingredients will cost a little bit more, but in the long run it's worth it. Also the quality of the olive oil makes a difference. When we cook at home we are not using enough olive oil. Basically, slather it on. The meat needs a lot of oil to be cooked at its best.
If you consider yourself a foodie, De Gustibus is for you. Not only will you get to hang out with a community of food connoisseurs, but you will learn some new things that will take your kitchen game to a new level. Your tastebuds will thank you.
Related
Popular in the Community