A decades-old dinosaur mystery has finally been solved.
Ever since Deinocheirus mirificus was first identified in 1965, paleontologists have been trying to figure out what the animal looked like. Since only the dino's massive forelimbs had been found -- earning the creature the nickname "Terrible Hand" -- no one had a good sense of the animal's overall appearance.
But now, with the help of recently unearthed fossils dating back 70 million years, a research team led by Yuong-Nam Lee, director of the Geological Museum in Daejeon, South Korea, has pieced together a nearly complete Deinocheirus skeleton.
(Story continues below.)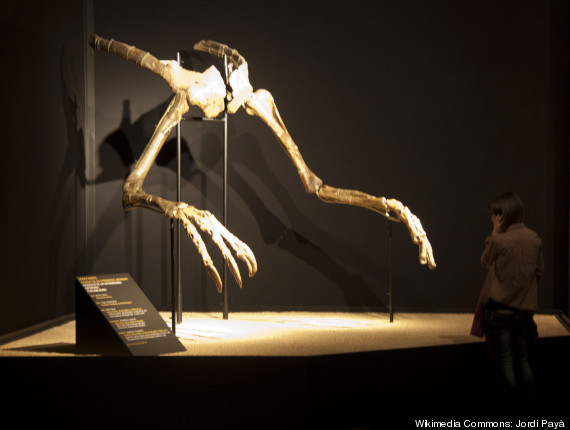 Holotype fossil of Deinocheirus forelimbs on display.
Lee told the AP that "Deinocheirus turned out to be one [of] the weirdest dinosaurs beyond our imagination." Another paleontologist, who was not involved in this new research, seemed to agree with that assessment.
This new research was published online in Nature on October 22, 2014.