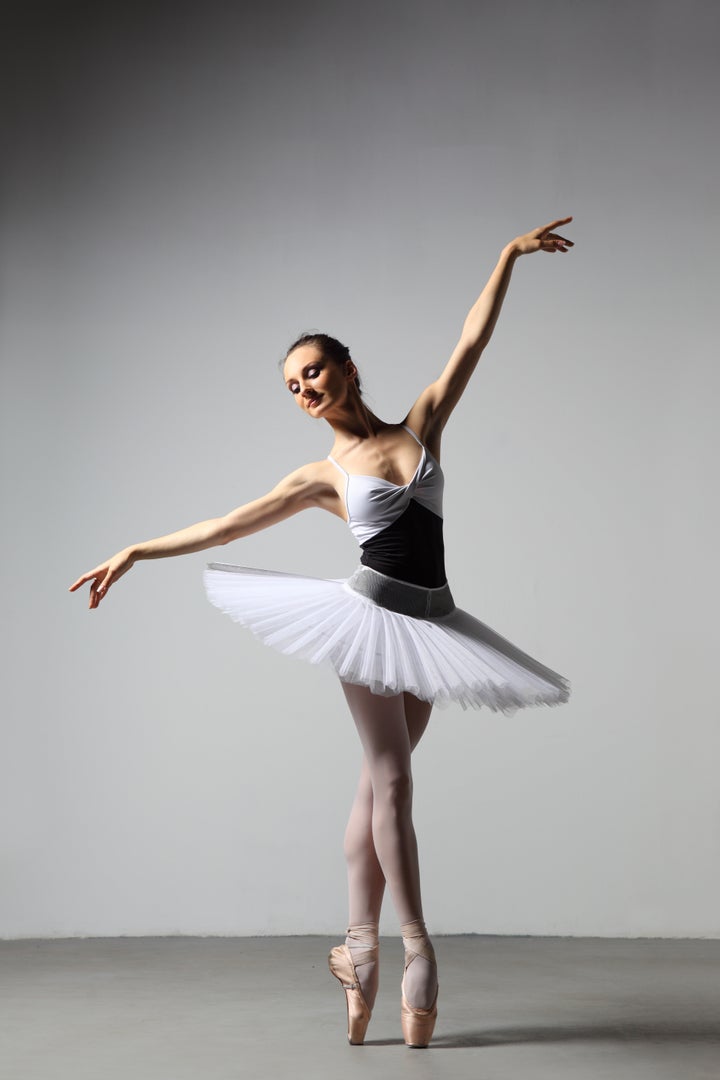 I've been dancing as fast as I can around a rather delicate question of late.
I admit that it's sometimes a conversation stopper.
I don't want to appear as a hypocrite; nor do I want to come across as blindingly naive.
After immersing myself in more than 500 years of dance history in order to write my book, I know perhaps better than most that ballet has tended to make victims of the very women it looks to idolize on the stage.
From the beginning of ballet's history as a professional art form in 18th century France, ballerinas have doubled as courtesans and as human blow torches when their flimsy costumes caught fire on the crude lighting apparatuses used to highlight their stage identities as frail creatures of the air during the Romantic era.
In the 20th century, the more menacing backstage peril became institutionalized starvation as ordered by artistic directors entranced by the thin ideal promulgated by the Russian-born choreographer George Balanchine when he helmed the New York City Ballet until his untimely death in 1983.
While my book lifts the curtain on some of the unsavoury practices that have tended to go unchecked in for the sake of art and beauty, it ends on a positive note, showing that ballet is now changing - and for the better.
Ballerinas are today allowed to be curvier than they have been since 1963 when Balanchine first was granted the lucrative Ford Foundation grant which allowed him to create ballet in his own vision - that is populated by long, lean, leggy ballerinas such as he had known and bedded in St. Petersburg.
Medical experts have, since the 1970s when Balanchine-inspired eating disorders first started decimating the ballerina population, quite forcefully determined that ballet's tyranny of thin is detrimental to dancers' health.
Many companies world-wide, among them the Australian Ballet which prioritizes injury prevention as a management strategy, have taken heed of the warnings and are changing how they train dancers for the future. Dancers are encouraged to admit they have weaknesses, physical or otherwise. This is a big breakthrough for an art which has long defined itself as a chase after perfection. Ballerinas today are again embracing the breasts and hips which first made them objects of desire way back in the day. They are turning their backs on the radical cosmetic surgeries and punitive dieting that stripped them of their identities as full-fledged women in the modern era.
That's good news for the art form as a whole. Ballet is now guaranteed to have a future in the 21st century. It is literally fattening up. It will survive.
But that's not the reason why I encourage my nine-year old to twice weekly don her ballet slippers and pony up to the barre alongside other ballerina hopefuls, dressed head-to-toe in pink.
Despite knowing all the dangers lurking in the shadows of ballet, I still think of it as a sublimely beautiful art form - the feminine mystique personified.
I can still remember the first time I thought so: I was probably around three; I hadn't started school and couldn't yet read or write. But I could draw and my main subject matter was the ballerina, which I drew over and over again, depicting her in a glittering white and fluffy tutu.
The costume was key. It's what set the ballerina apart from all other females, making her seem both regal and remote.
This wasn't your run-of-the-mill princess fantasy: For me the tutu was the ballerina's armour. It enclosed her, isolating her among the general female populace as something rare and unique. It made her seem forbidding to the touch. Add to that her pointe shoes, made of shining satin but as sharp as steel - a veritable weapon of the foot - and the ballerina emerged as a woman invincible: a Warrior Queen.
I was instinctively drawn to the ballerina's aura of power and would have liked to have emulated it had I been allowed by own mother to start ballet class at a young age.
But my mother, who loved jitterbugging more than jetés, thought ballet limiting; she thought I ought to do more with my life. And so I became a dance critic, fulfilling that often repeated criticism of critics that those that can't do end up writing about it.
Still, I never lost that fascination with the ballerinas as an enduring symbol of female power. Even in ballets as pale and delicate as Giselle, I see the ballerina as being in command of her world, exuding erotic energy along with muscular strength and control.
On stage, at least, she looks second to none, a woman at the height of her powers. Nothing can diminish her, except, as I have now pointed out, for the backstage reality of her profession - low pay, early retirement, constant threat of injury and flighty artistic directors who would keep them forever silenced if not for labour laws.
I wrote the book not to knock the art of ballet as much as to restore dignity to the ballerina as an artist in her own right. I trust I have done that by presenting a long line-up of ballerina greats who, by daring break through ballet's rigid rank-and-file, became trailblazers who pushed the art forward for other ballerinas who have followed.
So to me ballet is no sissified pursuit.
It is an outlet for female strength and autonomy. It is where women artists can lead and dominate. Where the ballerina is in control of her body in determining her own destiny.
I find that empowering. I know my daughter does, too.
Popular in the Community