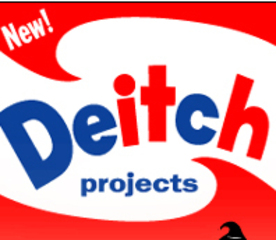 "They're going to feed the python," somebody said. The music stopped. A crowd quickly formed around a plywood and glass terrarium that stood to the right of the band. Borden Capalino--the Brooklyn based artist who had constructed the ziggurat like hutch, spray painted it black, smeared tabloid want ads and other bits of newsprint onto it, and haphazardly caulked the edges--dropped in an albino rat.
The piece, entitled Snake Years, is part of The Open: an exhibition of thirty works by thirty-one emerging artists at Jeffrey Deitch's satellite location in Long Island City. The show opened Thursday night to the clip-clopping rhythms of Luke Temples new project, Here We Go Magic.
I stood watching for several minutes as Capalino's Ball python squeezed the life from the rat. A number of gallery goers were shamelessly snapping pictures. Others looked on incredulously, like big kids watching a younger sibling's game of beer pong. The atmosphere was indeed festive: lots of good looking twenty-somethings, milling about with forties purchased at the bodega down the street.
I peered to my left. There, to my surprise, was critic Jerry Saltz--probably one of the biggest kids of all when it comes to the game of art. When I asked him what he thought of the piece he said, "Well, what do you think"--no light query coming, as it was, from such a venerable, if adorable, personage. I told him candidly that it seemed like an outsourced form of strangulation masturbation. Chuckling for a second he replied, "Well, what can you say? It's like porn. It's devastating... I don't think its bad art or good art though."
The Open, which was curated with the help of Vogue art columnist Dodie Kazanijian, includes sculptures and paintings by a number of artists just out of MFA programs at nearby schools. Some were selected from among the candidates for Jeffrey Deitch's reality TV show Artstar, which aired on the satellite channel Gallery HD in 2006. These participants were then invited to recruit others to fill the space. The process, boasts the press release, was engineered to reflect "the organic way that information circulates in the New York art community." Really, the Deitch show is a somewhat more self-reflexive example of the trickle down nepotism we have come to expect from intergenerational encounters in the arts. In ways, it is an extension of Artstar--a showcase not only of younger work but of the arena in which young artists vie for fame.
According to my sources, the name of the show is meant to evoke a field of competition more than a natural habitat. The Open is an invitational, like a race or like the tennis tournaments depicted in Kathy Grayson's pixilated oil paintings, hanging in the back room. So it doesn't make much sense, in terms of the success of the event, to quibble over whether or not works like Capalino's deserve the attention that they get. Competitions need losers and winners alike. As Saltz suggests, it's not good or bad; it's simply there.
That said, it is still important to evaluate the experience of the works themselves. Highlights include thirty-year-old Manitoba native, Krisjanis Katkins-Gorsline, who is showing five notable oil paintings that mark his transition into a rougher, more expressive style of abstraction. Christian de Vietri has three great sculptural works in the show, including a purple vampire that glows green in the dark, while Eoin Burke, Peter Demos, and Adam Krueger are also doing a variety of interesting things with paint. Ted Mineo's fluorescent, moon rock pizza is enchanting and delicious. Nearby, Evan Gruzis' Monument to Fashion, a beautifully rendered marble mannequin posed in blue wayfarers (here we see Kazanijian's curatorial touch) strikes me an apt figure for the generation in attendance.
Far less impressive is a grouping of C-prints (and one enlarged Polaroid) by Antoine Wagner. Whitney Claflin's gaudy abstractions also drag considerably. Chelsea Seltzer does well with erotic-grotesque references to Vanitas still-life painting, but her canvases at times lack finish. Midori Harima's bluntly titled America--an arrangement of wolves circling inside a shroud that creates a zoetrope like effect--also seems poorly executed, though Harima's piece is the largest and one of the most expensive on view.
Overall the exhibition offers a mix of the promising and the jejune in paintings and sculptures that range from the figural to the abstract, the conceptual to the observed. This diversity, both qualitative and stylistic, is part of the point. And it is possible to see the whole project as a sort of zoological report on young artists these days, though video and installation art are noticeably missing from the research.
One question to ask: is this what we want art to be? One more reality TV show? Or is Deitch reminding us that this is what art has long since been?
Of course, those participating need not and probably should not ask these questions. For many, this show is a big break--no reason to jinx it. And while Deitch is certainly setting some participants up for ridicule, he is dishing out a juicy bone--or small mammal--to the rest. All in all, we are invited to witness an interesting start to the season. Welcome ladies and gentlemen, Deitch seems to say, to The Open. Please do feed the animals.
Support HuffPost
The Stakes Have Never Been Higher
Related
Popular in the Community