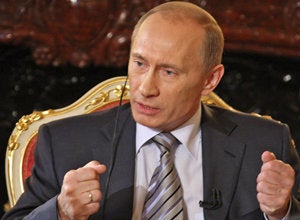 On a talk show last fall, a prominent political analyst named Mikhail G. Delyagin had some tart words about Vladimir V. Putin. When the program was later televised, Mr. Delyagin was not.
Not only were his remarks cut -- he was also digitally erased from the show, like a disgraced comrade airbrushed from an old Soviet photo. (The technicians may have worked a bit hastily, leaving his disembodied legs in one shot.)
Mr. Delyagin, it turned out, has for some time resided on the so-called stop list, a roster of political opponents and other critics of the government who have been barred from TV news and political talk shows by the Kremlin.
The stop list is, as Mr. Delyagin put it, "an excellent way to stifle dissent."
It is also a striking indication of how Mr. Putin has increasingly relied on the Kremlin-controlled TV networks to consolidate power, especially in recent elections.
Related
Popular in the Community