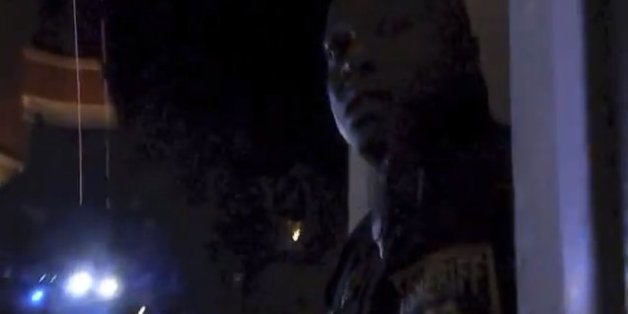 A chilling video that shows police officers storming a home in Georgia and threatening to stun-gun, beat, and even "cane" the residents is gaining attention for its stark portrayal of what its creators say is police brutality.
According to Natania Griffin, several DeKalb County police officers came to arrest her on July 26 at 1:30 a.m., over a $1,000 civil fine that was 15 days late. She described the ensuing raid on her home as "sheer terror."
A 19-minute cell phone video taken by Griffin's 23-year-old son, Donovan Hall, during the chaos first shows police officers banging on the family's front door, while screaming the address of a different house.
"I was immediately confused as to why the police would be at my house," Hall said in an interview Thursday with HuffPost Crime. "The knocks became more and more aggressive."
Hall said he feared for the safety of his mother, his 5-year-old sister and his 20-year-old brother, Roger Devon Reuben, all of whom were inside the house. He called 911 to ask why the officers were there, before reluctantly opening the front door.
In the video, a tearful Griffin can be heard saying: "If I'm dead in the morning, you'll know why."
The video shows eight officers and a sergeant immediately arrest Griffin before swarming the two brothers. Though it can't be clearly seen in the video, Hall alleges that officers threw both men to the ground before beating them. (Story continues below.)
"One officer hit me in the face with his gun and I fell to the floor," Hall told HuffPost. "Another officer began kicking me and bending back my arms. They put handcuffs on me and continued to kick and punch me. At that point, an officer with his knee in my back stood up and put both feet on top of my head. He was standing on top of my head."
Several calls to DeKalb County Chief Deputy Jeffrey Mann went unanswered. In an interview with CBS Atlanta, Mann said the video shows no excessive force, but admits that two of the officers used "inappropriate language."
"Put cuffs on his big ass!" one officer shouts in the video. "You open the door when I tell you to open the door."
The officer continues his tirade, repeatedly threatening to stun-gun both men. "Fuck with me if you want to," the officer says, as both brothers plead with the police, asking why they're being arrested.
"Oh my god, oh my god," Reuben cries out as he begins breathing heavily.
"They put a Taser to my brother's head," Hall recalled. In the video, an officer can be heard shouting: "Say something else, I'm [going to] Tase your ass!"
"Why are you being so aggressive, sir?" Hall asks in the video. "We haven't done anything wrong."
As the video continues, officers can be heard ordering the brothers to stop crying while threatening to take them both to jail. Later in the video, an officer says: "I wish I could cane both of y'all."
Hall can be heard telling his brother to "just have faith in God" and to keep praying.
"I felt so helpless and so afraid," Hall said.
Griffin claims the officers never asked for her name or established her identity and never read her her Miranda rights.
"It was a perfect storm of abusive power and arrogance," she told HuffPost. "They are criminals. Their conduct was criminal."
Hall said he asked for names and badge numbers, but when the officers wouldn't tell him, he didn't push it. "I didn't want to do anything to further piss them off," he said. "So I didn't keep asking. I just stayed quiet."
Hall posted his video of the incident to YouTube, where it was picked up by Reddit and made the site's front page. The family says they're looking for an attorney to take their case, but don't have the funds to hire one. They hope that with the video going viral, someone will come forward to represent them pro bono.
"Although it happened to my family, it's a microcosm of the world," Griffin said. "What about the other countless families who feel powerless against this kind of tyranny? Who is championing their cause? This is a problem."
Griffin said she has paid the $1,000 fine.