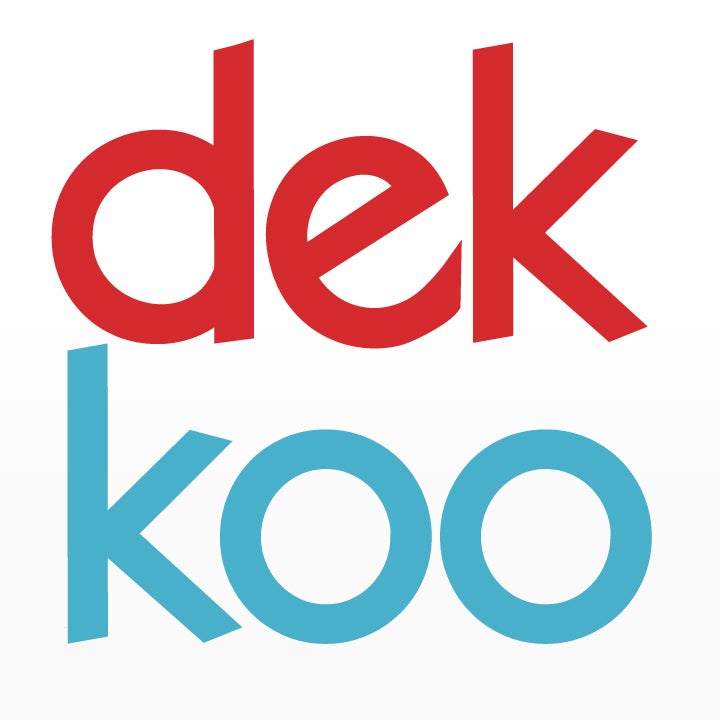 The new subscription-based network Dekkoo features an impressive collection of new and original programming made exclusively for gay audiences. Co-founded by CEO/filmmaker Derek Curl (who is gay) and COO Brian Sokel (who is straight), Dekkoo debuted online in October 2016. Almost a year later, Dekkoo's mix of feature films and dynamic episodic programming outnumbers the combined output of similar content on Netflix and Amazon Video.
At the heart of Dekkoo's success is the work of the curators and creators who generate its content. Sokel and his team work hard to make it easier for filmmakers to collaborate with Dekkoo. "By contacting us via our blog we respond to all email inquiries and we're always looking to work with new creators," Sokel adds. "We hope that Dekkoo provides a strong, reliable partner for filmmakers to make their work available to the public."
With over 600 different movies and series in its growing cornucopia of viewing choices, Dekkoo also features quality original shows produced solely for the platform. One of them is the ensemble drama FERAL, which depicts the personal and romantic journeys of young millennials in Memphis, Tennessee.
On the lighter side, there's the eye-opening "blind date" reality series LOVE IS BLIND, plus the "pocket-sized" short form comedy I'M FINE (now in its second season), which humorously explores how love and friendship can intersect in unexpected ways. In the meantime, three more original series are also in pre-production.
While Dekkoo's original shows are outstanding on their own, its acquired content helps make it an important destination for gay viewers. One such addition to the service's programming is the wonderfully playful and hilarious comedy STRAY created and written by Pablo Andreu. The series stars Cameron Clark as Rich, a straight male whose bond with his gay friend Jay (Sha James Beamon) reveals much about the fascinating nature of such companionships in real life.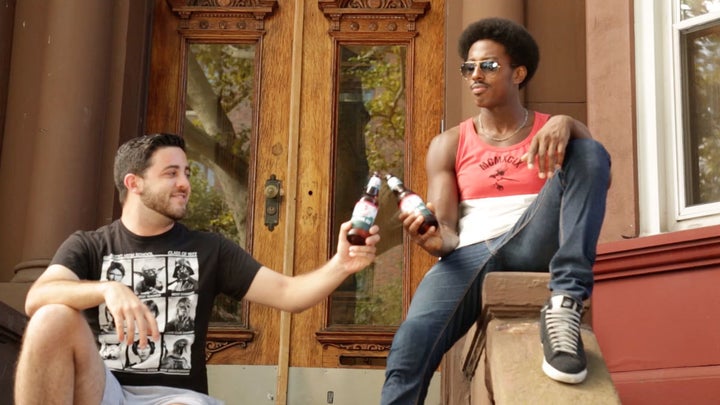 STRAY's exploration of gay/male friendships is perhaps its biggest selling point, especially as old stereotypes still exist in traditional portrayals of the gay community. "Some shows represent and cater to gay men, and some shows – "mainstream" shows, whatever that is anymore – still default to tokenism when incorporating gay characters," Andreu observes. "I wasn't aware of a show in which a pair of male friends joke with each other, pick on each other, posture and share thoughts on sex and attraction, and happened to be different sexual orientations."
While season 1 of STRAY is already available on Dekkoo, discussions between Dekkoo and Andreu about a potential exclusive distribution deal for STRAY's second season are still in the early stages. That said, Andreu, who was approached by Sokel this past March to have STRAY picked up by Dekkoo, praises the service's commitment to gay audiences and content creators. "Dekkoo does a great job of curating content for gay men," he says.
STRAY also benefits through its placement alongside Dekkoo's other popular fare, including THE GAY AND WONDROUS LIFE OF CALEB GALLO and WHATEVER THIS IS. "It's great having STRAY associated with some of Dekkoo's original content, as well as (having) amazing creators featured on the (platform), like Brian Jordan Alvarez (star of THE GAY AND WONDROUS LIFE OF CALEB GALLO) and Adam Goldman (director/writer, WHATEVER THIS IS.)."
Sokel describes how Dekkoo helps its partners achieve important exposure through direct interaction with the service's subscribers. "We aggressively promote and publish teasers, trailers and other materials to engage our loyal audience," he explains. "We always want to keep them informed of the latest films added to our library and make them understand how much we appreciate them as subscribers and supporters of queer cinema."
Though Dekkoo is still finding its footing in the competitive streaming video market, its ongoing dedication to the success of its collaborations with filmmakers is matched by its equally undeniable mission of bringing gay audiences programming that, in many cases, can't be found on any other digital platform.
"We want to support queer cinema and give films that may not have a streaming home a place to live where fans can engage, interact and enjoy content that represents them," says Sokel. "We believe any content produced for diverse audiences deserves to be seen. We hope that we provide a unique and exclusive service for fans of queer cinema."
Dekkoo can be accessed for $9.99 a month through its primary web site, and through Amazon Video for US- and UK-based viewers. Dekkoo's content is also available through its dedicated app, ready to download on Roku, the Apple and Google Play stores, Amazon Fire TV and current Samsung Smart TV models.