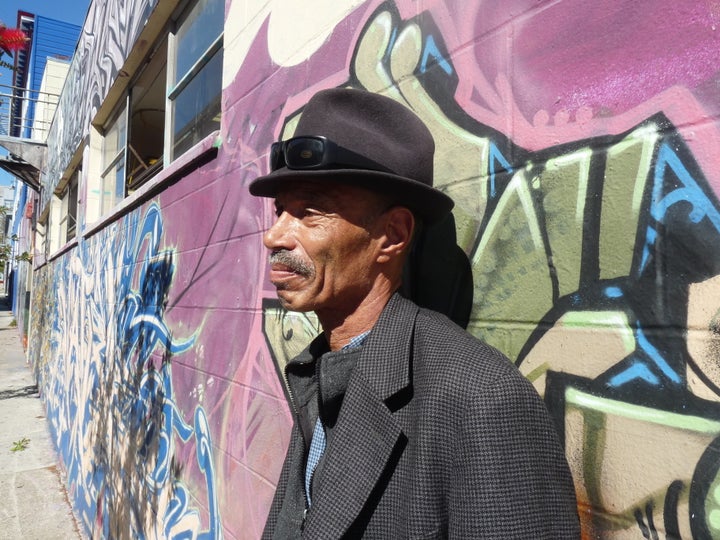 Nobody knows the Tenderloin like Del Seymour knows the Tenderloin.
The 65-year-old Army veteran landed in San Francisco's center cut some three decades ago and has seen the area from all angles: as an addict living on the streets, as a taxi driver, as a husband (for only fifteen minutes--his self-described "Hollywood marriage"), as a volunteer at one of the many service organizations.
Ask Seymour anything about the 50 square blocks, from the architectural inspiration behind the now-shuttered Hibernia Bank building to which street corners are preferred by which drug users, and he'll eagerly launch into a long tale. He reads every local paper and knows everyone he passes on the sidewalk, be it a politician or police officer or hotel worker or homeless person.
Three years ago, Seymour launched Tenderloin Walking Tours, a free guided trip through the neighborhood, as a new outlet for sharing his encyclopedic knowledge. HuffPost SF decided to tag along on a recent sunny afternoon.
Wearing his signature fedora and carrying a tattered briefcase, Seymour took us up and down the streets of San Francisco's gritty, misunderstood underbelly. He showed us the Gubbio Project inside St. Boniface Church, where homeless people can sleep in the pews each morning, and introduced us to the staff of the Cutting Ball Theater, which recently staged a documentary play about the area. He pointed out the second-story window of an illegal sweatshop and the colorful mural recently commissioned below it.
Over coffee at A Temporary Offering's pop-up cafe, he told us about his own journey west, the origins of his one-man operation and his hopes for the future of his beloved neighborhood.
You're originally from Chicago. How did you end up in California? I came home from the service in 1969 and it was 31 degrees below zero, 16 feet of snow. I went straight to the airport and asked for a one-way ticket to California. The ticket agent asked me if I wanted round trip and I said, "I'm never coming back! Do you see that snow on the ground?"
When did you first come to the Tenderloin? I bummed around from job to job and got into the street scene...selling dope, using dope, drinking. I woke up one day and was in the Tenderloin. Don't know how I got here, but here I was in the Tenderloin. I loved it. I never left.
What made you love it so much? I'm from Chicago, which is a street city. It's as urban as you can get, with the rusty El trains going through, the drugs, the gangs. I'm real sharp from the streets, so when I got to the Tenderloin I became the sharpest of the guys. These California guys dont have the street knowledge that I have. I loved that I was sharper than everyone.
Were you instantly on top? At one point I lived outside in a six-by-ten refrigerator box. But after I got sober I became real self sufficient. I had a lot of, what do you call them, hustles. And when you get some money you can do one of two things...you can move to Beverly Hills and be the lowest guy on the pole, or you can move to the Tenderloin and be the highest guy on the pole. Which would you rather do, go there and get stepped on, or come here and step on everyone else? It was good.
It sounds good. I know the Tenderloin A to Z. I know all the good guys, the bad guys, the hotel workers, the service people.
Is that why you decided to start giving the tours? I thought, why not? We have people coming from all over the world to see Alcatraz, a dirty, nasty, pissy, smelly prison. So why can't we have people from all over the world coming to see a dirty, nasty, pissy, smelly place that's live with people? That's more interesting than Alcatraz. We've got people you can talk to, people you can see and touch. They may even spit on you.
I don't think Alcatraz is known for being dirty and pissy. Alcatraz does have a better boat ride. But it'll cost you 30 or 40 bucks. And you'll remember my tour better.
It really doesn't cost anything? I do them for free, yes. I get lots of donations, though, even though I don't request them.
You've been living in the Tenderloin for three decades and giving your tours for three years. How has the neighborhood changed since you first arrived? Zero. There is no evolution happening, no evolution that is going to happen. People here do their thing, they sell their drugs, they sell their food stamps, they sell their pills, and that will never change. People come to the Tenderloin to buy drugs from as far north as Windsor and as far south as San Jose. This is the drug supermarket of the Bay Area.
Do you think it will always be that way? With the SF police department being so liberal and hands off, it will never change. They'll never enforce drug laws religiously in the Tenderloin.
What about all the pop-up businesses and theater companies coming in? Will they just exist alongside the drugs? They most definitely will. Twitter is here, Dolby is coming, Burning Man is here, and it's not going to change anything. If the NRA or the Mormon church came here it would probably change, but as long as the young, hippie companies come down here, they won't trip on the neighborhood. They're not afraid of anything; they're not going to demand change. They leave at 5 o'clock and their kids don't have to walk through here.
How long has the Tenderloin been a drug haven? Since 1912. Mayor Sunny Rolph wanted to rehabilitate the Barbary Coast, which was the bawdiest neighborhood in the world. To make room for the new elite of Telegraph Hill, he decided to move all the brothels down here to the theater district. That way the customers could get high behind the tall buildings.
You know a lot of local history. I read the archives in the library every day. I love San Francisco history; it just blows my mind to know these things. I read the originals; I find a lot of stuff. They know me by name over at the library.
What are some of the best neighborhood spots? Boeddeker Park is my favorite, of course. That's been our little community park for so many years. It's like the town post office. If you haven't seen anyone in awhile, go hang in Boeddeker Park.
And Mimi's Restaurant is the most fantastic restaurant in the city of San Francisco. I had breakfast there this morning; I eat there about every day of the year. Everyone knows everybody and she gives you so much food. Close your eyes and you won't even know it's in the Tenderloin. It's clean as a whistle; it's family run.
Do you still live right in the middle of it all? I live in Lower Nob Hill now; I moved there through a veterans agency. I'm up there with the high rollers.
You must miss it here. I'm down here every day. But it's good to be able to get out of the Tenderloin once in a while.
Take a look at images from Seymour's tour below. To schedule your own, email tenderloinwalkingtours@yahoo.com.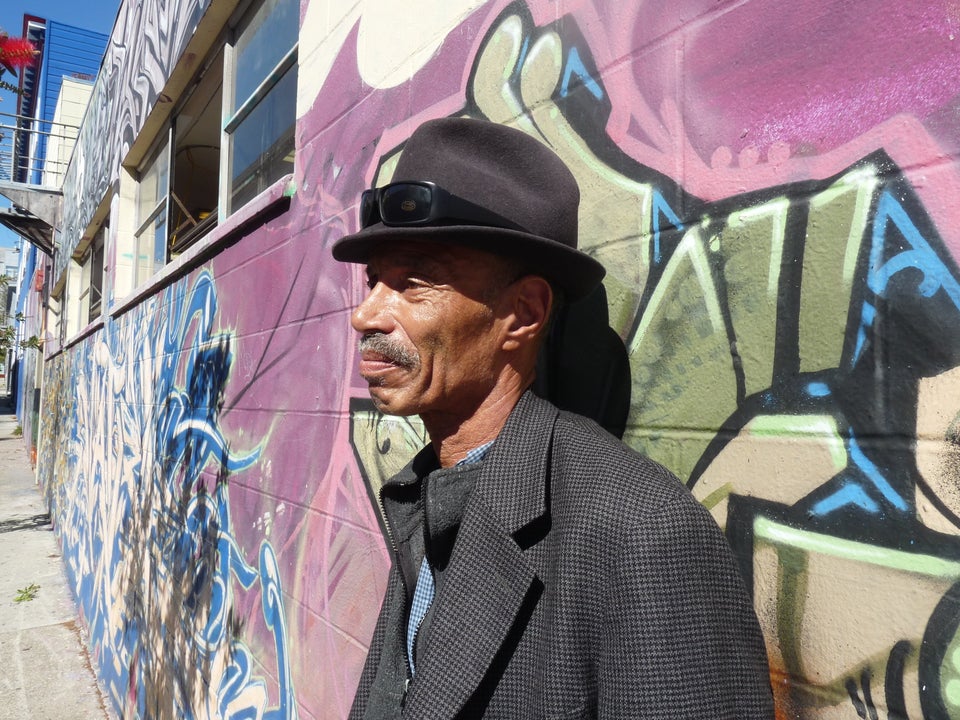 Del Seymour's Tenderloin Tour
Related
Popular in the Community