A very special little girl and the power of social media have inspired one of the most remarkable outpourings of the Christmas spirit that we've seen yet.
With Laney's 8th birthday on December 20 and Christmas around the corner, her family turned to the Team Laney Facebook page, which shares updates on Laney's condition with more than 94,000 followers, for help in granting some of her wishes. One of her wishes was to listen to Christmas carols and another was to meet with area native Taylor Swift.
A few weeks ago, the Make-A-Wish Foundation stepped in and arranged a video call with Swift on Laney's birthday. Then, the next day, thousands of followers showed up under her home to fulfill her wish.
"A lot of people don't even know her but through social media have been able to give her this wish. Unfortunately, this could be her last Christmas and everyone wanted to make it special for her," Deb Redcay, another supporter, told the news station.
Local Coryn Rank, 19, who has been a supporter of Laney's since the summer, told the Eagle, "I hope Laney and her family know we see how rough of a road it's been and how much we all are willing to do for her in this hard time in her life."
Before You Go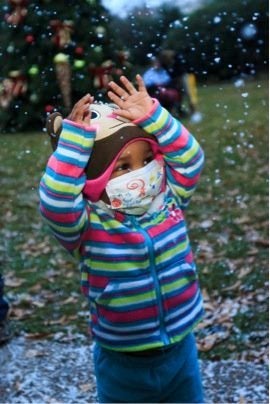 Atlanta Children's Hospital Becomes Winter Wonderland
Popular in the Community