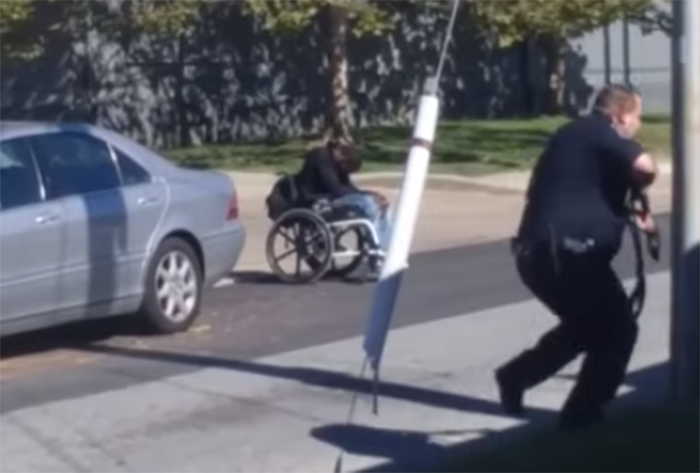 A graphic cell phone video purportedly shows police in Wilmington, Delaware, fatally shooting a 28-year-old disabled man in a wheelchair, whom police say was in possession of a handgun -- a claim the man's family disputes. Whether or not he had a weapon is unclear from the video.
The Wilmington Police Department said that at 3 p.m. Wednesday their officers were dispatched to a parking lot to respond to a 911 call because a man was reportedly suffering from a self-inflicted gunshot wound, and was still armed. The man was later identified by police as Jeremy McDole.
Police said that they observed McDole holding a revolver-style handgun and repeatedly ordered him to drop his weapon.
"He's over here!" an officer shouts in the video, uploaded to YouTube this week. "Show me your hands!" After that, a single gunshot rings out.
"Show me your hands! Drop the gun! Drop the gun! Drop the gun!" the officer continues.
Quickly, several other officers rush to the scene in the video.
"Hands up! Hands up! Put your hands up!" one officer shouts.
McDole is seen adjusting his body and lifting himself slightly from his wheelchair before sitting back down. He briefly rubs his legs and adjusts his pants and then lifts his upper body up from his wheelchair once more. As his hands appear to move toward his waist, officers immediately open fire.
Wilmington police Chief Bobby Cummings said McDole's movements indicated he was about to "remove the weapon from his waist."
At least 10 gunshots are heard in the video, as McDole lifts his leg momentarily, slumps and falls out of his wheelchair to the ground.
It's unclear in the video if McDole is reaching for a weapon -- no gun is visible -- and his family disputes that he was armed. Police say they recovered a .38 caliber weapon at the scene, found at McDole's side.
"This was murder," McDole's mother, Phyllis, said before a Thursday police press conference about the shooting, Delaware's News Journal reported. "He shot my son like he was roadkill."
She's calling for a federal investigation into the incident. Delaware's NAACP chapter is also calling for an independent investigation.
Wilmington Mayor Dennis Williams said that there will be a thorough investigation into the incident.
"We don't have anything to hide," Williams said. "We are very open."
"I assure you that not one of those officers intended to take anyone's life that day," Cummings said at the press conference. "They came out here because they wanted to help our community."
The four officers involved in the shooting have been placed on administrative leave, as is standard department policy.
Cummings and Williams both apologized to the McDole family.
The Wilmington police are aware of the cell phone video that appears to show the incident.
"The video looks like it depicts our officers, but we have not authenticated the video at this time," Sgt. Andrea Janvier, with the Wilmington Police Department, told The Huffington Post. "It does not show a complete incident."
Popular in the Community