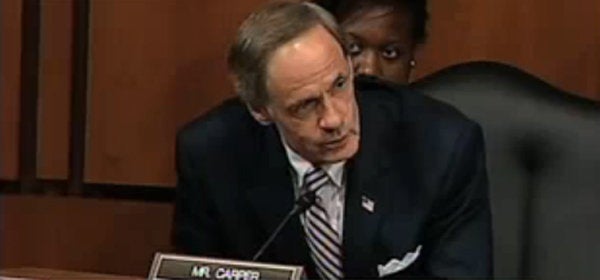 Yet another state Democratic Party has passed a resolution urging its congressional representatives in Washington to pass a public option for insurance coverage and to use "any available parliamentary means" to do so. This time the target is Sen. Tom Carper, the Delaware Democrat reportedly pushing for a compromise proposal that would allow states to set up their own public plans.
In a little-noticed move two weeks ago, the State Executive Committee of the Delaware Democratic Party unanimously passed a resolution endorsing "a robust public option similar to Medicare." The authors of the resolution went on to call alternative proposals -- including "co-ops or so-called 'triggers'" -- "inadequate in and of themselves to generate either the kind or the amount of competition needed to keep medical and insurance costs down."
And in a clear effort to get the attention of their elected colleagues in Washington, the resolution's authors sent a copy to "all members of Congress who represent its members," including Democratic Senators Thomas Carper and Ted Kaufman as well as Republican Representative Mike Castle
"THEREFORE BE IT RESOLVED," the resolution concludes, "that the Delaware Democratic Party urges [these members of Congress] to vote for such healthcare reform proposals as contain a robust public option at all stages of the legislative process including conference and reconciliation, and encourages legislators to use any available parliamentary means to pass such reform."
In issuing the resolution, the Delaware Democrats became the latest in a series of state parties to put pressure on their congressional delegations to get on board a public plan. Previous efforts have targeted two other senators on the fence: Ben Nelson (D-NE) and Kent Conrad (D-ND).
The progressive group Democracy for America, which helped organize the effort to get these resolutions passed at the state party level, also sends word that the Oregon Democratic Party has done the same.
"When we pass a Public Option Resolution in a local Democratic Party, it reminds members of Congress that the choice of a public option is not a left-wing issue," explained a DFA press release. "It is a core Democratic Party issue. It says, a Public Option isn't radical -- it isn't some way-out idea that is supported only by the "left of the left" -- it's the entire Democratic Party, backed up with support of 76% of America."
Popular in the Community