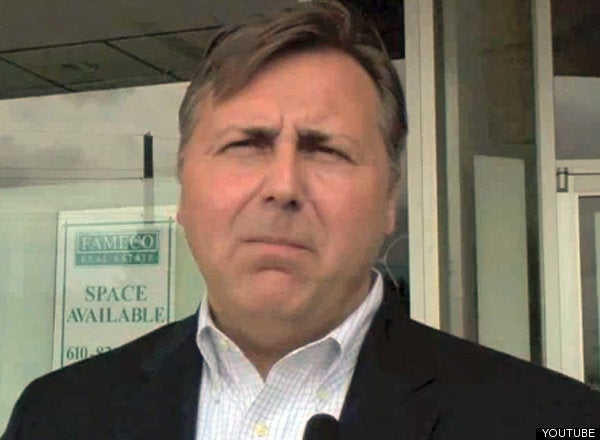 The chairman of the Delaware Republican Party received a death threat last week over his support for Rep. Mike Castle (R-Del) over Tea Party challenger Christine O'Donnell in the state's upcoming Senate primary, a party official confirmed to the Huffington Post.
The threat, issued in the form of an email, told chairman Tom Ross that he deserves "a bullet in the head" for backing "political ass-kissing RINO's" [Republicans in name only].
"It is one thing to have your country screwed over by socialists, it is far worse to be backstabbed by people pretending to be your friends," the email read. "We will either rid the GOP of pieces of shit like you, or we will start a new 'Common Sense Conservative' party and render you all useless."
The threat was serious enough to compel Ross to leave his home, temporarily, and to spur an investigation from the Department of Justice said the official with the Delaware GOP (a DoJ official did not immediately return a request for comment). It also was sinister enough to alarm state party officials who are unaccustomed to not just threats of violence but even to heated political contests like the one unfolding in the state's Republican primary.
"It is just scary what is going on right now," the official said. "Tom is a loyal and dedicated Republican officer in Delaware... the position is unpaid and his job as party chairman is to defend and promote the candidates... It is disgusting, it is amazing and it has no place in our democracy."
The identity of the emailer was not immediately known, though the official said that the person "wrote his name and address" on the note -- providing obvious information for authorities to use.
Coming at the end of an emotional and hard-fought campaign, it's difficult to gauge both the purpose and the fallout of the death threat. If confirmed as both serious and sincere, it provides yet another piece of evidence that recently politics has veered into something more troubling than previously seen. O'Donnell supporters, undoubtedly, will be skeptical of the story's emergence at this late stage of the primary fight, noting that Castle is the primary beneficiary if her candidacy is seen as inspiring political intolerance, if not downright violence.
Popular in the Community