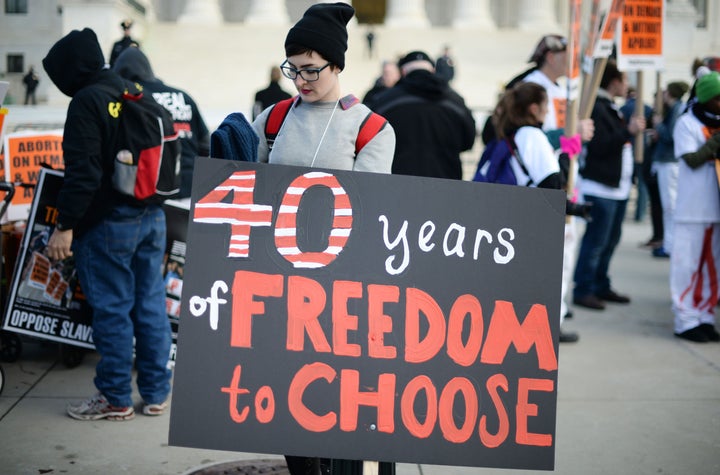 In the months since President Donald Trump took office, there has been a lot of ink spilled over the fate of Roe v. Wade — the landmark 1973 Supreme Court decision that established a constitutional right to abortion. After all, Vice President Mike Pence once vowed to send the decision to the "ash heap of history."
But one state, at least, isn't having any of it.
This week, Delaware's governor signed into law a bill that ensures abortions will stay legal in that state, no matter what happens at the federal level.
The act "modernizes" Delaware's law on abortion, it says, in order to make it consistent with Roe. The state had not yet repealed its pre-Roe v. Wade ban on abortion even though that ruling had been effectively unconstitutional — and therefore unenforceable — for decades.
Several other states have attempted to pass similar laws, but those attempts have fizzed in recent months. Last winter, New York's Gov. Andrew Cuomo proposed amending the state constitution to codify Roe v. Wade, but the measure has since stalled in the Senate. A similar bill proposed in Connecticut failed to make it out of committee.
In Delaware, a state abortion-rights advocacy group NARAL Pro-Choice America ranks as having "some" reproductive rights access, the measure was not without opposition. Republican lawmakers in the state attempted to add an amendment banning abortions after 20 weeks, Delaware Online reports. And Susan B. Anthony's List, an anti-choice organization, reportedly spent "six figures" to defeat the bill.
But on Friday, reproductive rights advocates celebrated after Gov. John Carney Jr. approved the bill, which is set to go into effect immediately. The Facebook and Twitter pages of Planned Parenthood of Delaware ran with a simple, powerful message: "Abortion will remain legal in Delaware, even if Roe v. Wade is overturned nationally."
Popular in the Community