"Oh my Servants, I have forbidden injustice for myself and have forbidden it among you, so do not be unjust with each other" -- Islamic tradition.
Social justice has become the issue of our times. Whether it is gender equality or the struggle against racism, whether it is about raising minimum wage or about deconstructing Islamophobia; the concern for social justice is at the heart of political activism in our country today. In the past one year the complexity and growth of inequality in America has received much attention especially in the social media and it has exposed those dark areas in our society where injustice reigns.

The Ferguson unrest triggered after the shooting of a young black man, Michael Brown, on August 09, 2014 and subsequent protests and investigations, has shown the extent to which racism has become institutionalized in our law enforcement establishment. The Baltimore protest a year later made sure that the reality of deep-seated racism in our country does not escape our consciousness.
Racism in our legal system is endemic and epidemic. But the movement that responded to these events, sometimes referred to under #Blacklivesmatter also underscored the reality that the impulse for equality and social justice is also endemic to our society.
Social justice is about ensuring that in a diverse society, all communities, regardless of their race, their religion, ethnicity or nationality, have equal access to economic opportunity, legal rights, and equal protection from and by state agencies. In essence, modern states provides various goods to their citizens, such as security, education, freedoms, and these goods must be equally available to all. If they are available to some and withheld from others then this is a condition of social injustice and unacceptable.
Constitutions are written to insure that states in structure and process do not perpetuate social injustices.
Police brutality
is not the only kind of social injustice that we find in the US today. Income inequality of the most egregious proportions is now an enduring reality. The top 3% own half the wealth in our country and the net worth of White Americans is nearly fourteen times that of African Americans. Demonization of immigrants and religious minorities like Muslims has become a dominant theme in mainstream politics. Candidates making bigoted comments and calling explicitly for religious discrimination are being reward by political donations and higher approval ratings for being intolerant! Islamophobia has become a political strategy for many Republicans running for office.
Clearly many American Muslims find these political realities disconcerting. The spike in Islamophobic rhetoric and episodes frightens them. The extant inequities mobilize them to act. They seek to protect themselves from the rising wave of hatred and intolerance, exacerbated by terrorist attacks like those in Paris and images of brutal actions by Daesh (Islamic State in Iraq and Syria).
The Quran commands Muslims to stand firmly and persistently for justice even if it is against themselves and their own people (Quran 4:135) and it also teaches Muslims to stand up for justice for those whom they may hate (5:8). For self or other, the Quran is insistent that Muslims stand up for justice. Zakat or distributive justice is one of Islam's five pillars. It is essentially there to make sure that wealth is not concentrated in the hands of few and is shared equitably in society. All these teachings make it important that Muslims standup with their fellow Americans and join the struggle for social justice, for equality and against prejudice and inequity.
Fear and faith is driving them to take action against social injustices in their society.

To achieve these goals, the Delaware Council for Global and Muslim Affairs, is hosting a three day Regional Convention on Social Justice and Political Activism. The convention seeks to highlight issues of prejudice, racism, Islamophobia, police-society relations and growing poverty and income inequality. The roster of confirmed speakers is diverse and deep. Leaders from many faiths, from civil society organizations, from local and national law enforcement agencies, and elected officials of our state will be speaking. Governor Jack Markel followed by Senator Carper will give keynote addresses and Senator Coons will also share his views on social justice in our society.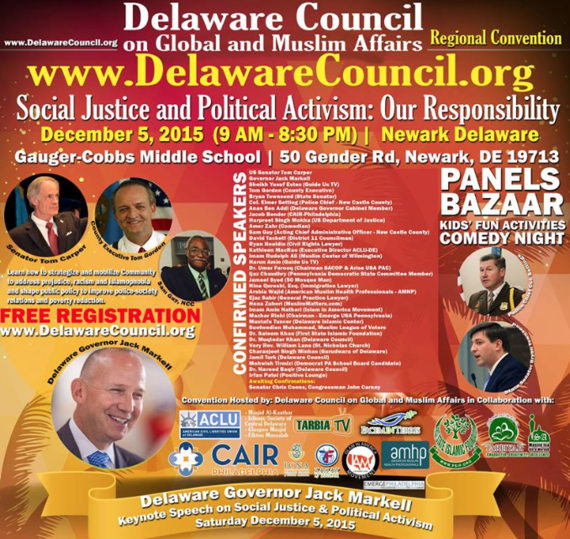 The Delaware Council on Global and Muslim Affairs is a community think tank that seeks to encourage public engagement with pressing domestic and foreign issues. We seek to sustain a public dialog on critical issues and hope to shape our local and global policies.
The convention will be held on December 5th and it is open to all and all are invited. Please come and join us and stand up with us against social injustices. The details of the convention are here: http://2015.delawarecouncil.org
Dr. Muqtedar Khan teaches at the University of Delaware and he is one of the founders of the Delaware Council on Global and Muslim Affairs. His webpage is http://www.ijtihad.org.
Calling all HuffPost superfans!
Sign up for membership to become a founding member and help shape HuffPost's next chapter