MIDDLETOWN, Del. ― This is what democracy looks like.
It's been a chant that has animated marches and protests around the country since the day after Donald Trump was inaugurated president, but it's been more aspirational than descriptive. On Saturday, in a state Senate district in Delaware that stretches from Middletown to Newark, the voices in the streets turned into votes in the ballot box.
In the most expensive special election in Delaware history ― a contest to decide which party controls the state Senate ― Democrat Stephanie Hansen was on track to annihilate her Republican rival on the back of extraordinary turnout.
The last time her opponent, John Marino, ran in this district, in 2014, he lost by just 2 points. Hansen's 58-42 percent victory over Marino on Saturday ensured that Democrats will maintain control of the state Senate. It also notched a big Donald Trump-era win for a new generation of Democratic activists shocked into action by the November election.
"We turned back that win from Washington and made sure it won't hit Delaware," Hansen said in her victory speech Saturday night.
While Hansen's campaign was focused on local issues, she saw a huge swell of support after nationwide Women's March protests on Jan. 21. Protesters, many of them out in the streets for the first time, have been turning their energy toward local and state politics. The first major election since the uprising was Delaware's.
Hansen's campaign received huge support. More than 1,000 volunteers worked during the course of the campaign, and about 500 ― many from nearby states ― showed up Saturday for Election Day. Hansen received more than 14,000 contributions of less than $100 from small donors spread all over the country.
"That's more volunteers than I've had in nine elections," exclaimed state Sen. Dave Sokola (D), of Hansen's Election Day workers.
"It's overwhelming to see all these people," said Kelly Wright, a resident of Hansen's district. "It's making me emotional to see that people come take a bus two-plus hours away."
The turnout of volunteers made a huge difference as Hansen crushed her Republican opponent with unusually high turnout for a special election.
"Let's take this movement national," former Vice President Joe Biden. a Delaware resident, exhorted to Hansen victory partiers Saturday night via phone.
Chuck Jackson, a Democratic district chair, said: "It's really great the amount of people we're seeing out. There is so much at stake."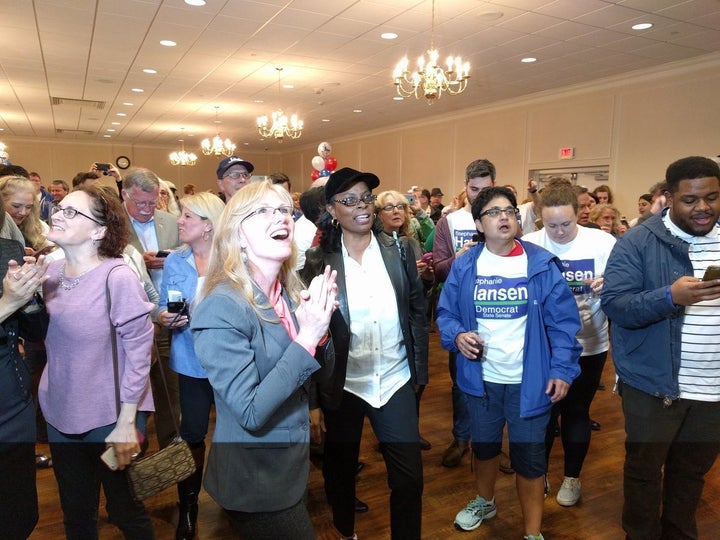 The state Senate had been split 10-10 since the 10th District seat was vacated in November by Bethany Hall-Long, who won election as lieutenant governor. Hansen's win maintains Democrats' 44-year hold on the chamber.
Hansen's election was no sure thing. The district leans Democratic, but Republican Marino had performed well in previous elections. Hall-Long defeated Marino by 1 percentage point in 2014. In 2016, Hillary Clinton won the district 54-41 over Trump. Democrats notoriously struggle in special elections.
The Democratic campaign was both aided and hindered by weather. At an unseasonable 70 degrees it was a perfect day for volunteers to knock on doors and for voters to head out to the polls. An afternoon thunderstorm, however, cut an hour out of a prime time.
While the race brought in huge numbers of outside volunteers, it was mostly fought over local issues like transit, the environment, education and the state budget. Erik Schramm, Hansen's campaign manager, said the campaign had to juggle messaging to highlight local issues while harnessing the national mood to excite volunteers.
Groups like Sister District, Flippable and Indivisible helped organize volunteers. For many, this was the first time they had been involved in a political campaign.
Mitchaell Kawash, a volunteer from Brooklyn, New York, said he was canvassing for the first time because of the importance of state-level politics.
Nicholas Sewitz, who previously canvassed for Sen. Bernie Sanders (I-Vt.), joined Kawash and other friends from Brooklyn. "Trump is politicizing the populace," Sewitz said.
Marsha Murray and Sarah Kimball came from Lower Manhattan to volunteer. For Kimball, it was her first time canvassing.
"This is the election that matters," said Murray. "It matters to everyone, not just in Delaware."
Ken Kidd, a volunteer who came from Manhattan, said the Women's March and rising activism has led to a "resurgence in citizenship."
Volunteers were greeted at the Middletown campaign office in the afternoon by a steady parade of elected officials. Sens. Tom Carper (D) and Chris Coons (D) came by to shake hands and thank volunteers. Lt. Gov. Bethany Hall-Long, the previous occupant of the state Senate seat, stopped at the office after canvassing neighborhoods.
Coons said he was "encouraged" by volunteers' organization.
Volunteer Jim Yung, wearing a U.S. Senate baseball hat signed by Joe Biden, said: "Make no bones about it, it's made a difference."
There's something fitting about so many New Yorkers making the trip down to make sure Marino didn't become a senator: He is, after all, a retired NYPD cop.
This article has been updated to include a comment from Hansen's victory speech.
Popular in the Community