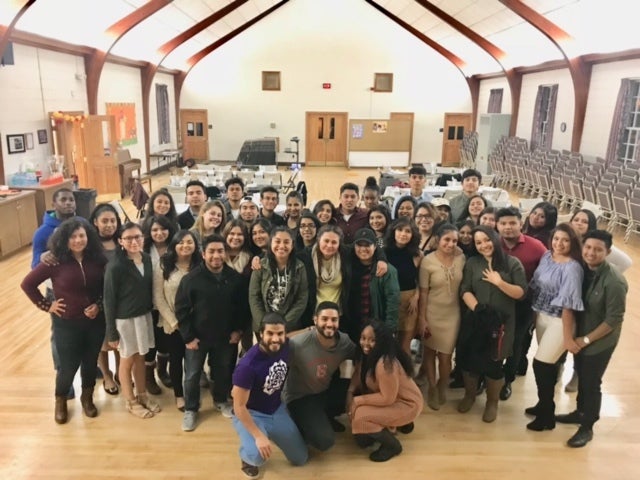 Recently, I had the chance to speak with Dr. Harry Williams about how Delaware State University, a historically black college and university, was one of the early universities to host DACA students. Williams served as the 10th president of Delaware State University from January 2010 to December 2017. On January 2, 2018, he began a new post as the president and CEO of the Thurgood Marshall College Fund in Washington, DC.
A number of universities were approached by Donald Graham (Chairman of Graham Holdings and former publisher of the Washington Post) to host Dreamers and some declined. Why did Delaware State University take up the mantel to host this program?
The governor [Jack Markell] called and asked if we have room for any additional students, and I said "we have room." He asked, "would you be open to a conversation about potential supporter of a program called Dream.U.S – it sponsors students who are undocumented?" I said, "Absolutely."
I discussed the matter further with the governor. [He explained] that these are undocumented students locked out of the states where they are currently living. If they attend any of those schools they must pay the out of state rates. They also wouldn't qualify for financial aid. [He asked] would Delaware State University be willing to support students in this category? DACA is a temporary category assigned by President Obama, but it would potentially expire or a new president could potentially overturn it.
What I thought about . . . is Delaware State's mission about access and affordability and our history. We were founded as a state college for Colored students who were denied access to higher education at non-black institutions. It was created because we were locked out and I said: "our history supports having programs where students can get an education and better their lives." It would be hypocritical if we said no to these students. From my perspective, I immediately said "yes." After I agreed, I met with the board, and I explained why this was important for Delaware State and the board agreed. Following that, we figured out a process to make it work. Once we came to this decision, I wanted to make sure that the process would be supported by the entire university and this is what has transpired.
The first cohort of Dreamers arrived during the 2016–2017 academic year. In the past year, the numbers have almost doubled. What do you attribute to this rise in enrollment?
They didn't come here [the US] on their own. They came here because their parents brought them here when they were two or three years old. They didn't have any choice in the matter.
Delaware State is a safe environment where they feel welcome and where they can get a quality education that will allow them the keys to the "American Dream." The reality is that is part of the experience at this institution. As you know yourself, students are going to talk. If [this] was a place that mistreated these young people then they would go back to their communities and tell others. If they were in an unwelcoming environment, there would have been an exodus. Because of the spirit and legacy of the institution that generates a welcoming environment for our students here. This is what is so great about Delaware State.
To follow up, how have these students impacted the larger student body at Delaware State University?
I think that it has been a positive impact. One of our core values is diversity. We create an environment that is supportive of all people no matter their race, creed, or color or whatever. That is the embodiment of Delaware State.
[On September 5, 2017], we had a planned meeting with Senator [Tom] Carper at the time that the President of the United States announced the decision to end DACA.
While we were at the meeting Carper's aide passed him a note. The senator had already planned to meet with the students on that day. [By chance], this happened on the same day. We had already coordinated this meeting with the senator and Mr. Graham, and they were already on campus when it was announced. It was remarkable, and the students got a sense firsthand – the support from the university and the larger Delaware community.
Delaware State has almost become a national model of how to respond to these issues. Did I think about the political dynamics of what was happening as it relates to the election? We were approached in the middle of the 2016 elections. The easiest thing would be to say – "I'm not going down that road." We met with key legislators both on the House and Senate side and those for both in support and opposition to the program. We also spoke to local media. I wanted to inform them why we're saying yes before we unveiled the program at Delaware State. No state dollars are being used, and all of the funding is private.
A few days later, on Friday, September 8, 2017, DSU administrators organized a university-wide meeting. At this meeting, the status of DACA and the impact at the Delaware State University were discussed with several hundred students, faculty, and staff in attendance. Other attendees including Donald Graham, Delaware politicians, and community leaders.
What are your feelings about the upcoming congressional vote on the status of DACA?
I think that they are going to be okay. This is a bipartisan issue and both sides want to resolve this issue. The president wants it resolved. I don't think that they'll kick out 180,000 people without some compromise . . . [which] will allow them to finish their studies.
Participants in the DACA program are highly vetted. They have to go through a background check. They are not criminals and live there lives as model citizens. I think that there will be [political] support towards granting them citizenship.
This month, members of Congress have renewed discussions about crafting and passing the Dream Act. On January 3, 2018, three former directors of Homeland Secretary, Michael Chertoff, Janet Napolitano, and Jeh Johnson sent a letter to congressional members asking that they move quickly on DACA. They urged that "Congress needs to pass a bill by January 19th to provide enough time for USCIS to process applications before tens of thousands of DACA recipients are negatively impacted by the loss of their work authorization or removal from the United States"
Related
Popular in the Community