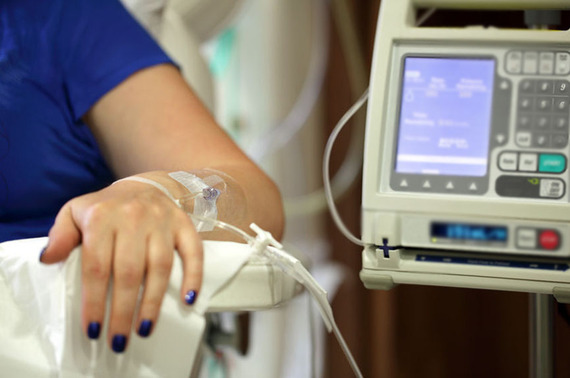 I was recently directed to a website titled The Alliance for Patient Access and, in particular, a YouTube video, "Protecting Cancer Care." The alliance" is a national network of physicians dedicated to ensuring patient access to approved therapies and appropriate clinical care. One of the three main points addressed is the issue of delayed authorizations by insurance companies with regard to access to treatments authorized by medical professionals. This brought to mind an incident that a family member had related to me about just this particular problem that I would like to share.
My relative told me about having gone to the local office of her insurance company in order to deal with some matters related to her recently deceased mother. She indicated that the waiting line was extremely long so she started chatting with others around her and soon learned that the gentleman immediately behind her was there having come directly from a chemo center where he had been scheduled to start a new round of treatment. It seems he was turned away because the medical center was still waiting for authorization for his chemo. She, along with several other people in line, allowed the gentleman to go ahead of them so that he might receive quicker attention. But she was deeply disturbed by this incident as displayed by her even sharing this story with me on our weekly long-distance phone call. And although this incident occurred about a year or so ago, it continues to resonate with me.
I do not understand how something like this could be happening in this day and age, and it is occurring far more often than I had imagined. I have personally been very fortunate that my insurance company has always immediately approved all of my testing and treatments that my doctors have requested. However, such is not the case for everyone. What I don't understand is how such requests coming from medical doctors who are treating cancer patients in desperate need of all the help they can get are being denied treatment because of such delays. For many in this situation, delayed treatment can result in the cancer spreading and ultimately in death.
With all of the electronic transmissions of information that are in place, there seems to be no reason why these situations even need to exist in the present. One of the reasons that requirements were placed on the medical industry and practitioners to place patients' information in electronic files was to ease the sharing which should enhance the speed at which information is received so that authorizations can be faster, This way, delays in patient care should be virtually eliminated. And if such is not the case, there should be more transparency so that when these issues exist they can be addressed in the proper forums and with expediency. I know that I am looking forward to the day when there will be no more patients having to stand in line to find out what they have to do in order to get the authorization for medical treatment in a timely fashion. If a patient is authorized for a treatment such as chemo, they should be able to count on the providers' staffs to insure that treatment can proceed without delays. Only a patient who has received or will be receiving chemo could ever begin to explain how devastating a delay in treatment and having to deal with insurance issues at that point can be. It is a matter that can be easily rectified and now is the time to do so.