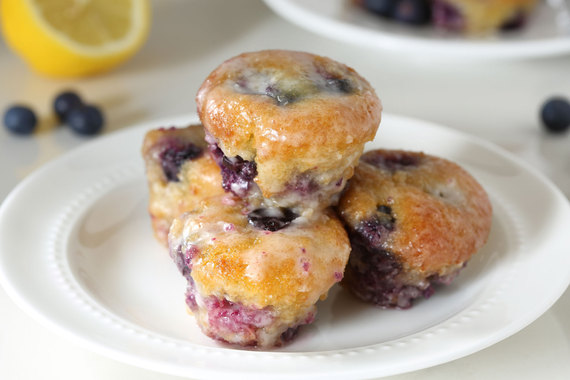 Around this time of year, I want to put blueberries in everything. And lemon. Blueberry goodies without lemon zest and extract just don't seem right to me! The one exception is when I use cinnamon in place of lemon flavor, like in this vegan blueberry crisp.
If you don't like blueberries, you can omit them or use another type of fruit in their place. But be careful — some fruit is a little too moist for these muffins! The muffins already have a lot of moisture and if you were to add some juicy sliced strawberries, I think you'd have some soggy muffins on your hands and that just doesn't sound yummy, does it? Next time, I'm going to try these with fresh raspberries! I'm also on a raspberry kick and can't stop making these gluten-free raspberry thumbprint cookies!
These gluten-free mini blueberry lemon muffins started off as healthy muffins. But then I had the idea of putting a glaze on them. And then I thought that it'd just be the best thing ever to dunk the entire mini muffin in the lemon glaze. And it was. But at the same time, I added a full cup of powdered sugar to the recipe. Whoops. So basically, these are now about as healthy as a cinnamon roll or cake for breakfast.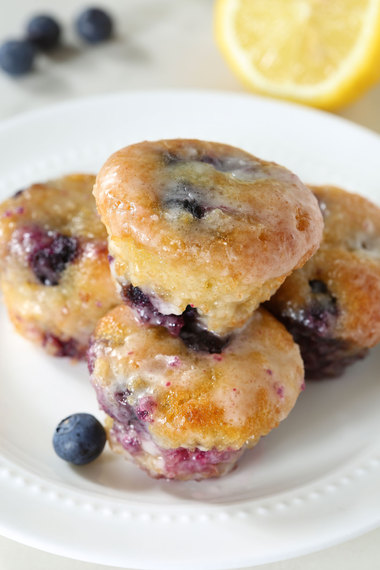 It's not that they're bad without the glaze – they're just so much better with it! The muffins are kind of spongy and suck up the glaze. If you don't want to go all out on the glaze, then you could dip just the tops in there (but then you'll probably need to halve the glaze recipe).
About Erin
Erin loves to bake, and especially the challenge of grain-free and gluten-free baking. We're huge fans of her work on Texanerin Baking too!