When producers approached me about playing the lead role in the upcoming ABC Family original movie CyberBully, I saw it as an opportunity to play a role I hadn't run into yet. My character Taylor experiences such an incredible emotional ride, and seeing as I am always on the lookout for roles that develop and grow throughout a film, I wanted to do it immediately. But it was really the Delete Digital Drama campaign that was planned to run with the film that put it over the top for me. I knew I would not only be feeding my creative hunger, but doing a good thing and spreading the word about a worthy cause. After portraying a depressed teen for a month, I was able to better see from the eyes of the tormented and really understand how cyberbullying is an understated issue. I feel more strongly than ever that we need to act now and show our own support in any way we can.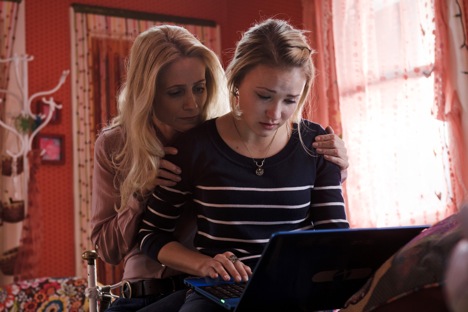 Photo Credit: Disney·ABC Television Group/Bob D'Amico
Bullying online has become increasingly popular in the last five years. Too many people, young and old, are victims of "cyberbullying." The more the world knows about its harmful effects, the more we can do to stop it. Everyone has the power to make this better. If you ever feel the temptation to speak badly about someone, stop and first ask yourself if you would ever say those words to the person's face; if not, then take yourself off the site. Conduct yourself privately as you would publicly, and remember that once it lives on the internet, it never dies. Bottom line, don't post something you wouldn't want your grandmother or the dean of your college seeing.
If you find yourself on the receiving end of bullying, there is so much you can do to get help, something my character in this film never knew. You can always talk to a parent, a teacher or a trusted friend, and there are anonymous hotlines and websites you can visit. With Delete Digital Drama, ABC Family and Seventeen magazine have pulled together an amazing campaign that includes some of these resources, along with video commentary and an awareness announcement from the network's hit series, including The Secret Life of the American Teenager, Pretty Little Liars, Switched at Birth, The Nine Lives of Chloe King and The Lying Game.
Check out the Seventeen article about Deleting Digital Drama on Seventeen.com.
It doesn't take more than two minutes to go online and read stories about teenagers who have been so horrifically bullied they have put their own lives in danger. It's easy to say it's a joke if you're not the one being bullied. Have some empathy for those who are doing their best to overcome, and don't downplay it. The more we talk about it, the more we raise our voices and spread the word, the quicker help will come.

Emily Osment stars in the ABC Family original movie "Cyberbully," premiering Sunday, July 17th at 8pm. She is a Global Ambassador for StompOutBullying.org.
Popular in the Community