Apparently, I have just blown in from Stupid Town. The words everyone seemed to be talking about last week, "Delete your account," made me feel old and out of touch.
"Delete Your Account" was, of course, @HillaryClinton's response to @realDonaldTrump's attack tweet: "Obama just endorsed Crooked Hillary. He wants four more years of Obama -- but nobody else does!"
This is what it looked like:
"Delete your account" was such a fabulous and hip response to Donald's Twitter diss that it was retweeted more than 100,000 times in the first hour, and ended up @HillaryClinton's most retweeted tweet ever (as of July 9, almost 470,000 retweets.) Give that staff member a raise, would you Hillary?
Apparently, lots of people got the meaning of this, but I was not among them. And none of my friends got it either.
I called my daughter. "What exactly does 'Delete your account' mean, honey -- does it mean 'F*% you, shut the hell up, Donald?'"
"It's not nearly that aggressive, mom" she told me.
She explained that "Delete Your Account" is more a way of dissing someone in a clever way, telling them never to speak again, thank you very much. I asked her for a further explanation by email. And then she ignored me. Apparently, like so many other young people, she had run out of patience explaining stuff to her somewhat clueless mother.
So I went to the internet. According to a recent Wall Street Journal article, "delete your account" has a long history (really, though, how long could it be? ) as a rebuke or a put down, and it is sometimes used sarcastically. And @HillaryClinton was not the first to use it. When former Gov. Jeb Bush tweeted a photo of his personally engraved handgun (see picture below) and the word "America," former CIA contractor Edward Snowden told him via twitter, "Delete Your Account." Good one, right? But that tweet didn't get as much traction.
I was also happy to see that @CNBCSsocial had asked the very same question, over Twitter, of all places. That is, I was happy until I read the responses. When did young people become so impatient and mean?
Here is a sample from a rather long list of obnoxious tweets that came back as a response to the tweet, "What does Delete Your Account mean?" ...
"This level of CNBC stupidity would make me 'change the channel.' Do you need me to explain what that means?"
"This is a remarkably pathetic discussion."
"Is there really such a generational gap that this man can't use context clues to figure out what "delete your account" means?"
"Are you fucking simple?"
"Be older and more out of touch"
And my all time favorite tweet, "Hey pal, you just blow in from stupid town?"
Then again...how much fun is Twitter?
I am going to be sure to follow @hillaryclinton and @realdonaldtrump and @CNBCsocial. Really, you can't buy this kind of biting, hurtful, yet often clever entertainment.
At least I get it now: Delete your account. Change the channel. Stop talking. It would be ok if we never heard from you again.
And I'm thinking the term might come in handy for Facebook. I just may type "Delete Your Account" to everyone who pisses me off by telling me about what foods may be giving me cancer, or that writes a loving tribute to their spouse who is not even on Facebook in order to wish them Happy Anniversary. Delete your account, friend!
On the other hand, I would like to retain some friends, so maybe I will just say it quietly to myself.
And I know, I know, we can't use it face to face -- this is strictly a social media thing. But you know the Baby Boomers will take it over and mess it up. We can't help ourselves. I can hear it now....
"Hey, Buddy, Learn how to drive...Delete Your Account!"
"Hey Boss, there is no way I can work on Sunday...Go Delete Your Account!"
Just this morning, I was getting coffee at Starbucks, when a woman behind me in line started pontificating about something or other, and did not stop talking, loudly, for at least four minutes. I turned around and stared at her and sent her a telepathic message before ordering my grande, extra hot, coconut milk latte: "Delete Your Account, lady!"
When it comes to social media vernacular, many of us really have just blown in from Stupid Town. But I am starting to understand why people actually like Twitter.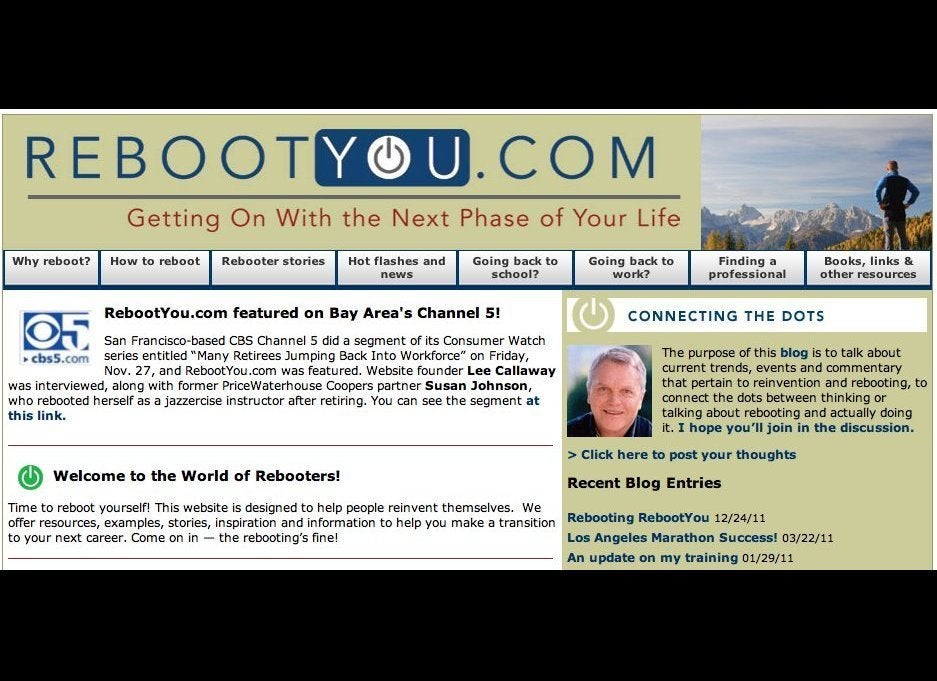 12 Websites To Aid Your Reinvention
Related
Popular in the Community