(Adds quotes from filmmaker)
NEW DELHI, March 4 (Reuters) - India's home minister said on Wednesday he would investigate how a film crew managed to interview a death row convict who expressed no remorse for his part in the fatal gang rape of a woman in New Delhi in 2012, an attack that sparked outrage.
Leslee Udwin's "India's Daughter" features conversations with Mukesh Singh and fellow convicts who raped and tortured a 23-year-old woman on a moving bus in December 2012.
Home Minister Rajnath Singh said the documentary would not be aired in India and accused its makers of violating "permission conditions" by not showing the complete unedited footage to jail officials.
"It was noticed the documentary film depicts the comments of the convict which are highly derogatory and are an affront to the dignity of women," Singh told lawmakers in parliament.
"How was permission given to interview a rapist? It is shocking. I will get this investigated."
Comments released to the media this week showed that in the film, Mukesh blames the victim for the crime and resisting rape. He also says women are more responsible than men for rape.
"You can't clap with one hand - it takes two hands," he says in the film, according to a statement by the filmmakers.
"A decent girl won't roam around at nine o'clock at night. A girl is far more responsible for rape than a boy ... Housework and housekeeping is for girls, not roaming in discos and bars at night doing wrong things. About 20 percent of girls are good."
Late on Tuesday, the home minister directed Delhi police to obtain a court order prohibiting the film's release. Police said the ban was imposed as Mukesh's comments created an atmosphere of "fear and tension" and risked fueling public anger.

"UNCEREMONIOUS SILENCING" OF FILM
Udwin, a rape victim herself, said she was "deeply saddened" by the decision.
"I urge (Prime Minister Narendra) Modi to deal with this unceremonious silencing of the film," she wrote in a statement published by Indian channel NDTV, which was to have aired the documentary on March 8, International Women's Day.
NDTV also reproduced letters showing Udwin had obtained permission from the home ministry prior to carrying out the interviews, and had the consent of Mukesh in Tihar jail.
Udwin told reporters on Tuesday she had given jail officials a chance to sit through hours of unedited footage, but they did not do so. Officials later approved a pared-down version, she said.
The British filmmaker, who worked on the film for two years and was inspired to make it after watching thousands of people take to the streets across India in protest over the 2012 rape, said it would be released worldwide as planned.
India toughened its anti-rape laws in response to the outcry following the 2012 attack, but a rape is still reported on average every 21 minutes in India, and acid attacks, domestic violence and molestation are common.
Mukesh's comments in "India's Daughter" have grabbed headlines in Indian newspapers and sparked outrage on social media. Some people have questioned whether the convicts should have been given a forum to express their views.
On Wednesday, the issue was debated in parliament.
Four men including Mukesh were sentenced to death for the crime, but their execution was later stayed on appeal by India's Supreme Court.
One of the defendants hanged himself in prison, while another, who was under 18 at the time, got three years in juvenile detention. (Editing by Mike Collett-White, Tony Tharakan and Jeremy Laurence)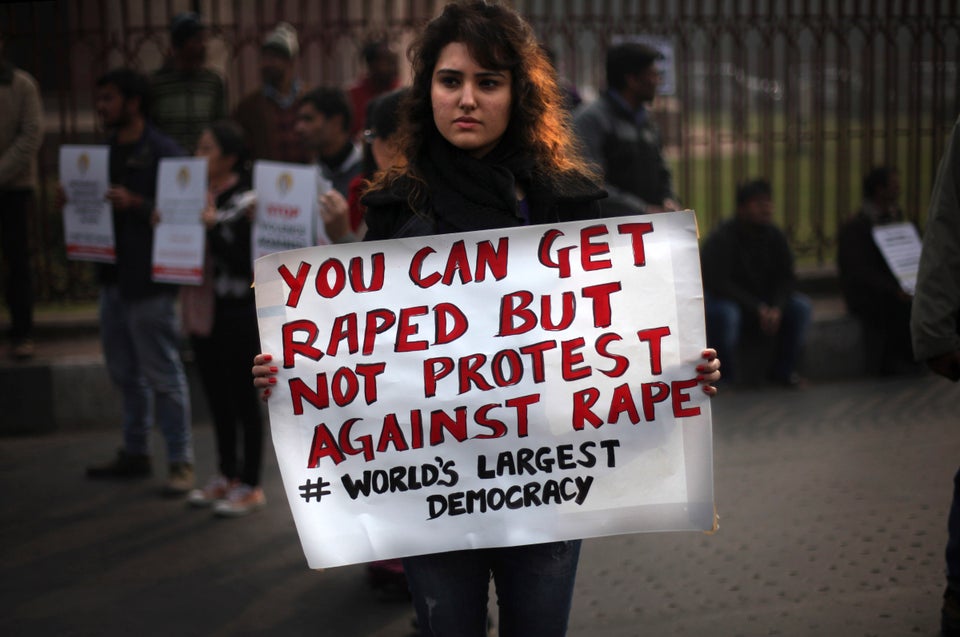 Delhi Rape Protests
Popular in the Community