 Last month's brutal gang rape and murder of a 23-year-old student on a bus in New Delhi shed a glaring spotlight on the dangers women in the Indian city face while going about their everyday business.
But one group of women is trying to help alleviate the problem -- or, at least, help each other protect themselves.
New Delhi, which known colloquially as India's "Rape Capital," has been a noticeably unsafe place for its female inhabitants for years.
In 2010, a government-backed study found that two in every three women in the city had "faced some form of sexual harassment in the last year," the BBC reports. And in a grim bit of foreshadowing, the report listed buses as the most unsafe form of transportation.
Three years later, the situation has not changed very much, as evidenced by the Indian Supreme Court's conclusion last week that "there is no safety in the city and it has to come back," according to the Hindustan Times.
Into this void has driven a plucky group of women pioneering a female-operated, female-targeted taxi service in New Delhi.
Driver Shanti Sharma, 31, told PRI that she felt proud to be associated with the fleet, which is run by nonprofit the Sakha Consulting Wing.
"When I'm on the road driving our cab, I feel very proud, because this is a cab service for women, and I'm a woman," she said. "Our work is supporting the women of Delhi. We're giving them safety."
Women who work for the service are not necessarily embraced by the male-dominated industry, the Seattle Globalist notes. Male drivers stare as women slide behind their wheels. In addition, risks abound for both passengers and drivers. In fact, every driver trained by the Sakha Consulting Wing also takes self-defense classes offered by the police department, the Globalist reports.
And yet, the female-taxi trend seems to be gaining momentum. In Mumbai, Viira Cabs, a taxi and chauffeur service featuring all-female drivers, was launched in January 2011, CNN reports.
The Globalist notes that similar companies also exist in Singapore, Indonesia and Egypt.
Related
Before You Go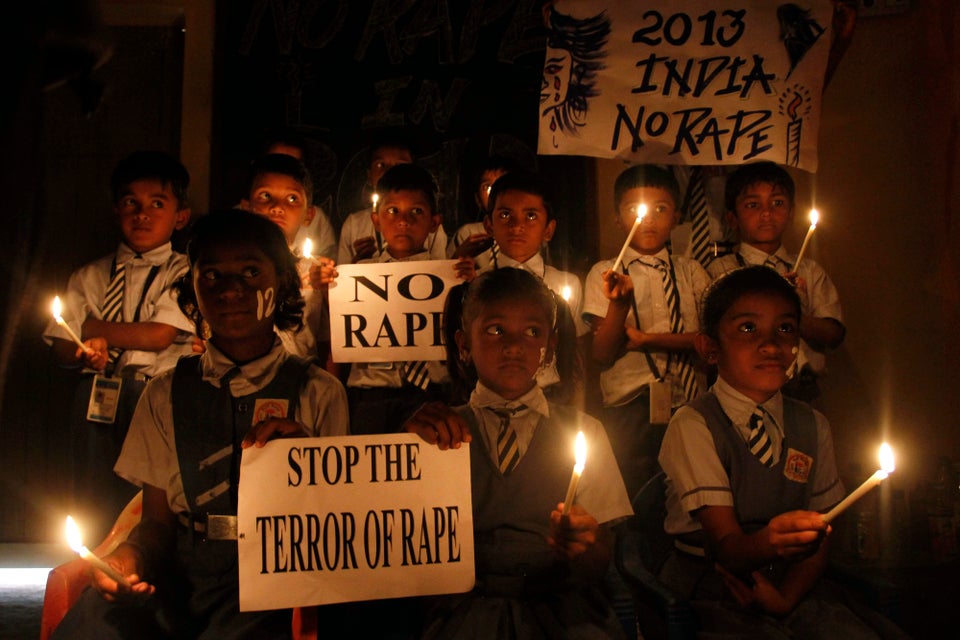 India Protests Against Gang Rape Case
Popular in the Community