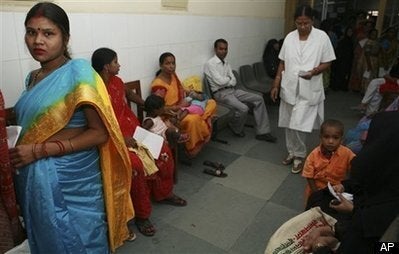 Sita is gone. Delhi is shining, as is Gurgaon. Sita, like my uncle's family, lives in Malibu Towne in Gurgaon, 212 acres of a middle-class heaven where the upper-middle-class inhabitants of the tower apartments enjoy a life of "no load-shedding" -- meaning the towers are run by external generators so the residents can avoid the cyclical power cuts the government inflicts on its booming populace.
No marble floors and 24-hour power and water for Sita, though. She and her husband Mahesh live in a makeshift jhuggi, or shantytown, right next to the towers, where a few sticks in the mud support the blue tarp that they and their three children call home. Sita is my uncle's family's primary servant and she cleans the dishes, toilets, floors, clothes, and she even cooks. Mahesh cleans the cars. Their friend Gautam is the mali, or gardener.
Their jhuggi, just next to the Malibu Towers, is built on a plot of land owned by a Jat -- a member of the predominant, land-owning caste in Haryana, the state of which Gurgaon is a part -- whom they call Pehelvan ("wrestler") and pay 600 Rupees a month for the right to live there illegally. There are about a hundred residents there. Pehelvan, like my family, also knows their other secret. "Sita" is Mehrunissa, "Mahesh" is Mohammad and "Gautam" is Yassir Khan. They are all Bangladeshi refugees, Muslims using Hindu names to work in the predominantly non-Muslim households of Gurgaon. They are illegal immigrants and have no papers.
For the record, not all of domestics are "illegal" -- the percentage is particularly high in parts of suburban Delhi. Many in the "servant class" come from impoverished states like Bihar, Uttar Pradesh and Madhya Pradesh.
On the night of September 15th, Pehelvan confirmed to Sita and her family that the Gurgaon police were rounding up people like them and sending them home, because there was no room for illegals during the approaching Commonwealth Games. He told them that he had tried to bribe the cops with fifteen thousand rupees per family, which was the going rate, but the lines at the local thana, or police station, were too long -- he was not the only jhuggi slumlord in booming Gurgaon with the same idea -- and it might make better sense for them to leave till "the games are over".
Five nights later, Sita and her family arrived at my uncle's house with two trunks of belongings, two bicycles and six buckets to store. They deposited their only TV as well and in the early hours of September 20th they drove out of Gurgaon, leaving most of Malibu Towne without servants, car cleaners, gardeners and garbage collectors. Pehelvan had helped them charter a bus for the inflated rate of a 100,000 rupees, including his cut. The bus was headed to the porous border towns of the Indian state of West Bengal, next to Bangladesh, the impoverished country they fled eight years ago. My extended family, also left Malibu Towne, taking up temporary residence in the larger family house in one of Delhi's other satellite townships, where the servants are aplenty and live in "servant quarters" on the property (so no prying police). They hope to return to Gurgaon in a month when "Sita", "Mahesh" and "Gautam" come back.
Gurgaon, arguably the call-centre capital of a new and booming India, is home to many gated communities like Malibu Towne. There is Central Park, Nirvana Country, Beverley Park 1 and 2, Suncity, Georgian Residency, Emerald Hills, and Hamilton Court. The list is long and indeed a new one seems to come up every week. Each supports its own micro-economy of illegal domestic workers.
Wikipedia claims "Residents of Gurgaon enjoy a rich lifestyle with a modern outlook while still practicing age old customs and values. People love to spend an evening with their family in Leisure Valley Park and Kingdom of Dreams situated in sec 29, as much as they enjoy watching a movie in Gold Class."
Delhi, which now has 20-million-plus residents if one includes satellite towns like Gurgaon, has been doing a massive cleanup for its much-derided Commonwealth Games. Overnight, it seems, beggars and malba (debris) have been literally swept off the streets. A hastily (and probably temporarily) cleaned and green Delhi is busy welcoming its firangi (foreigner) guests with endless cultural extravaganzas and marigold garlands.
Many of Delhi's aggrieved activist types have taken to Facebook and Twitter to denounce the injustices perpetrated by the games.
Banners were seen on the streets, before being hastily taken down by the government. They read "Welcome to Clean(sed) Delhi" and "Dilli nilam hui darling kis ke liye"? ("Delhi has been auctioned off, darling. For what?") and had appeared on many of the sparkling new pedestrian overpasses looking down upon the traffic chaos, which has been made worse by the creation of dedicated lanes for the athletes to breeze by these choked roads.
After a successful opening ceremony, however -- the critique of the government has been replaced, for some, by a sense of nationalistic pride and the familiar "East or West, India is the Best" chorus is being heard again.
The servant crisis has gone largely unreported, though. The "charming" streets of Malibu Towne, with names like Pine Wood and White Wood, are now empty. Calls to various neighbors who were dependent on Sita and her friends reveal that many have taken to eating every meal at Gurgaon's more than 40 air-conditioned shopping malls boasting vast food courts.
The residents of Malibu Towne are not used to cleaning their own homes, so a crisis has unfolded in every home: dishes are piling up and floors are not being swept daily.
Sita's workday would start at 5:30 am and she would be done by 7 in the evening. She took care of eight houses. There are an estimated 500 families in Malibu Towne. Many Sitas were therefore needed to cook and clean for these households. Most of them have now decamped to the Bangladeshi border to wait till the games end.
The central government has started the Unique Identification Authority of India (UIDAI), headed by Nandan Nilekani, the guy who gave us the mother of all outsourcing companies, INFOSYS. More than one billion people are to be given UIDs, or Unique Identification numbers, making this program a gargantuan and complicated exercise in the world's largest democracy. It is not clear if Sita and her family will have access to UIDs or even want them. Being undocumented sometimes has its advantages. When she was leaving, Sita told my family that she was afraid but conflicted and also looking forward to her "vacation" brought on by "these games".
Pre-partition, undivided Bengal was split into East Pakistan and the Indian state of West Bengal; East Pakistan became independent Bangladesh in 1971. Somewhere from West Bengal, Muhammad (aka "Mahesh") called my uncle five days ago from an STD ("Subscriber Trunk Dialing") booth. "Are these games over, Sahib?" he asked. "Can we come back?"
Around the same time in America, another domestic servant called Nicky Díaz Santillan hired a prominent lawyer and held a teary press conference. Her former boss, Republican Meg Whitman, the former head of eBay, is running for governor of California and Nicky, the "illegal alien" is now an election issue.
Sita and her family have no access to lawyers and press conferences, yet.
Related
Popular in the Community