It's the end of the line for a '90s teen darling. Delia's is preparing to shut down.
Delia's announced Friday that it is liquidating all of its merchandise and plans to soon file for Chapter 11 bankruptcy protection. It had been looking for a buyer after running low on cash, decimated by four straight years of declining sales.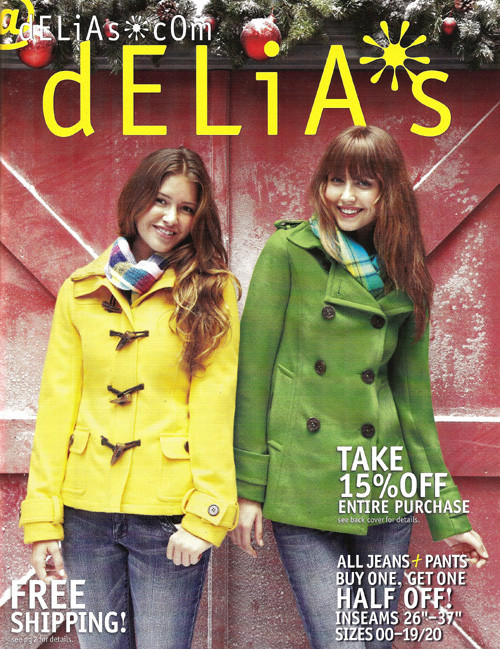 A Delia's Catalog. (Photo: Delia's)
The store, which styles itself as dELiA*s and is best known for its once-popular catalog, had its heyday in the 1990s selling that decade's flashy fashion items like maxi skirts, neon track jackets and baggy pants. Launched as a direct sales business in 1993, it was adored by teen girls as a place to buy all the cutesy items they wanted, and the brand prospered as it delivered on all the hot teen trends of the era.
But in the mid-2000s, fashion trends passed it by, and girls abandoned the store for edgier shops like American Apparel, PacSun and Hot Topic. Delia's put itself on the auction block back in 2011, as fierce competition from newly popular stores like Forever 21 and H&M ate away at its sales. In 2013, Delia's accumulated just $137 million in sales, down nearly 47 percent from its peak of $258 million in 2006.
A turnaround seemed possible last year, when hedge fund manager Whitney Tilson talked up Delia's potential under new chief executive Tracy Gardner, who came over from J. Crew and hoped to spark a renaissance of sorts.
Delia's retained its upbeat style to the end, though without the vibrant, in-your-face neon color palette that defined the 90s. It sells items like sweaters with heart prints, flowery tops and graphic tees with "Whatever" emblazoned on their fronts.
But the company wasn't able to keep up with the times. As former Delia's CEO Walter Killough told BuzzFeed as the chain was on its deathbed: "It looks like Delia's is just another small company, in the teen space, that did not have the store and e-commerce productivity to absorb the revolutionary changes that are going on in the shopping patterns of the teen shopper."
Delia's found its home in shopping malls, attracting girls to stores with its snazzy catalog. But over time, suburbia ditched malls to shop on the Internet. As of August, Delia's had 95 stores left-- down from 115 in 2011. In February, Delia's had 499 full-time and 1,190 part-time employees, according to filings with the Securities and Exchange Commission.
The company "does not anticipate any value will remain from the bankruptcy estate" for shareholders. A representative for Delia's did not immediately respond to a request for additional comment.
Support HuffPost
The Stakes Have Never Been Higher
Related
Popular in the Community