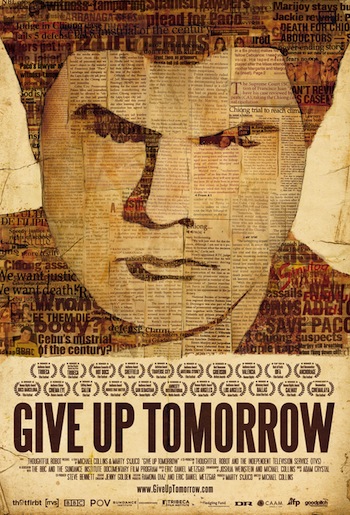 "When all hope seems lost today... Give up tomorrow."
As much as I support cinema with a conscience, I am the first to admit that it's not often a film can truly change someone's life. Watching a particularly poignant story or a subject that feels close to our heart can help us walk away with a different outlook, make our day better or just give us a new way to see old problems. Yet calling that life-changing may turn out to be another example of my overly romantic perspective.
But Give Up Tomorrow is different. It is not just a documentary portraying injustice but a movement for change, and in particular to change the course of one man's horrible destiny and to continue supporting his family and friends -- those who never stopped believing in his innocence for all these past, long fifteen years. The film began as a labor of love by producer Marty Syjuco and filmmaker Michael Collins but it has since turned into a festival winner and a catalyst for change for Paco, his family and all who support him, including Amnesty International, the United Nations and Fair Trials International.
Paco Larrañaga's ordeal started the same night two twenty-something sisters, Marijoy and Jacqueline Chong disappeared, on the Philippine island of Cebu. Miles away, on a different island in Manila, Paco -- at the time, 19 years old and a bit of a bad boy -- was at a party surrounded by dozens of reliable witnesses. Because of background -- Paco hails from a privileged mestizo political clan and the Chong sisters are Chinese-Philippino, a heritage which is typically seen as an underclass -- political corruption and Paco's past encounters with the law, he was almost immediately arrested for their rapes and murders. And because of the media frenzy that arose out of his arrest, he was never again released. Many facts pointed then, as now, to his irrefutable innocence, like a photo of him at the party in question, islands away from the murder, and a much more likely perpetrator in the boss of the Chong's father, a known drug dealer with mob connections who had a bone to pick with Mr. Chong.
Given the chance to escape to Spain because of his Spanish citizenship, Paco refused, going against all advice to stay on and clear himself of this character assassination and to honor his family's name. Instead of doing the wrong thing and saving himself, Paco did the right thing, stayed on and faced trial, never imagining what would come next.
These days, Paco is no longer in jail in the Philippines, but his ordeal continues. Granted a short weekend away from his Spanish cell, he can be seen in the video below attending the San Sebastián Human Rights Film Festival, where Give Up Tomorrow received yet another award for the filmmakers' tenacity and their subject's courage.
At the core of Paco's conviction lies a wall made up of the corrupt justice system of the Philippines, a posse of flamboyant public officials and an unfortunate journalistic circus that proved impossible to break through with the truth, facts and witnesses -- who all pointed to Paco's innocence. Adding insult to injury have been the constant media interruptions by the girls' mother, who appears to have made her own fame a priority, above finding her daughters' killer, or even their real dead bodies.
With all these elements in place, it's easy to understand why Give Up Tomorrow has become one of the most fascinating and discussed documentaries of our time, awarded top prize at festivals the world over, and creating a movement for change in the global justice system.
So, if you have yet to catch the "Free Paco" fever -- I caught mine early on at the film's world premiere, at the 2011 Tribeca Film Festival -- I suggest watching the film this month on PBS' POV, online through the POV site or buying the DVD now available from the filmmaker's website.
This month, the film also began a theatrical run in the Philippines, which has created yet another media frenzy there, this time fortunately not as one-sided as during Paco's trial.
I have watched Give Up Tomorrow several times already, with all kinds of different audiences. But the personal message I always walk away with is that while many of us are not perfect, we are all entitled to the best our government has to offer, in times of need. Whether for medical, legal or bureaucratic matters, anything less that perfection from those in charge is just not acceptable.
And in the case of Paco Larrañaga, it has all been simply criminal.
Poster image courtesy of the Thoughtful Robot, used with permission
Calling all HuffPost superfans!
Sign up for membership to become a founding member and help shape HuffPost's next chapter