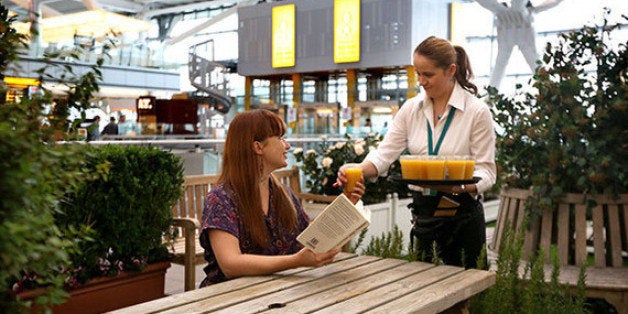 As a general rule, I hate airport food. But once in a while, a culinary gem appears between the Starbucks and the Burger King, elevating terminal eating with the fresh, the organic, the artful plate garnished with sweet tomato chutney and a sprig of mint. I'm happy to report that such finds are becoming increasingly commonplace. Travelers passing from gate to gate are no longer considered a captive audience, forced to consume whatever's available. From food trucks to farmers' markets, airports are offering more enjoyable choices to hungry flyers. These awesome airport dining trends—some brand-new, some old but solidly growing—will take your next airport culinary experience to new heights.
What's the airport's answer to food trucks? Food carts, of course; they're more practical for indoor use. Whatever the vehicle, it's about time that locally owned food trucks brought their portable, fun street fare to the terminal (which needs all the fun it can get). Popular Portland, Oregon, food truck KOi Fusion opened a cart at Portland International Airport this month. The Asian-fusion truck, which serves tacos, burritos, and kimchi quesadillas at locations around the city, has set up shop, cart-style, before the security checkpoint at PDX. Next to KOi Fusion, you'll find the mobile version of Michelin-starred chef Andy Ricker's Pok Pok restaurant. The carts will operate on a six-month rotation, so look for new setups if you're heading through Portland International after spring.
This isn't a new thing, as you probably know. Airport restaurants have been riffing on local culinary specialties for quite a number of years. At this point, it's rare to find a major hub bereft of restaurants serving popular regional foods. But there are noteworthy newcomers to the town-to-terminal food scene. We're not talking about weak facsimiles of local specialties; these are authentic homegrown food brands with established community followings. Here are just a few examples: Caplansky's Delicatessen, an old-school deli in Toronto's Little Italy, has just opened a location in Terminal 3 at Toronto Pearson International Airport. You can take your Reuben to go and make your seatmate either jealous or annoyed with the smell. Noted Denver hot dog spot Steve's Snappin' Dogs has come to Denver International's B Concourse this year. And look for an outpost of The Country Cat to open at Portland International in early 2015.
Imagine picking up something fresh, seasonal, and good for you moments before a flight, instead of a pile of stomach-turning, greasy lo mein on a plastic tray. Thanks to the Berkshire Farms Market at Boston Logan, which opened in spring, flyers can grab made-to-order smoothies from South End Buttery, just-baked Iggy's bread, or home-brewed Fire Cider in Terminal B. These days, you'll find market-style operations at several other airports, too. The restaurant group that operates Logan's Berkshire Farms Market is called Tastes on the Fly, and it also runs the popular Napa Farms Market in San Francisco International's Terminal 2. And in June, Los Angeles International Airport welcomed an outpost of the Original Farmers Market to Terminal 5.
It's Airport Restaurant Month! The first-ever Airport Restaurant Month, in fact. Right now, this October, travelers can get special meals for special prices at participating restaurants in the U.S., just like a typical city restaurant week. Twenty airports have signed up for the program and are offering multicourse menus for between $17 and $25. Those costs don't include alcohol, but recommended wine parings will accompany most menus. This program was set up by restaurant operator HMSHost; see the full list of participating airports on the company's website.
Hallo Hello, a restaurant that encourages strangers to share meals with one another, opened a pop-up location at Copenhagen Airport that ran for four weeks in September. On Restaurant Day last August, Helsinki hosted pop-up versions of local dining joints in four sites around its airport. London's Heathrow was the fleeting home of a pop-up ceviche restaurant in the airport's Virgin Atlantic Clubhouse. We smell a trend. With ever-changing crowds of travelers passing through, plus plenty of space for retail and dining across terminals and airline lounges, airports are prime settings for pop-up dining venues. These events are typically short-lived, so it's difficult to plan ahead for attendance. But stumbling upon a really cool temporary eatery while passing through a terminal would be quite the culinary win, I think. Many of the pop-ups are announced on airport Twitter pages. Keep your eyes peeled and your smartphones at hand.
High-Tech Restaurant Tables
Do you prop up your laptop beside you whenever you sit down for an airport meal? Well, you're in luck. A handful of airport restaurants are installing iPads at their tables. The purpose of these flat-screened dining companions: You can read the menu, check your flight status, and even order and pay for your food via the touch-screen device. According to a report from the Washington City Paper's blog, restaurants under construction in Reagan National Airport's Terminal A will feature iPads at tables. Denver International is also getting this innovative upgrade at dining establishments in Concourse C by mid-December. I hope we can succeed in not getting ketchup all over the screens.
Lots of airports offer to-go meals for in-air consumption. London Heathrow, however, is taking the takeaway concept to new levels—the grab-and-go has gone gourmet. Passengers can purchase prepared fine-dining meals at 118 restaurants at Heathrow, including that famous contrivance of Gordon Ramsay, Plane Food. The program offers a virtually unlimited range of takeaway options for travelers, and prices vary wildly. You can grab a sandwich at Pret and pay just a few pounds. The King Seafood Platter at Caviar House & Prunier Seafood Bar, by contrast, costs £145.