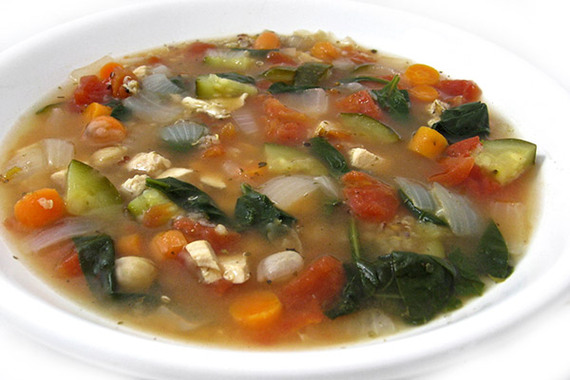 Think yummy chicken soup but with an Italian twist. This main course soup is hearty, loaded with veggies, chicken, beans and super healthy quinoa instead of noodles. So make a pot this weekend and enjoy it for lunch or dinner throughout the week. It freezes great too. Each super satisfying 2 cup serving has just 236 calories, 2 grams of fat, 6 grams of fiber and 6 Weight Watchers SmartPoints.
Prep Time: 15 minutes
Cook Time: 35 minutes
2 teaspoons garlic, minced
2 (32 ounce) containers reduced-sodium chicken broth, I used Swanson's
1 (14½ oz) can tomatoes, diced
1¾ cups chicken, cooked and chopped (skin removed)
1 cup canned garbanzo, kidney or cannellini beans, rinsed and drained. Save remaining beans and add to salads
½ cup white wine or ½ cup more chicken broth, if desired
1 tablespoon Italian seasonings
½ cup quinoa, see food facts and shopping tip
1 teaspoon Parmesan cheese for each serving, optional
1. In a microwave safe bowl, add onions, zucchini, and carrots. Cook for 4 minutes on high until onions are soft.
2. In the meantime, coat a large soup pot or large pan with cooking spray. Add garlic and sauté over medium high heat for 1 minute. Pour in chicken broth, vegetables from microwave, tomatoes, chicken, beans, wine, Italian seasonings and pepper. Bring up to a boil. Cover and turn down to a simmer. Cook for 25 minutes.
3. While soup is simmering, cook the quinoa: In a small pot, add 1 cup water and quinoa. Bring to a boil, cover, turn down to a simmer and cook for 10-12 minutes until water is absorbed. Pour into a bowl and set aside.
4. After cooking the soup for 25 minutes, stir in spinach and cooked quinoa. Continue to cook, covered, for 2 minutes.
5. Before serving, sprinkle each with 1 teaspoon Parmesan cheese, if desired.
Makes 12 cups (1 main course serving, 2 cups)
Food Facts
While quinoa is usually considered to be a whole-grain, it is actually a seed, but can be prepared like whole grains such as rice or barley. It takes less time to cook than other whole grains - just 10 to 15 minutes. And, quinoa tastes great on its own. A ½ cup raw quinoa makes about 1⅔ cups cooked.
Shopping Tip
Most supermarkets sell quinoa in the rice aisle. I bought mine at Trader Joe's.

Weight Watchers SmartPoints 6
Weight Watchers POINTS PLUS 5

SKINNY FACTS: for a 2 cup serving
236 calories, 2g fat, 0g sat. fat, 23mg chol, 19g protein, 29g carbs, 6g fiber, 747mg sodium, 3g sugar
Popular in the Community