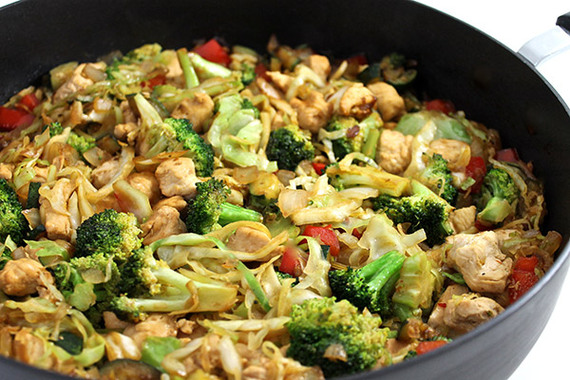 This dish is fabulous and has the most delicious sauce! And, it's packed with chicken and veggies. You'll love the 2 cup serving size. Each serving has only 267 calories, 8 grams of fat and 7 Weight Watchers POINTS PLUS. This recipe is a real keeper!
Prep Time: 15 minutes
Cook Time: 15 minutes
Ingredients for Stir-Fry:

Cooking spray
1 tablespoon canola or olive oil
1 pound chicken breasts (boneless, skinless) cut into bite size pieces
1 cup red bell pepper, chopped
1 (10-12 ounce) bag shredded cabbage, about 5 cups
Ingredients for Sauce:

¼ cup reduced-sodium soy sauce
2 tablespoons Hoisin sauce
2 tablespoons rice vinegar
1 tablespoon sesame, canola or olive oil
1 tablespoons brown sugar
1. First prep all vegetables and dice the chicken. Set aside.
2. In a small bowl, add all sauce ingredients and mix until well blended. Set aside.
3. Coat a large nonstick wok or pan with cooking spray. Add chicken and cook stirring often, until cooked through and white inside. Remove to a plate.
4. In the same pan, coat with more cooking spray and heat 1 tablespoon of oil. Add onions, broccoli, zucchini, red bell peppers and water. Sauté over medium-high heat for 3-5 minutes until broccoli is soft. Add cabbage and sauté another 2 minutes until cabbage is soft. Turn down to medium heat, add cooked chicken and sauce. Stir-fry for about 2 minutes until all heated through. Stir constantly to blend everything.
5. Store any leftovers in the fridge for a few days.
Makes 4 servings. (each serving, ~2 cups)
Weight Watchers (old points) 5
Weight Watchers POINTS PLUS 7
SKINNY FACTS: for 2 cup serving
267 calories, 8g fat, 0mg chol, 28g prot, 23g carbs, 5g fiber, 709mg sod, 6g sugar
Note:
1. The nutrition facts were calculated on Spark People.com.
2. The Weight Watchers POINTS were calculated on CalculatorCat.com.
For more Skinny Kitchen recipes, please join me at: http://www.skinnykitchen.com
Follow Nancy Fox on Facebook: https://www.facebook.com/SkinnyKitchen
Follow Nancy Fox on Twitter: www.twitter.com/skinnykitchen
Follow Nancy Fox on Pinterest: http://www.pinterest.com/skinnykitchen/