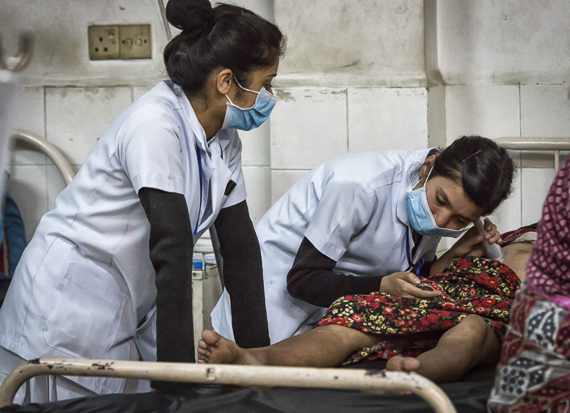 KATHMANDU, NEPAL -- Life goes on at the tiny Paropakar Maternity Hospital in Kathmandu, where doctors have been delivering up to 70 babies a day since the April 25 quake killed thousands.
"The babies are going to come whether we like it or not," said Dr. Jageshwer Gautam, hospital director.
At the moment of the first tremor, we were performing caesarean sections. We brought the patients outside and successfully completed the surgeries. These doctors and nurses never left the patients.
Because of the danger of building collapse, improvised operating rooms have been erected in the parking lot in front of the hospital. About 20 women sit in on thin mats with their husbands and families gathered around them, attempting to provide comfort. Only women experiencing complications go inside the hospital, which is actually preferable to most.
"Both the staff and the patients do not want to stay in the ward. They want to be outside in the open because of fear of another earthquake," said Dr. Gautam.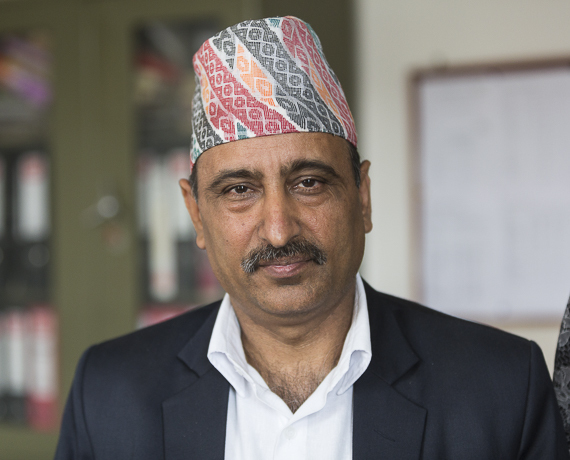 Inside the emergency room, it's chaos; the smell of sweat and urine is overpowering. Nurses run around frantically trying to monitor dozens of patients at once. Cries of women in great pain -- sometimes shrieks -- reverberate through the hospital hallways.
Days of waiting in the tents have begun to take a toll on the families outside and many feel they are being ignored.
Shiva Sedai, a farmer, and his pregnant wife travelled from a small village 80 kilometers from Kathmandu on April 23. They still haven't seen a doctor.
"We spend hours filling out forms and nobody talks to us," said Sedai. "They give us no information. I have been here four days. We're just sitting here."
Sedai learned through phone calls with family that his entire village was destroyed.
"One hundred houses fell down and my brother was injured. All my animals are dead. Life will be hard now."
It's a small hospital, and Dr. Gautam says most of the care must be focused on women who are about to deliver. He also notes with some pride that his staff are disregarding their own families in order to bring the babies into the world. Some have even lost family members or have had their homes destroyed.
We've managed with great difficulty. There has been huge destruction. It's a national problem, and a local one. Houses are destroyed, even (the hospital staff) are living in tents; it's a very difficult situation that is applicable to all of us.
It should be noted that not all the scenes at the hospital are tragic. Outside, half a dozen proud fathers embrace their new sons and daughters with tears in their eyes. Grandmothers, aunts and cousins hold out their arms and plead for a turn with the newborn, desperate to have another look at their little fat faces, but the dads just won't let them go.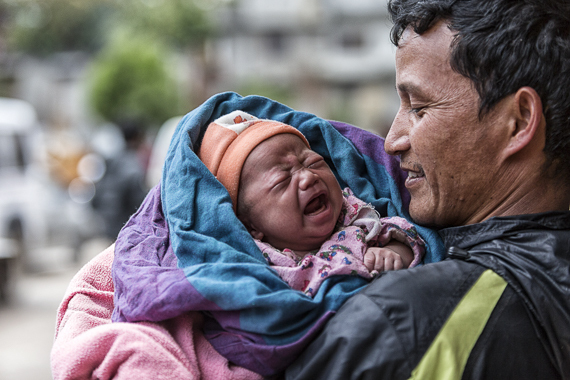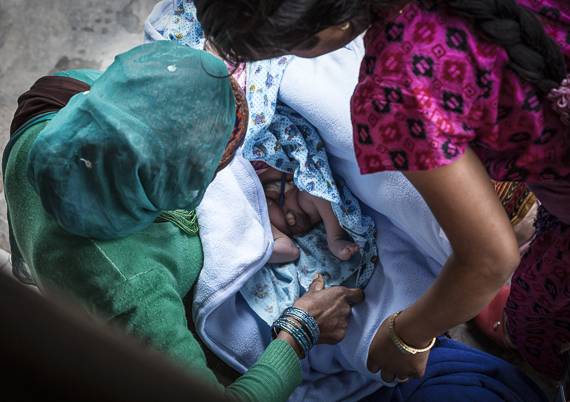 Calling all HuffPost superfans!
Sign up for membership to become a founding member and help shape HuffPost's next chapter