Okay, I get it.
By the time you got to Florence, on your 11-country, 12-day European tour, you were hot, tired, a little sick of museums and cathedrals, and thinking mostly about the tavernas and pure white sand beaches on the Greek islands.
Dutifully, you filed by the David and Botticelli's Birth of Venus, but by then you were pretty much museumed out.
Your best friend, the art freak, was trying to get you to look at the Della Robbia sculptures, but no sale.
One more piece of art, and you were going to burst.
We were all young once.
Here's the great news.
Drop into Boston's Museum of Fine Arts by December 4 and you'll see what you were missing on your European Grand Tour.
Okay, let's get serious.
The new installation of fifteenth and sixteenth century Italian terra cotta sculpture will buckle your knees.
It's that astounding.
It might even make you want to pack your bags and go back to Florence to see what else you missed.
So what's the big deal about the Della Robbia exhibit?
Luca della Robbia, the head of the clan, was a fifteenth century Italian sculptor who determined new ways to use lead and tin to create a glaze so stunning and lifelike that you'll think the work is five or six years old and not almost 600 years old.
Della Robbia had no children, so he taught his glazing secrets to his nephew Andrea, who more than made up for his uncle's lack of fecundity.
Andrea della Robbia had no less than 12 little Della Robbias of his own, of whom five became sculptors themselves.
The fruits of their labor, painstakingly gathered together by Marietta Cambareri, Senior Curator of European Sculpture and Jetskalina H. Phillips Curator of Judaica, are astonishingly, preternaturally, gloriously stunning.
In fact, words fall short. You've got to see these pieces for yourself.
In the entry room you will find yourself confronted with a truly massive, almost overwhelming, multi-colored wall relief commemorating the rebirth of Christ.
Among them any figures surrounding him celebrating is none other than the patron of the artist, a vintner whose family, the Antinori, still makes wine five and a half centuries later.
The Antinori family even paid for the restoration of the work, which has been in the collection of the Brooklyn Museum for more than a century.
Once you are finally able to lift your eyes from this astonishing work, make a sharp right turn in the same gallery and you'll find a sculpture of a young boy so lifelike in his expression that you will swear you are related.
You must also visit The Visitation, where the Virgin Mary, who has just gotten word that she is pregnant with Jesus, comes to visit her elderly cousin Saint Elizabeth, who is also pregnant.
As my mother would say, "In your life," as in, you've never seen a sculpture of two women like this anytime, anywhere.
Then head into the final room and among other masterpieces you will see three life-size and almost shockingly realistic saints, clearly made for the same project, brought together from three different collections around the world.
If they don't have you booking a return flight to Italy, nothing will.
The Renaissance art world knew they had something spectacular in the work of the della Robbia clan, and Leonardo da Vinci himself had high praise for their amazing terra cotta glaze.
Styles change, of course, in Italy above all, and by the time those standing saints were made around 1550,, the great Michelangelo would be diminishing the taste for colorful della Robbia work, championing white marble sculpture.
But what did Michelangelo know, anyway?
This exhibition, the first major gathering of Della Robbia works in the United States, travels to Washington D.C.
Catch 'em while you can.
And then I'll see you in Florence.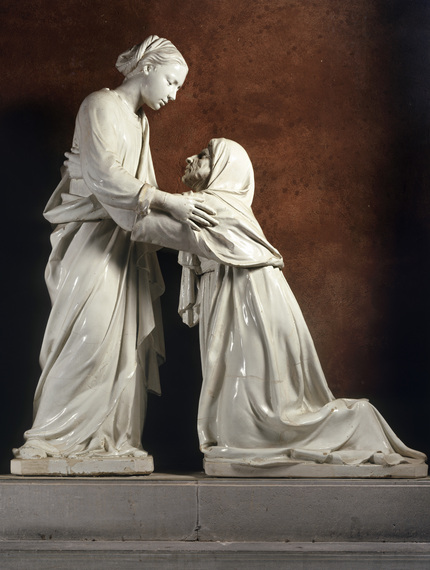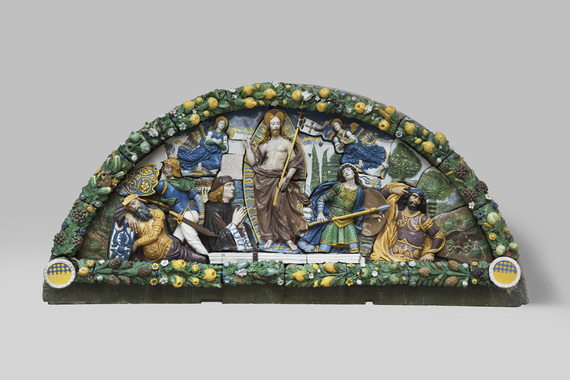 Doesn't He Look Like A Kid You Know?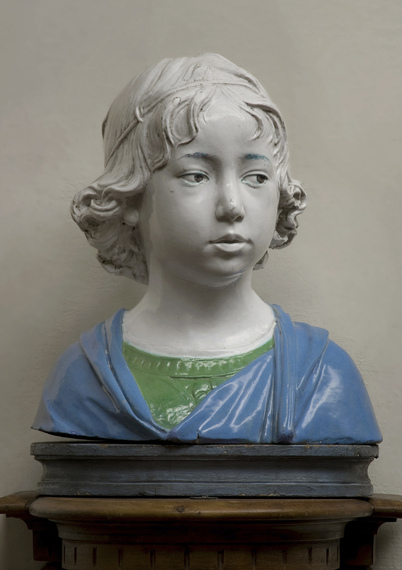 For further information, http://www.mfa.org/exhibitions/della-robbia.
Calling all HuffPost superfans!
Sign up for membership to become a founding member and help shape HuffPost's next chapter