Police are asking for help identifying more than 180 people who were caught on surveillance video looting a Missouri convenience store after a Ferguson grand jury failed to indict a police officer for fatally shooting teenager Michael Brown in November.
St. Louis County Police on Wednesday released five minutes of surveillance footage showing people streaming into a market in Dellwood, a town bordering Ferguson, on Nov. 24 after authorities announced that Ferguson Officer Darren Wilson wasn't indicted for killing Brown, 18, who was unarmed.
The footage shows prowlers removing a security gate on the entrance, then breaking through the locked door of the Dellwood Market. The display cases and stocked shelves are quickly ransacked as people rush inside and flee with goods in their arms. Still photos taken from the security footage offer a look at the faces of some of the people inside the store.
St. Louis County Police said they were overwhelmed by spontaneous protests, arsons and reported shootings that night and had little choice but to ignore burglaries at the time. By using video, police are now trying to solve some of those crimes.
"From a department standpoint, there were more important calls than the burglary calls. Unfortunately, we couldn't have an effective response to those crimes being committed," Officer Shawn McGuire, a department spokesman, told The Huffington Post. "This is a once-in-a-lifetime situation here."
As many as 400 people entered the store, McGuire said, but surveillance video failed to capture clear images of many. Anyone identified faces a minimum of a felony burglary charge for being inside the store.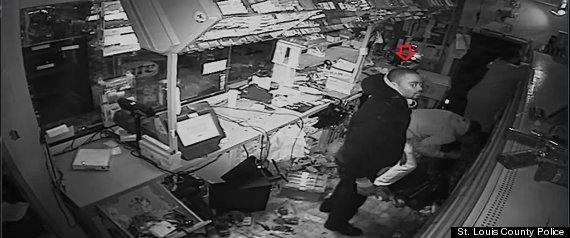 St. Louis County police seek to identify this man and roughly 180 other people who allegedly burglarized a market on Nov. 24, following a grand jury's decision not to indict officer Darren Wilson for the fatal shooting of Michael Brown.
The sheer number of suspects wanted by police in a single crime is unusual, according to University of Central Missouri associate professor Greg Etters, but the police method of identifying them is by the book.
"It's standard, gumshoe police work. I'm not sure I've seen anything on that scale, but it's no different than working a routine burglary," said Etters, a former deputy with the Sedgwick County Sheriff's Office in Kansas. "They're attempting to do a good service for the victim and to solve the crime."
Attempts to reach the store's owner were unsuccessful. McGuire said the market reopened a couple of weeks after the burglary.
The department will release new videos and photos each Tuesday for at least a month from other disturbances that followed the Ferguson grand jury decision, McGuire said.
"If we released all the surveillance video at once, people would get overwhelmed." McGuire said."Every business is important. We don't want the smaller businesses to get lost."
Anyone with information may anonymously call St. Louis County Police at 314-889-2341, or CrimeStoppers at 866-371-8477. To see photos of all suspects, visit the police department's website.