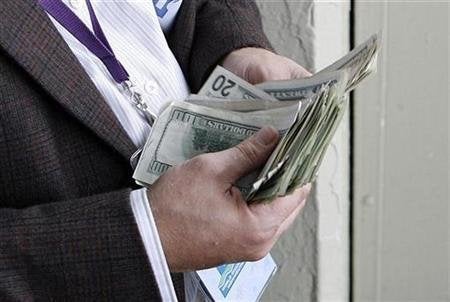 Here's an item from the "stories buried by the onslaught of election news" department: Big Four accounting firm Deloitte & Touche sued Thomas P. Flanagan, who'd been a firm partner for 30 years, in Delaware court last week.
In the complaint, first reported by Courthouse News Service, Deloitte alleges that Flanagan, a Chicago-based vice chairman until he resigned two months ago, traded in securities relating to Deloitte clients -- including several with whom he worked. The firm claims he repeatedly lied about his trading in annual written certifications and concealed the existence of several trading accounts.
Flanagan "betrayed the trust of his partners," the complaint reads.
Now, this isn't some junior accountant who violated minor rules. Flanagan was a major player at Deloitte's Chicago office, and the subject of a fawning Q&A in the Tribune last spring. The former Army infantryman currently serves on the board of the Boys & Girls Clubs of America and is ex-chairman of its Midwest region. (A Boys & Girls Clubs spokeswoman said Flanagan voluntarily resigned on October 31, a day after the organization became aware of the allegations.) He received Deloitte's Community Impact Award in 2003, according to a Google cache of a page from the firm's Web site (removed sometime during the past few weeks).
Until his resignation, Flanagan served as an advisory partner, which means he could sit in on the audit committees of clients. These board subcommittees offered him access to information that no one other than the companies' own executives and directors had -- on strategy, profits/losses, mergers/acquisitions, and basically anything you can imagine that companies don't disclose until they absolutely have to. He used that information to engage in options trading with respect to 12 Deloitte clients, the firm claims. (Last week's quarterly filing by Chicago construction materials giant USG suggested it was one of those clients.) In one blatant potential insider trading move, Flanagan allegedly bought stock in a client company's acquisition target one week before the purchase was announced. Why he'd take such extreme actions is anybody's guess, especially given that Flanagan was risking a potential annual pension equal to his current salary, which is likely in the mid-six-figures.
What's more surprising is that he got away with it for so long (at least three years, according to the complaint). Disclosure rules for employees at major accounting firms are extremely strict. Even low-level auditors must report all securities holdings. Yet Deloitte admits in the complaint that it was not aware of Flanagan's alleged trading until August, when an unnamed regulatory agency started asking questions. At that point, he told the firm he'd already been questioned by regulators and had retained an attorney, but had conveniently neglected to disclose those facts to his partners. Deloitte's response is this lawsuit, which alleges several claims, including breach of fiduciary duty, breach of contract, and fraud. Some partnership, eh?
Accounting firms exist, at least in part, to create an equal informational playing field for investors. We trust them as our representatives to collect and certify information. When they trade on that information, it violates this pact. If a firm takes three years to catch a rogue partner, either something is wrong with its internal controls, or the system as a whole needs some fixing.
Here's a statement emailed by a Deloitte spokeswoman:
Deloitte unequivocally condemns the actions of this individual, which are unprecedented in our experience. His personal trading activities were in blatant violation of Deloitte's strict and clearly stated policies for investments by partners and other professional personnel. Further, it appears that he intentionally skirted our system for reporting and tracking investments. We are taking this very seriously and are conducting our own investigation into the matter.
Flanagan did not return a phone call to his listed home number.

Support HuffPost
The Stakes Have Never Been Higher
Related
Popular in the Community