Two Indiana girls were killed in 2017 not by the man charged with their murders but in a ritual sacrifice by pagan cult members who painted a tree with one victim's blood, his defense attorneys claimed in an explosive court filing Monday.
The bizarre 136-page memorandum was submitted on behalf of Richard Allen, who was charged last year with killing 14-year-old Libby German and 13-year-old Abby Williams near a trail in Delphi, northeast of Indianapolis. The killings rocked the small town and made national headlines, and despite video, audio and witness accounts of a man who'd spoken with the girls before they were killed, authorities didn't identify a suspect until Allen was arrested in October 2022.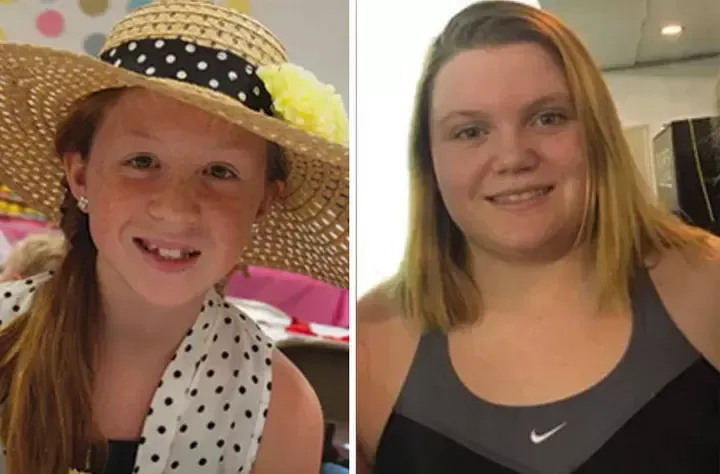 Authorities have been tight-lipped about the investigation and have refused to share any details about how the girls died or the crime scene, so the defense attorneys' new motion offered the first glimpse at what may have happened, although their claims have not been corroborated. Prosecutors have not yet responded in court filings, and a judge has barred attorneys involved in the case from speaking with the media.
Many of the theories about the case have been fueled by a video that Libby German filmed just before the girls disappeared. In it, the suspected killer approaches them on an abandoned railway bridge and orders them to go "down the hill." One of the girls can be heard saying he had a gun. Their bodies were found the next day about half a mile from the bridge.
But the defense memo claims that by saying a single person — the man in the video, whom authorities identified as Allen — was responsible, police ignored evidence that the deaths could have been the result of a "coordinated abduction and subsequent ritualistic sacrifice at the hands of a pagan religious cult," Odinism, which the attorneys say is linked to white nationalism.
"Yet, law enforcement in charge of the Delphi investigation seemingly, and quickly, abandoned the obvious correlation between the crime scene and Odinism, despite an obscene amount of evidence linking Odinism to the crime scene and even in spite of powerful evidence linking specific Odinites in and around Indiana to the murders," they said.
Allen's defense attorneys claimed in the document that investigators lied to obtain a search warrant for Allen's property, withheld or ignored evidence and discounted a number of potential suspects — all of which, they claim, "merit tossing the warrant and suppressing the fruits of an illegal search."
The memo goes into graphic detail about what the attorneys describe as a "ghoulish" crime scene, claiming that "murdering Odinites" arranged sticks and tree branches on the girls' bodies to mimic rune symbols and painted a rune shaped like an "F" — which is associated with the deity Odin — by dipping a finger or a tool in a girl's neck wound.
Included in the motion is a 92-item numbered list framed as a "test" of what Allen would have had to do on his own to stage the crime scene as his attorneys describe it, including marching the girls through the woods and across a 3½-foot-wide river to the site where they were killed. The attorneys say that evidence showed that both girls were naked when their throats were cut and that Abby Williams was then redressed in Libby German's clothes. They use about 40 list items to describe each step involved in the alleged redressing — for example, "this man acting alone would have had to maneuver the left hand and arm in order to move it into the bottom opening of the sweatshirt." German's clothes were then tossed in the river, the attorneys allege, and she was naked when she was found.
The attorneys allege that sticks and branches were then carefully placed on the girls' bodies to mimic the runes and that smaller sticks were placed above Williams' head, "crudely mimicking horns or antlers."
Allen's attorneys have previously sought to have him removed from the maximum security prison where he is being held as he awaits trial, claiming that his physical and mental health was deteriorating and likening his conditions to those of a "prisoner of war." A judge denied that request. In Monday's motion, they claim that two correctional officers "boldly" wore patches with rune symbols and the phrase "In Odin we trust," and one had a picture of an "Odinite altar" on his Facebook account.
Prosecutors said that Allen confessed to the killings "no less than 5 times" in calls he made to his wife and mother from prison. Allen's attorneys acknowledged he made "incriminating" statements but countered that they were unreliable because of his mental health issues. In a heavily redacted probable cause affidavit for Allen's arrest, authorities claim that Allen placed himself at the scene of the girls' kidnapping in a statement to a law enforcement officer in 2017 and that an unspent bullet found between the girls' bodies matched a gun owned by Allen.
Allen's trial is scheduled to begin Jan. 8, 2024.
Support HuffPost
The Stakes Have Never Been Higher
Popular in the Community